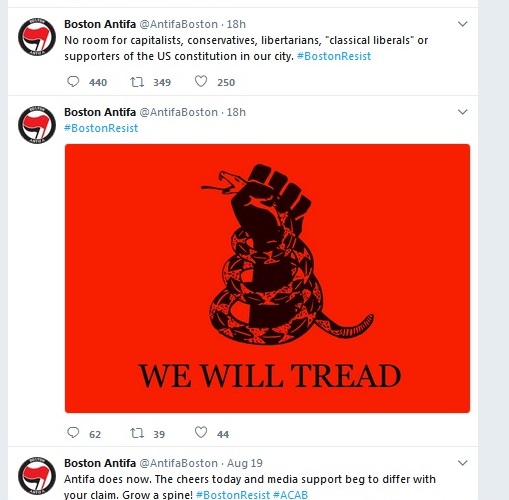 This last week I saw some comments on my Facebook feed about some outrageous tweets put out by Boston Antifa, such as this one:
"No room for capitalists, conservatives, libertarians, "Classical liberals" or supporters of the US constitution in our city. #BostonResist
Eventually, I decided to take a look at the Twitter feed myself, and saw all the things I expected to see out of Antifa.  I did a cursory analysis of whether or not it was real or fake, which you have to do with everything you see on the Internet these days.  It passed the cursory scan, so I documented some of it, and yea, I put it onto my own FB.  Then a friend told me it was fake.  I went and took another look.
The source that is telling us that it is fake, is itself posted anonymously.    The case that link is making seems to be pretty decent, all things considered, but then again it also could be disinformation.  The Boston Antifa Twitter feed also says that people are messing with their credibility.  Which anonymous accusation to believe?  Moreover, the source refers to a Facebook and Youtube account, and not the Twitter account.  Some of the tweets seem to be truly helpful to Antifa and their ilk.  Then, there is the problem that most of the posts are indeed indistinguishable from the things you can find the 'alt-left' saying.  For example, this video, posted to the same Twitter account, looks entirely legit.  And this one. Given that leftists really believe this stuff, the Boston Antifa twitter feed actually seems relatively tame, in comparison.
However, after I scrolled back through their feed several months, I came across other 'tweets' that seemed to suggest that even the owners of the twitter account couldn't contain themselves.  They couldn't keep a straight face.  For example, this video I found absolutely hilarious, and yet Boston Antifa retweeted it without comment.  No comment?  You'd fully expect outrage and indignation as they sought to defend their cause; on the other hand, therein lies the problem, if one would expect this, and someone is trying to spoof you, then they'll be sure to include it.  So, the reasoning has diminishing returns.  Anyway, there are more than one cases where Antifa is subtly or outright mocked, and the Twitter account seems to be, metaphorically speaking, smirking.
At this point, I'm 80% confident is a fake.  A really well done fake, but a fake nonetheless.  If someone has actual, verifiable evidence one way or the other, feel free to provide it.
I turned up another Antifa thing that seems to be fake.  It is "The Antifa Manual."  Here again, the problem is that you can go line by line in this manual and find undeniably genuine examples of almost everyone of those sentiments expressed by this or that leftist.  This Antifa manual, posted to the same source above ("Its going down") that asserted the Boston Antifa site was fake, plainly states:  "In the U.S., most activists are anarchist, although a few are Maoist or anti-state Marxists" which comports pretty well with the 'fake' manual, and Antifa as observed in the wild.  However, there were some things that jumped out at me as warning flags.  The left corners seem very suspicious to me, as if the surface behind it was digitally generated, just like the coffee stains and the top right corners.  The crinkles seem oddly uniform.  I don't trust it.
I'm 90% confident this one is a fake, too, but 50% of that is simply the 'smell' test.  If anyone has real evidence on this, I'd appreciate that, too.
The basic problem I face is twofold.  First of all, there are obviously violent thugs out there advocating for anarchism, Maoism, or 'anti-state Marxism.'  There is no question that we see people in masks destroying things and beating people up–and oh, by the way, they consider me the enemy.  They must be organizing somehow.  Second of all, I prefer whenever possible to work based off of primary source material.  The more insight I can gain into their outlook, the better.
One of the most difficult parts about modern society is obtaining accurate information.  That problem is only going to get worse.  Trust nothing, verify everything–if you plan on acting on that information.  And by everything, I mean everything.