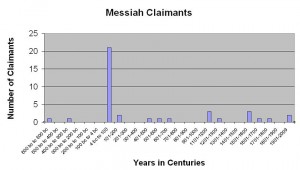 A long time ago I engaged in some online debates attempting to demonstrate that Jesus was the Messiah. My opponents were atheists and a Noachide- in other words, I was fighting off both sides. Sad to say, I had to turn my attention elsewhere and the thread dropped. Here is the original conversation.
I mention this for two reasons. First of all, I wanted to attack the prevailing sentiment that Messiahs are a dime a dozen and that religions derived from them are plentiful- thus, Christianity is nothing special. The truth, however, is that 99% of all messianic movements were brutally crushed… even Jesus was crushed, and yet he, and only he, gave rise to an entirely new religion with billions of followers. Odd. It requires explanation.
The second thing that I wanted to demonstrate was that there was at the time of Jesus an intense expectation for a Messiah. There had to be a reason for this. The reason I propose as the best explanation is that the first century Jews interpreted the Old Testament in such a way as to believe that the Messiah was to be expected 'soon.' Jews today reject these interpretations today, but surely what matters is what they believed then?