Book 2 of my Birth Pangs series is due to be released on October 20th, 2008, in hard cover.  The name:  Spero.  I am very pleased to be able to release the cover image, designed by my friends at SojournerDesign.  Check it out.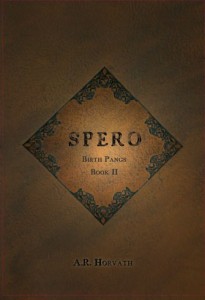 The Birth Pangs website has had a make over, again with the help of SojournerDesign.  Take a look at www.birthpangs.com.  It still has a couple of rough edges but it is coming along nicely.  Just a note:  right now I am offering copies of both Fidelis and Spero available at a discount in celebration of the release of Spero.  To get it at the cheaper rate you need to make your purchase or pre-purchase now.  That offer expires Sept. 7th, 2008.
I haven't talked much about what Spero is actually about.  Let me say a few words now.
Spero is Latin for "I Hope" though for all I care you can just think of it as 'hope.'  If you're astue, you'll catch that 'Fidelis' has something to do with 'faith.'  Put it together, Faith, Hope, and…. the name of book three will have something to do with Love.  🙂
The Birth Pangs series is set in the United States some time in the not too distant future.  A small scale nuclear holocaust has taken place, followed by a devastating pandemic.  The United States had been defeated in several humiliating wars, but now all oppressors are gone, basically leaving a state of anarchy.  Fidelis charted the course of one character across this landscape.  Spero will chart the course of another character.  As you may guess, if the first book took 'faith' as one of its primary themes, Spero will take 'hope' as one of its primary themes.
Some other themes/events/issues besides 'hope' in Spero:
Courage, Compassion, and Loyalty
Adolescence
Father/Son/Masculinity
Sexual Purity
Good and Evil
Namehood
Worldview/Ideology/Politics
Ruminations on the Nature of Reality and Truth
Coincidence and Predestination
and a bunch of other stuff.
I would invite you to read the extended excerpt of Spero, which you may download in PDF by clicking that link.
Finally,  spread the word.  The Facebook group for it is located here.  I have a couple of review copies available for the worthy blogger.  Contact me with your pitch and get yourself an advanced copy.