So, this whole Confederate flag issue is still out there, percolating.   It is the most recent example of Orwell's "Two Minutes of Hate" out of many.
Let's see, there was the infantile, self-righteous outrage against all those who opposed compulsory vaccination–inspired by an 'outbreak' of a measly 150 cases.    Do you know the etymology of the word 'measly'?  It's a bit telling, in this case.  We had the whole Baltimore thing, and the Ferguson thing.  Oh yea, and the hapless rural pizza place that ended up on the business end of a societal pile-on to end all pile-ons.  One of the few instances that gloriously backfired.  Coincidentally(?), pretty much every Outrage Du Jour you can think of feeds into the liberal, progressive mindset, that is so desperate for hate-mongering fodder to make hay with, that they find themselves scouring the globe for 'micro-aggressions.'
The 'outrage' regarding the pizza place that wouldn't do gay weddings was scary in a lot of ways, but it wasn't all that surprising.  One surprise was the case where the death threat was issues, and the person who issued the threat was fired.  I expected that person to get an award.  The intolerance and bigotry of the pro-gay marriage activists in this case, and their quick inclination to begin turning over violent options in their minds, gives us a hint as to the kind of danger civilization is threatened with, once the powers-that-be turn to manufacturing outrage as a means of furthering policy.
But the Confederate flag thing… I find it just embarrassing.  Not for my own sake, mind you, but for the hordes of mealy-mouth, politically correct mobs that rose up to take issue with something that had absolutely nothing to do with the underlying crime it was being associated with.  I am embarrassed for them, since they do not have the capacity to be embarrassed themselves.  I presently find myself ashamed to be part of the human race, again, in large part because the ones who should be ashamed of themselves, aren't at all.
Evidently, it really is the case that the masses can be conditioned, like Pavlov's dog, to react as desired, on cue.  All that is needed is the right bone to be thrown in front of them, and that's all it takes for the mob to do its work.  In fact, the situation is so bad that people are salivating even before they see the bone.  They want to hate, you see.   Every person on the planet wishes that they could do some good with their lives.  In the old days, they started orphanages, fed the poor, and stood up for the defenseless.  Today, they just get pissed off for a few weeks.  Hate is a substitute for actual effort.  They've done their part–they hated with a vengeance.
So it is that the people who supposedly are the most opposed to hatred, those most opposed to prejudice, bigotry, violence, and bullying have actually become worse than the ones they thought they were opposed to.  They've become the bigot.  They are the bully.  But it is alright, you see, because the vitriol is being unleashed upon a person or persons who deserve it.
The dynamics of all this was well understood a long time ago.  It is all there in Jacques Ellul's Propaganda.
I do not speak to the ones who have become fully immersed in this vicious, self-serving cycle.  They've been reduced to children, whether of their own volition or external forces, I don't entirely know.  At any rate, one of the things I learned a long time ago is that you can never win an argument with a child.  I speak instead to those who have begun to wake up from the daze, who sense that their past behavior was the result of manipulations.  They want to grow up, now.  They want to be genuine free-thinkers.  They want to be Men and Women.  Previously, they pushed people around, and justified it, but now they can see that they were complicit.  They're compromised, and they know it.
A recent article I saw highlights the outright foolishness of this era.  A Wal-Mart refused to make a Confederate flag birthday cake, but happily made an ISIS battle flag.   This is apropos on so many levels; similarly, while ISIS is beheading people left and right, mainly Christians (who deserve it, right?) but many others, the United States government and the world is doing… Nothing.
At least, nothing that will actually accomplish anything.
Conversely, a nutjob kills a bunch of people in a black church, and there is massive outrage directed at something that will actually accomplish… Nothing.
Yes, that seems about right.
Wal-Mart issued a statement:
"An associate in a local store did not know what the design meant and made a mistake. The cake should not have been made and we apologize"
In a sad, sad way, this tells the whole story.  The Adults do know what the design 'means.'  The Children only recognize what the Conditioners tell them to be Outraged about.
The Hate-Meme seems to have been oriented around three photos found on Dylann Roof's web page, thelastrhodesian.com.
The Children have never heard of Rhodesia  It wasn't mentioned in the Common Core curriculum.  Now that they have encountered it, they are confused.  Is that what Georgia was called at first, when the country was founded back in the early 1900s?
For the Adults, it is the first clue that it wasn't the American south, circa 1860, that fired Roof's imagination.  The Confederate 'flag' was not Roof's flag.  The Rhodesian one, was.
Here are the three offending pictures.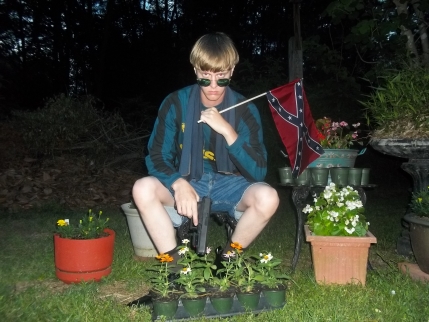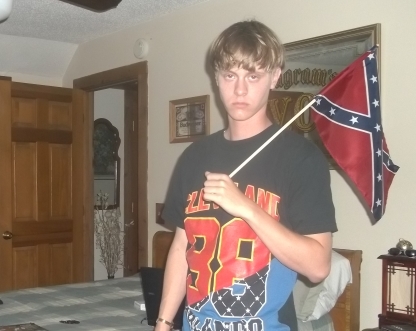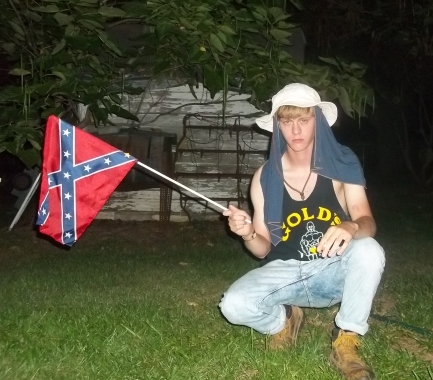 But there were other pictures, too.  Did you know that?  There were these two, for example: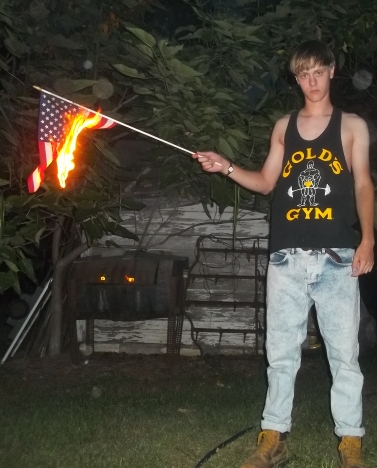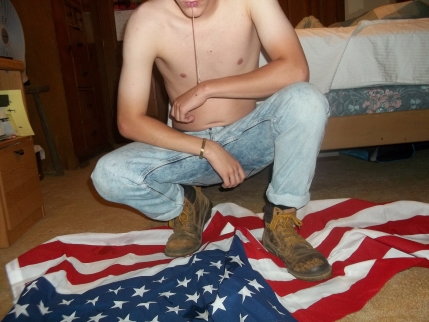 I bet you anything that in many, many, places, where the Confederate flag flies, the US flag does as well.  Dylann Roof seems to have a different perspective on this whole flag business than your average southerner, no?
One might get the impression that he was all about flags, but actually, of the 60 images or so, these are the only ones with flags in them at all.  Here is a sampling of some of the others: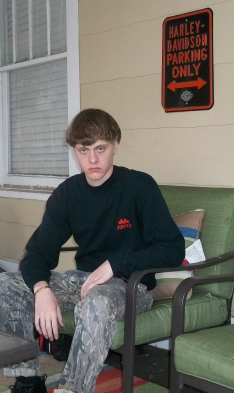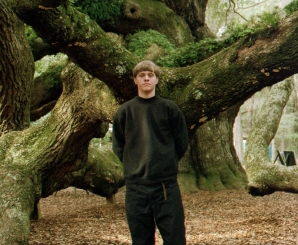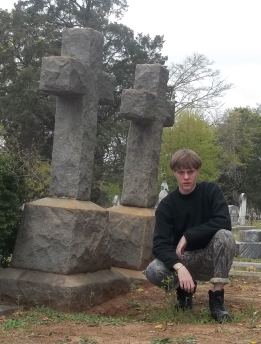 No faux-outrage against Harley-Davidson derived from this incident, that I am aware of.   No treatises on how the symbolic racism embodied in the Harley-Davidson name.
Look!  Dylann Roof next to crosses!  Time to purge all of America of Christians!  (Ooops.  Too soon to let that objective out of the bag.  Best stick to the low-hanging fruit the Confederate flag represents.)
Roof had 20+ pics with trees behind him…
BURN THE FORESTS DOWN, them FESTERING PITS OF BIGOTRY!
Then there was this picture. Did anyone see this one?  I doubt it very much.  It didn't feed the narrative.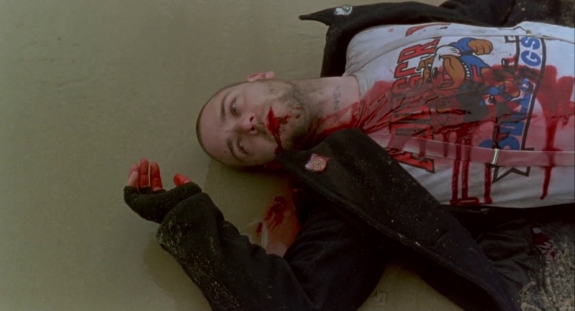 For a time, this was on his front page.  Perhaps it was important to him in some way that the Confederate flag was not?
If only we had his manifesto so we could know what he really thought!
Oh, that's right.  We do.
You can read it here: rtf88
His opening lines:
"I was not raised in a racist home or environment. Living in the South, almost every White person has a small amount of racial awareness, simply beause of the numbers of negroes in this part of the country. But it is a superficial awareness."
So much for the idea that Roof was racist because he imbibed the racism from his Confederate surroundings!
If it wasn't his upbringing or constant exposures to the Confederate flag that changed him, what was it?  He actually tells us:
The event that truly awakened me was the Trayvon Martin case. I kept hearing and seeing his name, and eventually I decided to look him up. I read the Wikipedia article and right away I was unable to understand what the big deal was. It was obvious that Zimmerman was in the right. But more importantly this prompted me to type in the words "black on White crime" into Google, and I have never been the same since that day. The first website I came to was the Council of Conservative Citizens. There were pages upon pages of these brutal black on White murders. I was in disbelief. At this moment I realized that something was very wrong. How could the news be blowing up the Trayvon Martin case while hundreds of these black on White murders got ignored?
In other words, Roof noticed something that very few, sadly, have noticed.  While the media and the masses literally ruined people over one manufactured crisis after another, Roof saw that other, more serious issues were never being mentioned.
You know, just like how Wal-Mart wouldn't bake a cake with the Confederate flag on it, which hasn't had blood on it for more than a hundred years, but it blissfully made one with the ISIS battle flag on it–ISIS, the ones mowing down hundreds and hundreds of people at a go and sticking their heads on stakes.  This, after raping the women and children.  This, while presently promising to do the same in England, in the US, in France, well, everywhere.  And they will do it, too.  But the Confederate flag, the horror!
It was not the Confederate flag that killed those Christians in the black church.  If anything, it was the war against 'micro-aggressions' that did.
Interestingly, there is no mention of the Confederate flag in his manifesto at all, or anything directly about the Civil War, at all.  There is this about the American flag, though:
I hate the sight of the American flag. Modern American patriotism is an absolute joke. People pretending like they have something to be proud while White people are being murdered daily in the streets. Many veterans believe we owe them something for "protecting our way of life" or "protecting our freedom". But im not sure what way of life they are talking about. How about we protect the White race and stop fighting for the jews. I will say this though, I myself would have rather lived in 1940's American than Nazi Germany, and no this is not ignorance speaking, it is just my opinion. So I dont blame the veterans of any wars up until after Vietnam, because at least they had an American to be proud of and fight for.
But hey!  You all just keep associating the Confederate flag with Dylann Roof!  I mean, if you want to have absolutely no connection to the real world.
As you can see, I actually took the time to research this issue before forming an opinion on it.  The thing that really caught my attention as I reflected on it though, was how Roof had noticed how the Two Minutes of Hate obscured deeper problems in American society.   He drew the wrong lesson, though.  He thought he was witnessing some kind of battle between the races, when really what he was witnessing was a political maneuver that liberals have been using in America to advance its agenda–successfully.
We came close to seeing the Moment of Outrage tactic descend into violence with the pizza place in Indiana, but in Charleston it actually transpired.  Not, ironically, by someone who was drunk on red meat, but someone who saw others getting drunk on red meat and was disgusted.  He spotted the Rage and found it incomprehensible.  In trying to understand it, he came to certain conclusions. But his conclusions were wrong: It's not the blacks that are the problem, but liberalism.  The solution is not to shoot anyone, but to resist being manipulated.  In short, to GROW UP before more people get hurt.
It is just common sense that Moments of Hate are going to inspire crazies to do things that we really wished they hadn't done.  But when I worry about more people getting hurt, I'm not talking about the loners.  I worry far more about the mob, and the violence it can inflict.  The French Revolution comes to mind.  And the Bolsheviks.