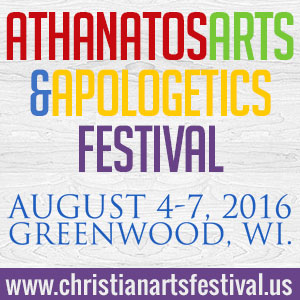 UPDATE:  Click  here to see videos and pics from the event. [9/6/16]
Well, I haven't posted anything here for awhile, and I have my reasons.  It wasn't because I didn't have anything to say or that there wasn't anything worth commenting on!  Regardless, I've bit my tongue.
I would be remiss, however, if I didn't mention here on my blog the fact that Athanatos Christian Ministries (of which I am the director) will be hosting a Christian arts and apologetics festival… and its coming up FAST.  August 4-7, in Greenwood, WI.  (central WI)
Here is the website: http://christianartsfestival.us
Consistent with my overall vision and purpose for ACM's work, the festival is designed to encompass a wide variety of art forms, with an eye towards prompting artists to think 'apologetically' and apologists to work through the arts.
To that end, we have a variety of authors (eg, Joseph Courtemanche), the filmmaker Mark Spence, of Ray Comfort's "Living Waters" ministry who will be screening their newest movie, "The Atheist Delusion" (Best known, perhaps, for the movie "180"), the musician Sean Michel, and a host of others.  Including yours truly.  🙂
Camping is included in the registration.  Also included:  the writing workshops, the music workshops, and the drama workshops.  And the volleyball.  And the bonfire.  But you gotta pay for your own food.  Sorry!
Hope to see you all there!
But Stathei, if you come, you gotta give me a heads up!