I generally have kept my blog away from conspiracy theory type stuff though I have suspected there is an element to truth to a lot of the ones circulating about Obama.  Yesterday I saw something that I think is so indisputable that it can no longer be considered a 'conspiracy theory.'  It is a cold, hard fact.  It does not require an Obama 'explanation.'  It requires an Obama admission.  He needs to be truthful with the American people.
I am referring here to clippings from a Socialist news paper in the 1990s which listed Barack as a member of their organization.  The original source blog- the group that did the hard work of digging up the newspaper- is called New Zeal.  Here is a link to the original.
I have attached their images of the news paper clippings to this entry.

Now, this news requires a certain amount of intelligence on the part of the reader.  One has to be able to figure out that just because something doesn't have the word 'socialist' in it doesn't mean it ain't.  The organization called itself the 'New Party.'  It had explicitly socialistic positions.  Ergo, it is socialistic.  Obama was a member.  Ergo, Obama was socialistic.
Is Obama a socialist now?  Or even a closet communist?  My feeling is that he was and is an opportunist.  He'd be whatever was necessary to survive.  Nonetheless, I will accept no 'explanation' from Obama which does not admit that he was, in fact, a member of this political party.  These 'I didn't do this but now let me tell you why I did it' explanations aren't going to cut it.  I hope that the American public settles for nothing less.  If you want to vote a socialist into office more power to you.  But at least lets all be honest about it.  If you want a socialist in the presidency say so.  If Obama is that man, let him say so.  Don't smuggle him in under the cover of media darkness.  That is cowardice, and, I dare say, treasonous.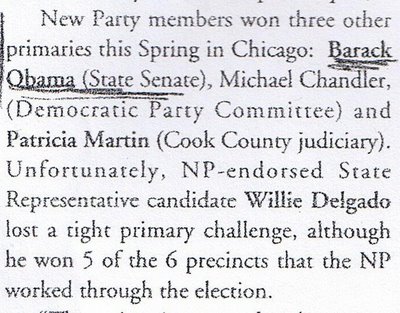 To corroborate the interpretation of these images, a commentator on the original source blog provided a link to the New Party website using the Internet Archive's Wayback Machine.  That link clearly specifies that Obama was a member of the 'New Party.' Now the question is how much anyone cares.  Maybe the better question is whether anyone will find out.  Will the media bother to report this?  This is indisputably newsworthy and relevant to this election.  If it was learned that McCain was a member at one time of Operation Rescue or the KKK you can be dead certain that this would be reported.
I must give kudos to Barbara West for her interview of Joe Biden.  I think a little longer and she would have made him cry.  Imagine if the Obama/Biden campaign were really pressed to explain these details by the 'watchdogs' 'protected by the Constitution.'  What would happen?
It can be argued that the United States is already well along the Socialist path.  It seems to me that this would be a good time for the question to be put front and center in uncertain terms:  Are you so comfortable with socialistic policies that you will put a socialist into presidential office, knowing he is a socialist?  This election is a good time to ask and answer that question.
Here are bigger images of the ones above.  Click on them for a closer shot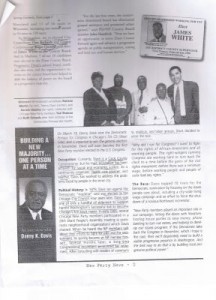 :