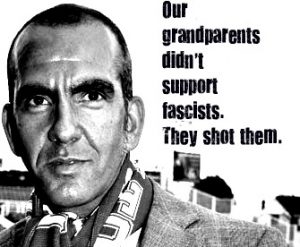 I have many other things I'd rather be writing about, but the 'left-wing' hysterics about so called white nationalists on the rise thanks to Trump is something that I feel is necessary to talk about.  Necessary, because if these hysterics are not shown definitively to be discredited, there is no doubt in my mind that there will be violence–from the left.  This violence will increase in scale and scope quite a long ways before your average liberal says, "Ah, well, that was a tad too far, even for me."  In the meantime, the idea is that "racists" deserve no quarter, and so no quarter will be given.  I have helpfully included a meme to the right that is like so many others that I've seen that I think captures the mentality perfectly.
The term 'left' is unfortunate, but necessary. I am trying to transition towards descriptions that are more accurate.  Namely, the divide is between people who have views that correlate with reality, and those that don't.  (You can have people on the 'right' with unreal views, too.  My concern is only for that which is real.)  It is just not the reality that the vast majority of Americans who voted for Trump are 'bigots.'
So, lets start with today's trending media smear, the 'excerpted' video of the annual conference of the National Policy Institute.   Let's bear in mind that this video is heavily excerpted.  Don't we recall all the counter arguments to the Veritas folks making exactly this charge?  Ought we not be skeptical of such 'heavily edited' videos?  Moreover, isn't it obvious now that the media itself can't be trusted?   Why should we believe anything that Daniel Lombroso and Yoni Appelbaum of The Atlantic say?  I know I don't.  For all we know, Spencer began his speech with the statement, "And now let us present the caricature that the media has of us… feel free to play along…"
And I saw several things in that video that seemed to war against the narrative that their article was trying to make.  Their own article says, "For most of the day, a parade of speakers discussed their ideology in relatively anodyne terms, putting a presentable face on their agenda." Why would they deviate now?  According to the article, because 'most journalists' had left.
First of all, are we really to believe that "most journalists" left after dinner?  That in itself seems hard to believe.  More importantly, would Spencer have known that the journalists left?  Would Spencer have not noticed, in such a small gathering, the presence of the Atlantic writers?  That is also hard to believe.  Second of all, from what context we are given, many of Spencer's incendiary remarks were directed at the media.  And frankly, the media deserves every arrow that it takes at this point.  But, unless someone is paying close attention, because of how the video is portrayed, the casual listener would think these incendiary remarks were directed at blacks.  (This is why you shouldn't trust the media.)
Finally, at the end of the video, there is a truly strange spectacle of a guy running over and patting a guy on the back for doing the 'hail' gesture.  [2:56]  The impression I got from this scene is that the first person considers all their arm raising to be new, somehow, and wants to encourage others doing something that… wait for it… they had never done before.  As in, this is an extremely rare and singular event.  Maybe my impression is not correct.  Maybe these are more members of the Democrat hit machine trying to manipulate the scene, such as what Veritas uncovered.  It is not out of the realm of possibility.
But maybe the video genuinely portrays what it is said to portray.  Let's suppose, for a moment, that it was.
According to the Atlantic's own article, there were about 200 attendees at this event.  TWO HUNDRED.  Many of them…. the media.  I took the liberty of looking at the NPI's blog to see if they had a response, and I found this article linked to a Southern Poverty Law Center (another organization with suspect integrity) write up which says that there were only 120 people present at the 2015 event.  NPI protested that "the actual tally was 172."
So, I suppose that we could say that the Trump election gave NPI a massive boost of support… almost a 15% increase in their numbers!  Oh, the calamity!  Yes, that's right… they sky-rocketed from about 175 to… TWO HUNDRED.  (Again, many of these, the media itself.)
As of this writing, Trump has received about 61,900,000 votes.
Let's play a game.
Is 200 bigger or smaller than 62 million?  Someone help me work it out with Common Core math, because this one is just tooooooo hard.   Maybe if we line it up…
I might be an unedumated whit Chrestian mail, but my distinct impression is that 200 is not just a smaller number, but a much, much, much, much smaller number.  My trusty calculator says that 200 is .0000032 of the 62 million that cast their vote for Trump.
And for some reason, this video is what is trending on my Facebook news feed?  This video is what greeted me on Matt Laur's show this morning?  WHY DO WE GIVE A RAT'S ASS WHAT A SCANT TWO HUNDRED PEOPLE BELIEVE?  Is THIS supposed to drive NATIONAL POLICY and/or SENTIMENT?  ARE YOU INSANE?  …….. GROW UP.
62,000,000…. big.  200…. little.  62,000,000 BIG.  200…. little.
BIG
little
Challenging concepts, apparently. Maybe if I get a PhD I'll be able to work it out on my own.
I have argued frequently over the years that one of the clearest signs that a person has lost all ability to reason and employ logic is their inability to keep things in proportion.  In my recent post on real vs. unreality, I mentioned it again.
This Richard Spencer video is one of the best examples that I've seen in a long time.
After the election, a friend sent me a note expressing real concern.  Basically:  "The KKK is marching again!"  There was a link to an article like this one.
Now, the first thing of interest here was the belief that the Trump election signals some kind of new confidence among the KKK to march.  I knew that this was not true.  But why did this person think that?  The media, that's why.  In point of fact, a simple Google search shows that the KKK has been marching for a loooooong time.  I went to Google and randomly chose a year.  Search term:  KKK Rally 1998.  I got this result.  Pick a year, any year, and you will see that the KKK has never been afraid to march.  They have never gone away.
So, we see in this example one more case where the media has painted a false picture.  By not making much of KKK activity prior to the election and choosing to report on KKK activity after the election, a clear impression was given.  A false one.
And how many people are in the KKK, anyway?
"Today, the Center estimates that there are between 5,000 and 8,000 Klan members, split among dozens of different – and often warring – organizations that use the Klan name."
Heck, lets call it 20,000 members.  And let's say that all 20,000 of them voted for Trump.  Once again, we're dealing with numbers, and it is soooooo hard to work with large numbers, it makes our tiny brains work overtime.  When billions flummox us, that must be why when the national debt is climbing past 20 trillion, some 63,500,000 people think that's 'no big deal.'  "More status quo, please!"
So, getting out my trust calculator again… it turns out that 20,000 isn't that much larger than 200 was, on a percentage basis:  .00032
.00032 of the electorate are die hard white supremacists.  What with my tiny brain and all, that seems pretty small, pretty inconsequential.  Maybe I can get me one of dem der expeerts to ecksplain it to me.  I'm sure The Atlantic is chock full of folks who could do it for me.
Mind you, there is no reason to believe that this .00032 votes uniformly Republican.  Although I suspect that they probably did vote for Trump in larger numbers than normal, historically they have had a great affinity for the Democrats.  Which makes sense, of course, when you realize that the KKK has, historically speaking, been populated primarily by Democrats.  It was founded by Democrats, after all.  (Praise God for primary sources!)
BUT WAIT!  THERE IS EVEN MORE!
The presence of even 20,200 genuine white supremacists in our midst is less than ideal, but the amount of harm that they can do as private citizens is radically limited, especially if their fellow Americans are firm believers in the second amendment.  A far more worrisome trend is the number of white supremacists who are in political office.  Remember, friends, David Duke endorsed Trump!  And that means if YOU voted for Trump, too, YOU ARE A RACIST, TOO! [see :30-45]
So, it just so happens that David Duke ran for election this year in the 'deep south,' that bastion of bigotry.   Consider how horrible we must feel as a nation that as of now, a US Senator from Louisiana is a former leader in the KKK.  We've sunk so low as a nation!  Sooooooooooooooo loooooooooooooooooow.
Waitasec.  He didn't win.   He didn't win?!?!?!?  But with all this talk about David Duke endorsing Trump as if that meant something, I can only assume that he did exceedingly well in his election?  Funny, the media told me all about Trump's tenuous relationship with Duke (ie, its non-existent) but failed to mention that Duke not only did not win the election, but he was seventh in the list, pulling just 3% of the votes.  SEVENTH.
If we add his 58,581 votes to the 20,200 above… *fetching trusty calculator* … that's 78,781 nasty people (assuming of course that all of them are actually white supremacists and that they all voted for Trump).  That is .0012727 share of Trump's nearly 62 million votes.
Woe is me!  The sky is falling!  Dear Jesus (pardon the racist intonation), save us all!
Just how many white supremacists have political office in the United States?
As near as I can tell, that number is 0.  As in ZERO, Jim.
(That calculation is based on the assumption that the extremely biased SPLC would gleefully report every example that existed… if it could point to even one.  Readers are free to point me to examples, if they like, and I'll increase the tally as necessary.)
So, basically, not only is it the case that the number of Trump-supporting racists extremely low, where they did stand for election, they were repudiated by… ironically…. Trump-supporting racists.  In Duke's case, 1,074,895 (the sum of every vote cast for a Republican in Louisiana above Duke) effectively told him to go to hell.  Presumably, this 1,074,895  also voted for Trump in very large numbers, and yet they did not vote for Duke.  'Inexplicably,' the media didn't think to mention that.
And the same situation exists throughout the entire country.
One can understand, then, when the unrealists try to paint all of the 'alt right' as racists, and howl with outrage that someone like Steve Bannon is going to be as prominent as he is in Trump's election, many of us just don't take them seriously.  Their perspectives are totally skewed.  They have been utterly discredited.  It is highly unlikely that Bannon is actually a 'white supremacist.'  The 'alt right', insofar as it has any substantial support of 'whites' seems, as near as I can tell, to be only the flip side of the same kind of beliefs and rhetoric we see among gays, blacks, and women.  That is to say, these groups already engage heavily in 'identity politics' but no one for that reason thinks that THEY are racist bigots.  I, and many of my peers utterly reject 'identity politics' completely, and aren't particularly happy to see it emerge within the 'right.'  But that's only because we don't want to see the Republicans pick up the same attitudes and methods that are already welcomed and advanced in the Democrat Party.
So, if the vast majority of us on the 'right' (in this case, those aligned with reality), do not take this hysteria seriously on the merits, why am I writing this at all?
Simple self-defense.
There is no question in my mind that if the 'left' continues to paint 62,000,000 Americans as racists bigots, and try to malign the 'alt right' through false accusations, two things are going to occur.  In the first place, by refusing yet again to acknowledge the legitimate concerns raised by Trump voters (eg, failing to recognize the difference between immigration and illegal immigration), you're going to actually get even MORE people that gravitate towards the 'alt right' perspective, and yes, the NPI will probably sky rocket from 200 attendees at their convention to 225 in 2017.
So bully for you, you nits.  You're creating the very phenomena you say you are opposed to.  Bravo!  Well done, Oh Ye Smartest People Ever To Have Existed!
In the second place, people on the 'left' are, literally, going to start shooting.  As in, real guns.  At real people.
Because their grandfathers didn't support fascists.  They shot them.
Mark my words.