I am very pleased to announce that the online academy produced through my ministry, Athanatos Christian Ministries, has developed an apologetics certificate program. It is designed mainly for Christians who know that apologetics is important but don't know where to start, though conceivably it could be useful for anyone who is interested in developing a deeper understanding of what Christianity is all about.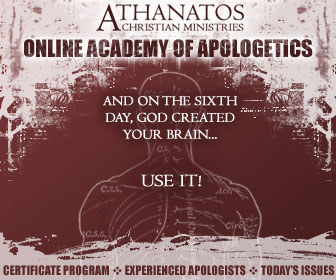 Our "On the Sixth Day" advertising campaign is also up and running. We are advertising on the ChristianPost.com and other places. Take a look at the banners in this post and scattered on my blog. I hope you like them. We want to communicate to Christians and others that Jesus called us to love God with all our hearts, souls, and minds.
Because of this ad campaign, we have pushed the start date from April 15th to April 21st, though each class starts depending on facilitator availability. We are enrolling now!
We are still open to offering more courses if other facilitators step forward. If you're interested, contact me.
We have also changed the academy site a little. The new gateway is now http://athanatosministries.org/academy/ however the previous link is still the location of the academy, proper.
As part of our advertising campaign, we are also offering a referral program. Post our information and banners on your site and get a sizable commission for each course that a person signs up with through your site this session and an even more generous commission for anyone who signs up for our certificate program through your affiliate link. Again, if your interested, please contact me. The contact form is to the right.
Finally, this campaign represents a sizable investment. Donations to help defray the costs would be greatly appreciated. Please use the donation form that is in the top right corner of this page if you're willing and able.