As I write, Indiana is taking a lot of guff over the passage of a law that would protect religious conscience.  Per the playbook, the activists are out in force with their bullying techniques.  Despite the fact that the people of Indiana have spoken through their elected representatives, using above board legal processes, we can expect that–per the playbook–a handful of judges will be brought to bear on the question, and it will probably be overturned.  The fact that many other states have similar legislation, and the Federal government has had its own version for 20 years (signed by Bill Clinton) will be forgotten.  Such is the hypocrisy of the left.  (It was Clinton that signed DOMA, as you recall).
In the meantime, there is the usual utterances of stupid things.  Take Apple CEO Tim Cook who wrote:  "This isn't a political issue. It isn't a religious issue. This is about how we treat each other as human beings."
As if religion and politics don't very much concern how we treat each other as human beings!  Cook is probably in the camp that doesn't think ISIS is 'really' acting according to its religious beliefs about other human beings when they cut off the heads of men, women, and children.  And of course, Cook does not think that his own views are 'religious' in nature.  Clearly he doesn't see his views as having a political component, even as he publishes an op-ed condemning others acting through the political process, where he himself calls for political action.  Such is the double-mindedness of the left.
I have consistently on this blog taken aim at the tactics of the left regarding homosexuality more than I have the substance of their position.  They will literally burn down the country in their quest to have their way.  I have a real problem with that.  As the Indiana issue illustrates, one of the root factors here is the belief by progressives that people are incapable of self-rule.  States as liberal as California (is there any more liberal?) have fought against gay marriage.  But it will all be burned down to appease the 5%.
I must warn the reader that the beauty of the American system, the real innovation, if you will, is that it represents an agreement to resolve our difficulties through peaceable means by elected representatives acting in a transparent manner that is open to change by other people electing people who reflect their own values.  The alternative, historically, was to have one powerful group actually murder those who disagreed.  We see this with ISIS.  We saw it with the Cult of Reason.  Etc.  If people no longer believe that working through the system really works, you can be sure that we will go back to the 'old ways.'   There is more at stake here than 'opposing discrimination.'  Even if I supported the homosexual agenda, I would be very concerned about the means by which it is being implemented.  On the present course, fundamental aspects of the 'social contract' are being shredded with abandon.
Anyway, per the playbook, we can expect Republicans to come out and basically apologize for this product of 'self-governance.'  They should not apologize.  They should stop apologizing.  We have come to a point where the states should tell SCOTUS to pound sand, and the citizens of the various states should be calling on their state representatives to stand up to the Federal government on their behalf.  People in this country have the right to have their values inform the political process.  (The source of those values is irrelevant.)
Cook appeals to the 'lives and dignity' of so many people, but as the following subject matter illustrates, it is precisely the 'lives and dignity' of people that is radically undercut and undermined by the homosexual agenda.  It is precisely on the question "Just what is a human being?" that there is disagreement.  On the secular progressive viewpoint, people are just animals who act on instinct, thrusting their private parts around when they are in heat.  Arising from this view is a 'public interest' component of sparing the mindless sex-engorged the consequences of their behaviors.  Incidentally, the animal kingdom, despite being bound over to their instincts in full, do not have nearly the same problems arising from their sexual behaviors.  In point of fact, I find the hyper-sexual licentiousness of the left to be acutely degrading to human individuals.
One of the main areas where the gay agenda is hard at work is one area that you would think that liberals could agree that parents should have some significant sway:  the school system.  But it is just here that we discover that liberals don't actually believe in self-governance.  They do not want parents raising their own children the way they see fit.  On their view, the surest sign that someone is a bigot is that they want to raise their children the way they see fit.   Do you really want bigots charting their own course in the local school district?  That's how they see it.
And I don't really care.  I'm not going to apologize for the fact that I think this perspective is depraved, and I will resist it to the best of my ability.  Ironically, I think that a great many people, including liberals, and even some gay people, would take issue to that which is being presented to our children.  We might want to start considering the possibility that the reason why we have so many sexually confused people is because we have people in our society deliberately confusing them.  You cannot sexualize a society without there being significant consequences.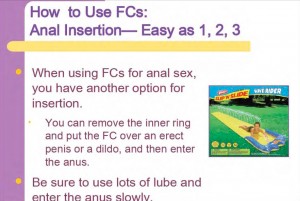 Take for example this 5th grade curriculum that was actually considered in the Chicago public school system.  Do you think that this will clear things up for young people, or fan certain behaviors that they are obviously not ready to even know about, let alone engage in.  (5th graders are usually around 11 years old.)  WARNING.  GRAPHIC.  NOT SAFE FOR WORK:  Why 5th Graders Should Have Anal Sex and Other Arguments for Abstinence
But how about this document, produced with the help of state public health officials and distributed to middle-schoolers (6th-9th grade) in Massachusetts?
WARNING.  GRAPHIC.  VIEW WITH DISCRETION.  HT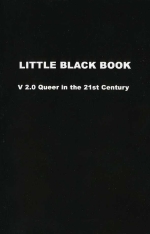 It is asinine to believe that distributing these kinds of materials will not in fact encourage the very behaviors that lead to the concerns addressed in this pamphlet, titled The Little Black Book – Queer in the 21st Century. Sorry, Mr. Cook.  If anything is an affront to human dignity, it is the reduction of humans to nothing more than sexual creatures.  I find the following positively degrading.
A society that feels it necessary to distribute such information to pre-teens is a society I don't want to live in, will work to oppose, and have the right to resist.  Enjoy.  [Download the original]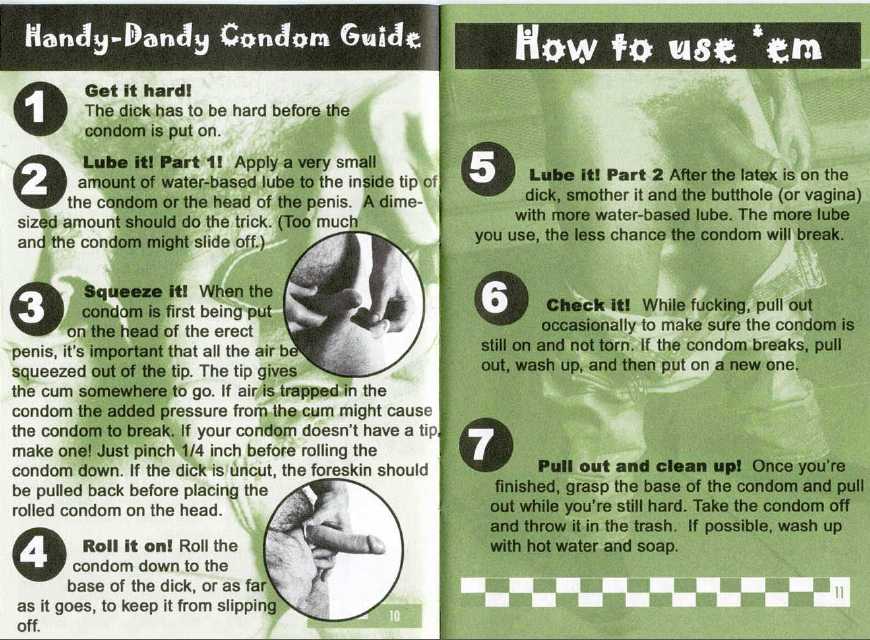 In case your twelve year old was wondering just how safe it was to stick your tongue in another person's anus: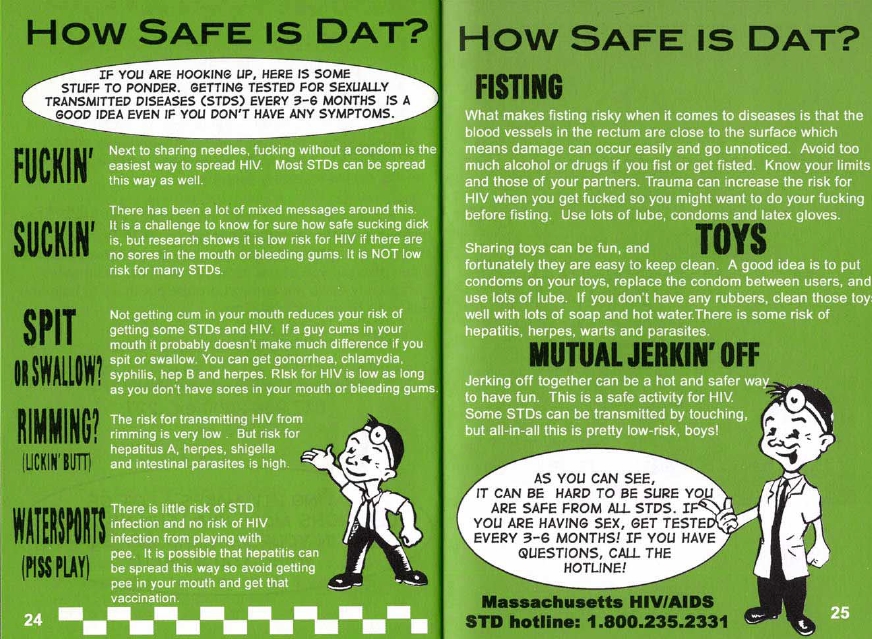 Congratulations, kid!  You have the right to have as much sex as you want without any boundaries whatsoever–provided you are safe about it, of course.  You animal, you.  Oh, and by the way, you're an expert!  In what, we need not wonder…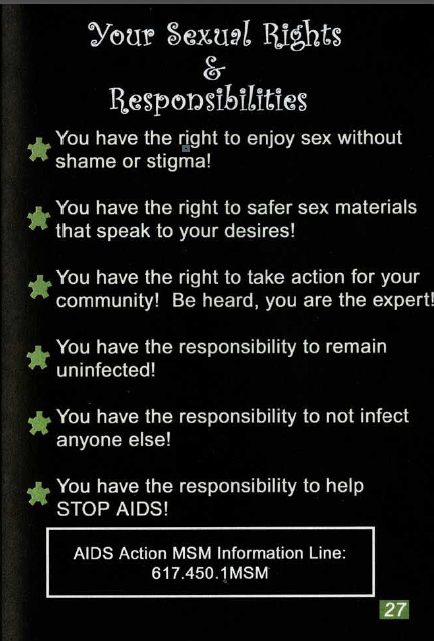 Not only will the Massachusetts public health department tell you how to safely have as much gay sex as you want (as you are entitled to), it will even tell you where you can go to hook up: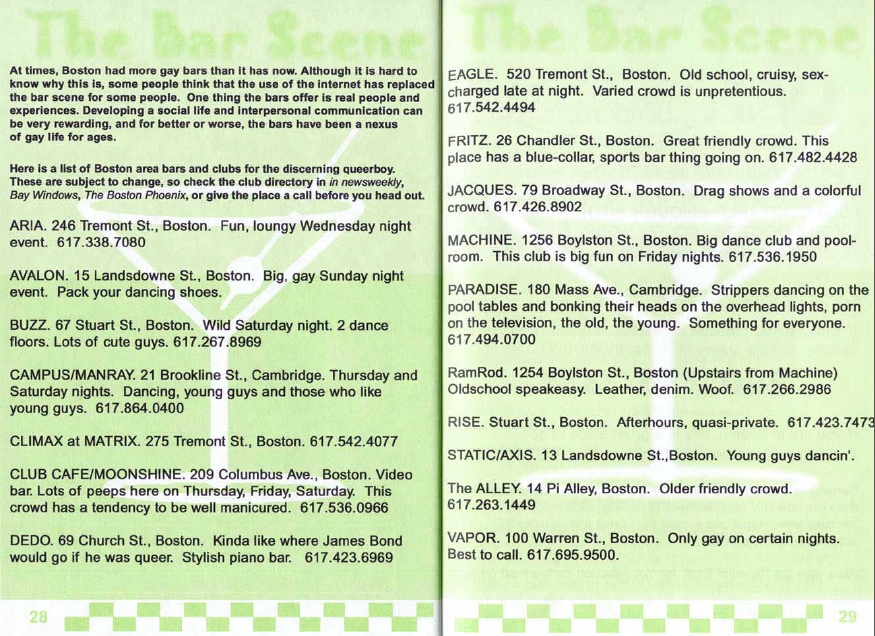 We would be remiss if we didn't give credit where credit is due: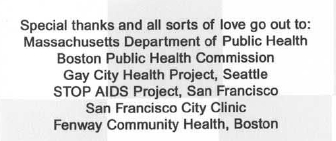 Now, when word got out–even in liberal Massachusetts–that this was made available to school kids, there was outrage.  As is typical, a page out of the liberal playbook was used, and it was initially denied.  Since our society is primed to be led by the nose (and inflamed into a froth) by initial reports, the tactic worked.  When it was admitted finally that it had actually been available, no one was paying attention any more.  The release was dismissed as accidental and a 'one off.'  This is a lie.
In point of fact, you can fully expect this and more if you do not stand up and insist that you will absolutely not tolerate the hyper-sexualization of our society… or our children.  That this hyper-sexualization is enormously dangerous to the individuals that engage in these behaviors is tacitly admitted to by all of the programs to counter the STDs, unplanned pregancies, etc, that are funded by tax dollars.  If the behavior is so 'natural' why do we have so much trouble with the fallout?  And by behavior I am referring not just to homosexual behavior, but the entire progressive program that encourages promiscuous sexual activities in the spirit of "You have the right to enjoy sex without shame and stigma!" This is irrespective of age or structure of the relationship.
Worst of all, these same programs create the very phenomena they ostensibly are trying to prevent.  We call that 'job security' for our public health establishment.
But we don't have to stand for it.  Do I not have the right to influence how my tax dollars are spent? Is not the public health establishment financed by my tax dollars?   We are back to the days of taxation without representation, my friends, only now it is by our own choice: they can do whatever they please in the name of the 'common good,' since they are the experts, and we say nothing.  Don't want people to think we're bigots, ya know.  Plus, don't we want 'our guys' to get elected?  HEY.  Are you really 'our guy' if you don't represent our values?
One day you wake up and you realize that a vast number of our fellow citizens simply do not live in the same universe as we do.  They are as beyond our reach as one universe is beyond the reach of another universe in the Multiverse.   You cannot persuade them.  They must be defeated.  They must be out-voted.
They know this.  That's why they are working so hard to make sure your votes don't ultimately matter.
Wise up folks.