Have you heard the news?  Of course you have.  How couldn't you?  It's been on every news channel without break.  Every newspaper has it on the front page, above the fold.  Teams of investigative reporters have been dispatched.  The Twit-osphere is on fire!  Even Republicans are talking impeachment.  The latest poll shows the American public overwhelmingly supporting impeachment; Democrats at 80%, but Republicans not very far behind at 65%.  That latter number is expected to climb as the investigation unfolds.
Yes, that's right.  Donald Trump, in his bid to forge a legacy that could not be undermined by history, has literally sacrificed tens of thousands of American lives.  The formula was simple:  in order to secure a deal with North Korea, Trump ordered his subordinates at the Justice department to look the other way on certain criminal investigations under way related to North Korea's diabolical money-making schemes.
Strong evidence exists that along with selling missile technology and counterfeit US currency, NK engaged in unrestrained human trafficking–including snatching American girls right off American streets and bundling them up to Asia, where, presumably, many of them went into North Korean harems for the pleasure of those loyal to the NK regime.  Leaked documents refer to the fact that a disproportionate number of these American girls were black girls.  In one document it is cynically mentioned that "No one is going to miss a bunch of ghetto girls."  Well, the neighborhoods did in fact miss their sisters and daughters.  The investigations into their absence mysteriously were wrapped up, leaving underlings at the Justice Department to wonder what had happened.
Trump tweeted this morning that he had no knowledge of such things and that while he may have made it clear to high members of his administration that he had a LOT riding on his treaty with NK, he never said (*wink-wink* *nudge-nudge*) anything about going easy on the NK's criminal operations.  For obvious reasons, no one believes this for a minute.  Nonetheless, we will know soon enough to what degree Trump was involved.  It appears the whole country, not just every investigative committee on the Hill, is ready to pour every resource into finding out EXACTLY what transpired.
Which is exactly how it should be.
[# # # ]
---
Sorry, folks.  While I know that many of my readers wish that tens of thousands of black girls had been swept off the streets with Trump (or high ranking members of his administration) complicit, and thus providing (at last!) the issue which would have him removed from office, I'll have to disappoint.  The above was fiction.  What is not fiction is what the MSM and American citizen response would be, if this narrative were true.  No expense would be spared to ensure that all of us would know, very quickly, precisely to what degree Trump was involved, and we would know, precisely, how many Americans had been impacted due to the policy, and not, say, due to 'ordinary' human trafficking.  Should any complicity be demonstrated, there would be a tsunami of outrage which would not dissipate until it had washed completely over the country until no remnant of a Trump presidency remained.  Justifiably.
I trust no one will quibble with me on that.  You are lying to yourself, and to me, if you wish to argue otherwise.
While the story above is fiction, the one that follows is not.
Almost exactly a year ago, the Politico published an investigative report that detailed how Obama's Justice Department turned the heat down on a Hezbollah's criminal operations–in the United States–in order to secure the Iran deal, and with it, Obama's legacy as "The Most Intelligent, Most Compassionate, Literally the Best Man who has Ever Lived."
What did these criminal operations involve?  You mean, you don't know?  Ah, no, you wouldn't, would you?  Because unlike in my scenario above where America's collective hot rage was directed to learning every little bit about the affair, the Politico piece endured a MSM blackout that persists to this day.  So, when I tell you that potentially, some 60,000 people died due to Hezbollah's unfettered drug trade in America, this will be a news flash to you.  I have to say 'potentially' because, unlike in the Trump-NK scenario, no investigations have transpired to know precisely how many died.  And naturally, of course, we don't know how far up the chain this goes.  In this real life story, Obama doesn't even need to issue a statement blaming his underlings, because most of the country is blissfully unaware there is even an issue.
When the story first came across my radar, I waited a bit to see what would come of it.  Soon, it became apparent that we were really never going to find out what had happened, and that two other things were worth dwelling on.  1., the rank depravity of a 'main stream media' which apparently will stop at nothing to cover up the misdeeds of a member of their own 'tribe.' and 2., the brain-washed, conditioned masses who become outraged as if on cue, much like a dog slobbers when Pavlov rings his bell–and without the bell, most Americans were content to drink in whatever rubbish is given them.
6 weeks or so after the Politico piece was published, I called attention to this phenomena, with an eye towards the danger of being so easily manipulated.  Since then, I have periodically checked to see if the MSM has followed up.  Perhaps it is just me, but if I learn that the President has deliberately enacted policies that are known to result in countless American deaths in pursuit of a 'deal' with a foreign country, that is REALLY BIG NEWS.  Because of how 'big' it was, I was willing to give them some time to do their own investigations.
As I said, it has been about a year now, and… nothing.
Not a peep from the WAPO.  Not a peep from the NYT.  Nothing in the Guardian.  CNN? Silent. No news stories anywhere in any source deemed reliable by… liberals.  Fox News and the conservative media called attention to the Politico piece when it first came out, and then that wave dissipated.  The WAPO, NYT, and Guardian never did even that.  I have searched their websites numerous times over the last year, using a wide variety of keywords that I reasonably expected could bring up a story about the matter.  Hey, I'm open to it.  If you know other wise, give me the link(s).  Although it would still be a very mild corrective to this narrative, I'm in favor of keeping things in perspective.
As it stands:  nothing.  Not even news articles debunking the Politico piece.  Complete silence.
While I have found ZERO news stories, I did find a very tiny amount of opinion pieces. For example, there is this opinion piece on the "Democracy Dies in Darkness" Washington Post.   That's right, my friends.  Democracy dies in darkness… while the WAPO blacks out a story that is devastating, if true.   Well, given the complete and utter blackout, I think its safe to say the story almost certainly IS TRUE.
As far as I can tell, the 'opinion' piece was only on the WAPO's website, and didn't even make it into print.   And here is another laugh:  the 'opinion' piece was written by Eric Wemple, described on the article as a 'media critic.'  His niche?  "the ups and downs of the cable news industry"  lol.  A pretty high profile opinion piece, right? lol
In some respect, the Wemple piece is not that bad, really.  It comes only a day after the original Politico piece was published, and given that, contains decent information.  But most of that information are quotes from the 'other side,' giving me the impression the purpose of the piece was only to throw cold water on Politico. You can read it yourself (that's why I linked to it) but I think this sentence really sums up all you really need to know:
"The pushback [on the Politico piece] doesn't cite any factual errors involving the story's claims about shut-down investigations and the like."
In other words, the story's claims about "shut-down investigations and the like" are true.  The Wemple piece is the only article I could find on the WAPO site to date.  Democracy dies in darkness, indeed.
The pickings are just as slim on the other MSM outlets.  In one case, a spokesperson for an Iranian lobbyist firm was given a chance on the Huffington Post to write a rebuttal.  Naturally, nobody expects an Iranian lobbyist to be biased, so of course that spokesperson's editorial is the definitive–and final word on the matter in the HuffPo.
Over the course of the last year, I have dropped in on numerous news websites trusted by liberals (which, literally, are the only websites they frequent; very well-rounded people, they are!) and the silence has been deafening.  Evidently, there aren't any "factual errors involving the story's claims."  Which means… yes, that's right… that means it is probably true that tens of thousands of Americans died, thanks to Obama or some folks in his administration (*wink-wink* *nudge-nudge*).  Democracy dies in darkness?
If true, why would so many mainstream (read: liberal) news sites be utterly silent about the matter?
The question answers itself.
The Obama connection is not very well known outside a small slice of the population that aims to be ACTUALLY informed, but the death of tens of thousands of Americans is fairly well known and reported on.
Ironically, the New York Times, which appears to have ZERO articles discussing Hezbollah's drug trafficking in America (not even an 'opinion' piece, or a submission by an Iranian lobbyist) had a very nice story talking about the 'opioid crisis' in America, as well as how it is disproportionately hurting the black population.
Coming just TWO days after the Politico piece, a major article was written with this headline:  "The Opioid Crisis Is Getting Worse, Particularly for Black Americans."  Very interesting stuff in this article.  No mention, of course, that the Obama administration may have been involved in exacerbating the crisis.  (I'm willing to grant that a 2 day notice isn't quite enough lead time to incorporate into this story, but in the 365 days since, there was ample time to get to the bottom of it).
Check out this chart from the NYT article.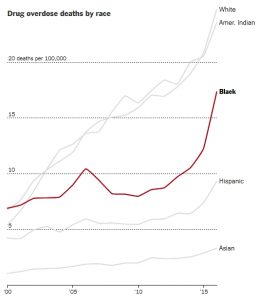 As you can see from this, the white and American Indian population have been rising for quite a long time.  Those two affected populations include rural communities, who have felt this problem acutely, and frankly have been wondering what the hell is going on with the Feds that they've been overlooked doing simple measures, like, say, creating a secure border wall.  (That question kind of answers itself, too.)  But it is the black population where the spike is most visible and unquestionably a 'thing.'  From the chart, you can see that the spike begins right at the tail end of 2014 heading into 2015.  The same spike is visible in this chart, which is where I got my 60,000 dead (in one year) figure.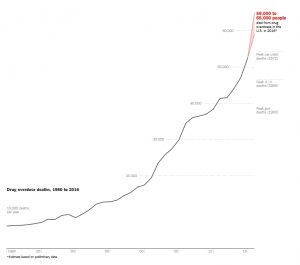 What an interesting development!  Why, is there anything that might have been going on in the world in 2015 that might explain this sudden jerk?  Why, it couldn't have anything to do with the July, 2015 final agreement between the US and Iran, could it?  COULD IT?
What could possibly make us think that?  Not a damning expose by the left-leaning Politico providing positive evidence implicating the Obama justice department?  Of course not.  Because if that was true, then our very balanced, non-partisan, non-tribal, MSM would have told us and gotten to the bottom of it promptly.  Right?  Right?
Of course, there are some ambiguities here.  Since the MSM didn't particularly care to delve into the issue, I can't sit here and say with 100% confidence that these drug deaths are directly link to Obama's malfeasance.  That is actually one of my points.  If it had been Trump's 'North Korea Treaty' you can be absolutely sure that we would know EVERYTHING ABOUT IT.
But, nonetheless, the correlation, with the Politico corroboration, followed by complete radio silence by the rest of the media, suggests that it is likely true that there is a direct link.
Which again, begs the question:  if the MSM, which is widely respected as 'balanced' and impartial, and the only sources that liberals consider to be reliable, why hasn't this connection been fully plumbed?  Right, right.  I know.  The question answers itself.  But let's ponder the implications a little more.
We are told, for example, that our liberal progressive friends are the only ones who care about people.  We are told that without the liberal progressive advocates, blacks and other minorities would never succeed (because liberal progressives don't think black people are competent enough to make it on their own power?  Hmmmmm).  Well, if that were really the case, then the fact that the 'opioid crisis' is ramping up, with a disproportionate impact on the black community, then you would think they'd be falling all over themselves to get to the bottom of things.
Drug deaths among blacks in urban counties rose by 41 percent in 2016, far outpacing any other racial or ethnic group. In those same counties, the drug death rate among whites rose by 19 percent.
There have been reasons, for a very long time, to seriously doubt whether or not lib-progs really care about minorities, but their complete silence on this matter almost completely removes their credibility altogether.  I say 'almost' because, thanks to the media blackout, many of the lib-progs don't even know about it.  Sure, they know about the drug epidemic and they probably know about the disproportionate impact the spike had on the black community, but they probably don't know that the Obama administration may have (read: probably) helped facilitate that trend.  So, there is a slim chance that your average lib-prog might actually be genuine when he marks himself off as The Great White Knight riding his valiant horse named Empathy.
This possibility is why 3/4 of my posts over the last few years have been challenging people to A., step out of the 'outrage' mentality and B., broaden your ability to get and reasonably interpret the things you know (or think you know).  This is no laughing matter with our heroic lib-prog, because at the same moment that he takes credit for every compassionate thing any human has ever done, ever, he conversely believes that those who don't share the lib-prog vision of things is a RACIST, SEXIST, BIGOT.  And what do you do with RACIST, SEXIST, BIGOTS?  Anything you want, that's what. People like that deserve the back of your hand, you see.
So, the WAPO is not wrong when it says 'Democracy dies in darkness.'  It just hasn't occurred to them that they are the ones who have turned the lights off and then turned up the heat on 'dissenters.'  In the contemporary rage against racists (found under every rock!), the stage is being set for a violent rupture… because calling people racists who are not racists and then treating people who are not racists, as racists, cannot end well.
And yet, here we are, with a situation where these very same people are completely indifferent to the fate of black people.  Or, as I prefer to think of them, Americans.  From 2014 to 2016, approximately 20,000 Americans died above and beyond the trend.  And libs don't care.  Is it because they are, in fact, racists?  That is one option.  However, I think there are, in fact, very few racists left in America (on the left and on the right).  I think the better explanation is that they view Obama as a stand in for their own Perfect Righteousness.  Since they can't conceive of themselves supporting anything that would harm minorities (at least they never intended to), and they view Obama as the embodiment of themselves, they can't imagine that Obama and his minion could possibly shed tens of thousands of lives, disproportionately black lives, JUST TO ENHANCE HIS F-ING LEGACY.
No doubt, this essay will be read as me taking aim at Obama because of my own 'tribal affiliations.'  This is a tried and true tactic,  but in this instance, it would be a sign of bad faith.  I'm sorry, but if you think its appropriate to look the other way as tens of thousands of Americans fall to a drug epidemic which was largely avoidable, I have no time for you.  Sorry, but when you are more outraged that Trump fed goldfish in an offensive way than you are that dead Americans are being stacked up like cord wood, I have no time for you.
And, just to be clear, no matter what you think Trump might have done, none of it rises to the level of thousands of Americans killed for the sake of his vanity.   Sorry, I know how much that pains you.  You would prefer that he will have killed people willy nilly, but you have  satisfied your bloodlust well enough with payoffs to porn stars and coarse language.  We pretty well know that Trump has done nothing of the sort, because–try to be honest, for once–if he had, the MSM would have reported on it endlessly.  We would know the names of every single American that died because of Trump's policy, and we would know precisely in what way Trump's policy killed the Americans.  Don't lie to me or yourself.  You know its true.
This is not a defense of Trump, or a defense of the GOP.  Indeed, I don't even like the Republicans very much.  And, on this score, I'm disappointed by the GOP, because they had the chance to get to the bottom of it and were themselves silent.  And if Trump and the Republicans are ever linked to the deaths of Americans the way that Obama is, I will have no problem condemning them.  You'll have to forgive me if I think the deaths of thousands of Americans is more important than Trump;s behavior which, while often disgusting, doesn't come even close in scale and proportion.
I'll say it again.  If you are more disgusted by Trump's tweets then you are 60,000 Americans dead in the street, you have zero credibility with me.  Period.  Not because I like Trump, but because your heart is an empty pit of hate.
Unfortunately, the problem is even worse than that.  I can imagine that some readers will still be of the mind that says, "Ok, ok.  But this is just a 'one off.'  Why not just admit that you have it out for Obama?"
Well, that's the kind of thing that you say when you are happily spoon fed by the MSM and know next to nothing.  Any attempt to keep apprised of affairs in the world with some kind of independence would have informed you a LONG time ago that Obama actually has a pattern of pursuing policies at the expense of human lives.  Literally.  You would know this, and if you had integrity and you truly did care about people, you would feel the same way about Obama as I do.  (And you probably would do as I did, and jettison 'liberalism' altogether, but I digress).
I can produce a number of examples, some of which did make a ripple in the MSM, but more often than not faded away.  The only people who remember them are the ones who DO have integrity and DO care about people.
For example, there was "Fast and Furious," where the Obama administration pushed gun dealerships on the border to let guns 'walk' into Mexico, ostensibly to follow the guns, and then unravel the cartels.  Except, it appears that actually, the Obama administration wanted gun violence to increase in Mexico so that they could use that violence as a pretext for enacting gun control legislation in the US, presumably targeting the gun dealerships, who were unwittingly undermining their own business while they thought they were patriotically helping Federal authorities.  Eric Holder would eventually be held in contempt for his refusal to release documents which would definitively prove–or disprove–this impression.  Well, shucks.   It isn't like he had anything to hide, so why comply with the requests?  And of course, despite Holder's high rank, even if he was part of this 'plan,' Obama didn't know… wink-wink, nudge-nudge.
One example out of many, which you are free to investigate for yourself.  As for me, after 3-4 such things, I start to conclude that we're dealing with a bad man and bad people. (And yes, there are that many, and more).  I'm so sorry that you cannot produce the same kind of events in relation to Trump.  But that is not my problem.  It is an objective fact that the Obama administration had a pattern of trading lives for policy.  It is not my fault you don't know that, and I'm not going to apologize for being disgusted by such behavior.
Perhaps the real issue here is that 60,000 dead Americans actually sounds good to you.  America has it coming!  Were some of the victims black?  Collateral damage.  What about the Mexicans who died due to the Fast and Furious guns?  Well, that's bad, but there are only several thousand of them.   That's not enough to warrant your concern or make you rethink your ideological priorities, or, dare I say, criticize your 'tribe.'
Ok, what about the Syrians, then.  We love the Syrians.  Those poor refugees!  Do we have any sense of how many people died or were displaced due to the Syrian civil war?  About a half a million died.  That's 500,000 people dead, Jim.
DEAD.
6 million refugees.  That's 6,000,0000.
If you don't care about Americans, and you don't care about Mexicans, maybe you care about Syrians?
Like it is fairly well known that American is in the midst of an opioid crisis, without any sense that it may have been recently exacerbated significantly–by Obama and his people–the Syrian situation is widely recognized as a very serious one, without any clue that Obama exacerbated that, too.
It isn't conspiracy theory, fool.  Its actually better documented then the Hezbollah cocaine thing.  Evidently, the MSM believes they can casually discuss the Obama administration's role in ARMING THE FRIGGIN Islamicists in Syria without anyone getting bent out of shape about THE OBAMA ADMINISTRATION ARMING ISLAMIC RADICALS.  You know, folks like ISIS.  And, evidently, the MSM is correct.  While Obama fanned the flames in Syria, I have heard little to no outrage from the left about his role in it.  Of course, just like in America I am accused of being racist for everything, the left has had no compunction against saying that people like myself are 'heartless' for not doing whatever liberals might propose on the matter.
Hey, here is an idea:  how about NOT ARMING ISLAMIC RADICALS.  I know.  I'm heartless.
I doubt very much that anyone who has been taking their cues from the MSM like they take saline through an IV has any idea what I'm talking about here.  I should like to take some time to lay it out, as the instigation and facilitation of a civil war resulting in harm to ten million people is as worthy of outrage as it is our 'empathy,' if anything is.  However, this little essay commemorating the anniversary of the Politico piece is on its way to  being nearly 5,000 words long, and I need to get about my day.
Besides, since a big part of the problem is people skimming headlines for their daily outrage, it might actually be good if I let the reader do some research of their own.  Since you no doubt have no idea where to begin–my blog post perhaps being the first time you've ever even heard of this–let me suggest this link… Zero Hedge and this link … from TheAmericanConservative (linked from the NH article).
Both provide numerous avenues of corroboration for the honest researcher, including links to outlets which the reader is already inclined to believe unquestionably (eg, CNN, NY Times, etc).  These two sources certainly aren't the only ones I could have provided.
I hope (in vain, probably) that after the reader digs into all this he or she will be as repulsed as I am about what is out there.  Yet, I will remind the reader that there is a far graver problem even than all of this.  It is this, which I detailed in my first post on this issue, "Thou Shalt Not be Manipulated."  While I would have known about the arming of Islamicists re: Syria because the news landscape is littered with discussions of it (just never elevated to something we should connect to Obama, as if he could possibly bear any blame), I would not have known about the Hezbollah-cocaine thing.  I needed the Politico for that.  And yet, there must be tons more to that story that we'll never know, since investigations haven't followed.  But here is the point:  imagine what else is out there that hasn't yet been made public at all.

If the MSM has been willing to happily look the other way on conduct that very likely led to the deaths of hundreds of thousands of people, that we know of, what else is out there?  What else could they do to us before we were able to figure it out and stop them?
This is an existential problem.  We don't know what we don't know, and we don't know that what we don't know might actually be dead people.
But there is also a moral conclusion to be drawn:
From "Fast and Furious" to encouraging children to trek from Central America to the border alone (raped, kidnapped, sold into slavery en route, etc) to stalling the prosecution of drug smugglers to arming Islamicists, and more, all to protect his reputation or further his agendas, Obama (or his minions… wink-wink, nudge-nudge) has overseen horrific atrocities which are, in my esimation, unforgiveable.  The silence of the MSM on these matters is despicable and unpardonable.  I don't know if the MSM is "the enemy of the people" but it certainly is "the enemy of the truth."  While I'm sure there are exceptions here and there (there are even exceptions within the former Obama administration), I don't for a minute believe they truly care about people.  They seem to be perfectly content to stand by and let people die, barely mentioning it if they mention it at all.
If it is true that 'democracy dies in darkness,' and I think a compelling case can be made that it does, then how many lives are being lost or have been lost, because ideologues have decided to suppress the facts of the matter.  And, if these same ideologues blow minor things completely out of proportion, inflating stupid things while ignoring the literal deaths of people around the world, what does that mean for us?  What hope do we have?
Not much, if you ask me.  But, as a first step, educating and informing yourself, and stepping out of the outrage industry, is a good thing.  The problem is we need a couple billion people to go along with it.  But to get to a billion, we still start with one.  Ball is in your court, dear reader.
PS.  For what its worth, in late October, in a little reported move, Trump signed a law that once again clamped down on Hezbollah's drug financing operations.  The NY Times does not appear to have reported on it at all, unless this counts, and I'm not sure it does. Nor does it seem the WAPO thought it important enough to mention. ( Some broader mention of Iran sanctions.  Nothing specific to the Hezbollah sanctions that jumped out). Nothing in the Guardian. CNN, to their credit, did.  Lots of stuff about how evil Trump is in this time frame, though. Gosh, why would anyone think the media is hopelessly biased?