I am a Cruz supporter, but my last two posts could be construed as coming to Trump's defense, and this one, likewise.  But these posts are not a defense of Trump, but an attempt to point out that if it is really possible for an American president to do all of the things that people are worried Trump might do, then that is really the least of our problems.   It means that the office of the presidency has way too much power.  It means that we have no faith in the checks and balances our Constitution is supposed to embody–and remember, those checks and balances were specifically designed with the deep fear of a tyrannical monarchy in mind.  It means that we think that the States, our Congress, and SCOTUS, will do nothing to prevent a president from doing anything any given president wants.  It means that we worry that our military will obey illegal orders.  It means that we believe the American people are powerless to resist a tyrannical government.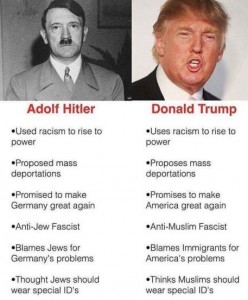 And, sad to say, almost all of these things are true, and all are true to a degree.  Right now.  They have been true for quite a long time, actually.   The dirty little secret, then, is that the Republic is already dead.  It just so happens that there hasn't been a man audacious enough yet to take advantage of it, or at least, not take advantage of it in a way that lends credence to comparisons with Hitler and Stalin that I have been seeing, such as in the 'meme' to the right.
If all this is true, than I almost welcome a Trump presidency, because it might mean that the States may finally assert their 10th amendment rights.  It might mean that the Congress will strip away the various Federal powers that the 'unitary executive' presently has access to.  It might mean… *gasp* that SCOTUS might actually follow the rule of law by interpreting the ACTUAL law, instead of making it up as it goes along.
History has shown that people cannot bring themselves to act until it is too late, or admit that something is dangerous or toxic until it is already fully ingested.  For over one hundred years, Americans have allowed the Constitution to be dismantled right in front of their eyes.  It is instructive, when thinking about a Tyrant Trump, to think about the tyranny our presidents have already engaged in:
The progressive president, Theodore Roosevelt, who wrote:  "society has no business to permit degenerates to reproduce their kind."
Woodrow Wilson, the proto-fascist progressive who firmly established the bureaucratic state and enforced the Sedition Act of 1918, actually putting people in jail for exercising their right to speak freely.
Franklin Roosevelt, who actually did put Americans into concentration camps.
Harry Truman, who incinerated hundreds of thousands of Japanese, instantly.
Are you getting the picture?
Then we may jump ahead to folks like Nixon, who was nearly tossed out of office for using the IRS to target political foes… and Obama, who did the same thing, without facing any consequences whatsoever.
Some of these things were reversed.  Some of them we may even reluctantly concede were necessary and appropriate.  Regardless, the overall trend has been towards more power in the hands of elites and less in the hands of the governed.  And the governed have gone along with it.
Until recently, that is.
In the last 20 years or so, at least on the political right, there has been an overall move away from such things.  The elites have not gotten the message.  Or, they don't care.  Things really came to a head in 2010 when a truly audacious president came to power and began exercising that power, and the people trounced him and his ideology throughout the country, state, local, and Federal.  In 2012, he was trounced again–winning at least in part because he used the IRS to undermine groups that were organizing to defeat him in a bold, tyrannical, and typical abuse of Federal power.  But in 2014, he was defeated yet again.  After handing this man massive defeats in three successive elections, people expected to see results.
They didn't.
So, now here we are, with a man like Trump poised to be the nominee and with a good chance of being the next occupant of the White House.   And hence, with access to the same powers that have been used and abused for the last hundred years.  Now, most people are focusing on the man, but I'm telling you, this is the least of our concerns.
You see, our country did not lapse into they kind of nightmare that Germany and Russia fell into because we had better tyrants, who in their benevolence, allowed the peons a greater measure of freedom.  No, many of our presidents and leaders were scoundrels, who desperately wanted to do exactly in America what was being done in Germany and Russia.
It was Supreme Court Justice Oliver Wendell Holmes who, upholding compulsory sterilization, wrote: "The principle that sustains compulsory vaccination is broad enough to cover cutting the Fallopian tubes. Three generations of imbeciles are enough."   The superintendent of one of our public hospitals, Joseph Dejarnette who complained, in 1934, "The Germans are beating us at our own game."  It is the sitting chief science officer of the Obama administration, John Holdren, who argued that compulsory abortion was justifiable under the U.S. Constitution.   It's not that the people in our country are more benevolent than the tyrants in other countries.  It's that their hands have been tied by the mighty ropes of the Constitution.
It is these very ropes that have progressively been loosened over the last century, landing us in our current predicament.
I would prefer Cruz, but Cruz would probably tighten the ropes back up, and people would howl.  Leftists, who need the power and might of the government to do what they want (because otherwise they'd never get what they want), will fight him tooth and nail.  But if Trump is in fact the president that everyone fears, then that might be the wake-up call that will unite both the left and the right in the awareness that our freedoms and liberties truly depend on a radically scaled back, limited government.  (A Clinton presidency would not have this effect; Clinton would be just as tyrannical as Trump is presumed to be, but since leftists don't mind tyranny when its them doing the tyrannizing, there is no hope that they will band together with those on the right).
And I should like to mention one last thing.
One of the first things that every tyrant has done before he has done anything else is disarm the masses.
In America, we still have our guns.
People, especially leftists, have had trouble imagining that there could ever be a need in civilized society for the deterrence embodied in the second amendment.  Their eyes may indeed be opened, shortly.
A Trump presidency may very well be our last chance for a bloodless revolution.