Presently making its rounds on social media is an article describing the shock parents had in Chicago to discover instructions on how to have safe anal sex and other sexual activities… designed for fifth graders. According to the article, "CPS says the material was mistakenly put in the presentation and is not intended to be part of the curriculum."
Since the material is hosted on one of their elementary school websites and plainly described as being for fifth graders, this seems to me to be unlikely.  However, that is an issue for the good citizens of Chicago to explore.  I wish to make some other points.  However, for reference, you may wish to look at the presentation material that was on that website.  In case they remove it (likely) the link was here:  http://www.waterselementary.org/uploads/2/2/0/1/22017434/5_lesson5_abstinence_contraceptives.pdf and I have uploaded it to my site where you can download it here:
5_lesson5_abstinence_contraceptives
As a quick aside, Bill Clinton famously said that he did not "have sex with THAT woman" but according to this material, sex is defined as "Sexual intercourse – Activity where the penis or another sex object is inserted into the vagina (vaginal
intercourse), anus (anal sex), or oral cavity (oral sex)."  Much turns on the definitions of things, as we will discuss more, shortly.  (Does 'is' mean 'is'?)
Let me bottom line this.
If anyone takes the time to understand the progressive liberal mindset, there is not one thing surprising about this.  If you fall into the camp described in the article as, "Many parents said that although they support sex education, the material went too far for elementary school students" you need a reality check, to put it mildly.  The same spirit that drives 'sex education' at all embraces teaching kids about all kinds of sexual activity–from birth.  If you want the government to provide sex education at all, you will inevitably find "material" that is "too far" sprinkled throughout society.  The goal is simple:  for one day, society to agree with them that no discussion about sex of any kind be "age inappropriate."  If you happen to be one of these progressive liberals yourself, and find yourself similarly disgusted at the idea of teaching fifth graders (in this instance) to use condoms, in graphic, explicit detail, then you have REALLY got to get your head on straight.  It's 'your team' that is behind this in the first place!
It is imperative that we realize that much of this push to sexualize our children and, indeed, all of society, is part of an overarching philosophy that goes well beyond the considerations made by local school boards.
Supposedly, 'everyone' agrees that this material is not 'age appropriate.'   Someone involved clearly does, since the lesson plainly describes this as being for Grade 5.  My first impression when looking at this document is that whoever these people are, they figure that since it is generally accepted that fifth graders shouldn't be having sex (yet…), teaching 'abstinence' should be a no-brainer, and certainly well within societal norms. Here are the Lesson Objectives:
Students will define abstinence in relation to human reproduction.
Students will identify abstinence as developmentally appropriate sexual behavior for 5th graders.
Students will identify people who can support their decision to practice abstinence.
Students will compare and contrast contraceptive methods, including: abstinence, withdrawal,barrier methods, and hormonal methods.
Students will identify places to access reproductive health care.
From this, one might expect the presentation to be significantly weighted towards abstinence (that's great, right!).  However, of the 61 slides, 54 of them are devoted to 'safe sex.'   There are, literally, only three slides dedicated to abstinence.  Oh.  And a worksheet called "My Goals" with cutesy, age appropriate smiling stars.  Why they didn't go with erect penises is beyond me.  After all, they already have smiling condoms on the slide on page 25.  I would have gone with that.  — >
Now, I ask you:  in a presentation geared towards 'abstinence' with 88% of it devoted explicitly to actually having sex, or what can happen if someone has sex, what is the actual message these fifth graders can be expected to take away?   I mean, seriously.
Before I take some time to corroborate my claim that this is part and parcel of the liberal worldview, I would like to first call attention to some of the elements of blatant deception built into this transparent propaganda piece.
First of all, note the slide on page 35 which covers "Emergency Contraception."  The Morning After Pill is categorically described as "Not [an] abortion pill."  Well, yes, if you define pregnancy as only beginning after implantation, then it is not.  But why define it that way?  Be honest, you know exactly why.   Here already in the fifth grade, ten year olds are being given the idea that pregnancy does not begin at conception, so whatever you do before implantation is "no big deal."
You might say that this kind of nuance is not appropriate for fifth graders.  Right!  Let's instead go over some female anatomy!  Actual slide below: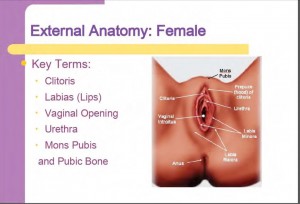 Moving on.
We have one deception where an 'abstinence' presentation seems actually designed to promote promiscuous behavior.  We have another that plainly plays into laying the groundwork for a treating unborn children as throw away fodder, which is itself a linchpin that holds the entire pro-choice position together.  There is an additional deception (albeit, it may be self-deception on the part of the presentation designers) that you can avoid pregnancy and STDs, even apart from abstinence, by using certain forms of contraception.
Now, the presentation quite correctly states that abstinence is 100% 'protective' of both pregnancy and STDs (in the latter case, "however some STIs can spread by genital contact alone.") but states that condoms "protect[] against STIs and pregnancy, and oh, by the way, are available and "Free at most school based health center or community centers."  I know if I was a fifth grader striving to be abstinent, I'd be happy to discover that I could still have as much sex as I want without consequence, for free, without my parents even knowing (see slide on page 37), if I use a condom.
This point is made in various ways throughout the presentation.  For example, on the slide on page 40, we learn:  "Just like male condoms, [Female Condoms] help reduce the risk of HIV, STIs, and unintended pregnancy."
——————–
Sorry, I have to digress for a moment.
Some of the other benefits of using the Female Condom, which every 11 year old should know, is that you can insert them "hours before vaginal sex, so you don't have to interrupt foreplay to be safe."  Best of all, perhaps, you can use them not just vaginally, but also anally!  AND… wait for it… wait for it… the Female Condom is for "EVERYBODY!"  Women, men, transgender folks, gay, straight and, here's a great feature, in "Any position."   They don't even need an "erect penis."  And, every fifth grader will be pleased to know, they "adjust to body temperature, so both you and your partner can feel the heat."  Oh, baby.  Feel the heat.
Now, the average fifth grader might be a little intimidated by the mechanics of using a Female Condom.  Great news:  they offer step by step instruction on how to use it vaginally, and, as an added benefit, anally, too.  Note the male genitalia: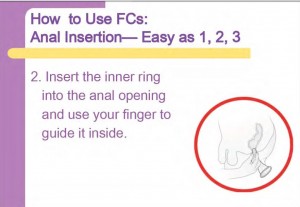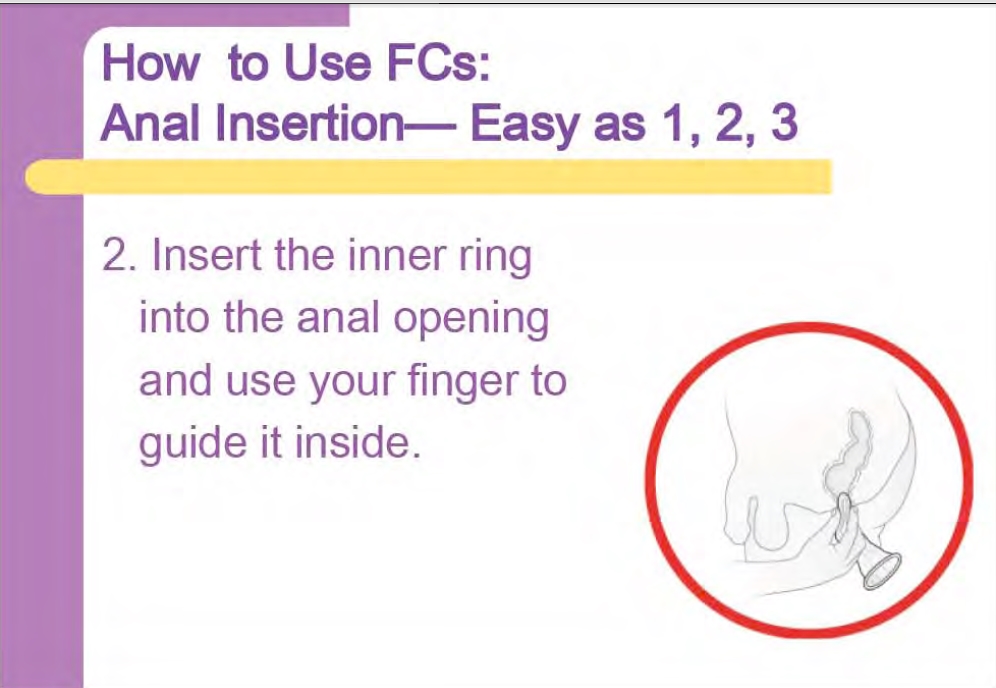 Of course, if you use it anally, every pre-teen should remember to use lots of lube, a point cleverly emphasized through age appropriate kid friendly innuendo: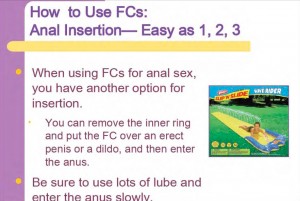 Does anyone else think that it is not the sexual behavior of young people that is the public health menace, but rather the…
Alright, digression over.
——————–
In a comparison chart at the end of the PDF we get a good look at all of the birth control outcomes.  Abstinence gets the big green check… hurray for logic!   So also the male and female condom.  Everything else gets the big red X… for some reason the STIs get graphics, but the 'effectiveness at preventing pregnancy' gives us a percentage.
Now enter the deception.
The slideshow and the comparison chart (which is for the adults?) state, correctly, that condom use is not 100% protective.  The male condom is said to be 84% effective against pregnancy and the female condom is said to be 79% effective.  Both have the green check mark (which relates only to the STIs, not the pregnancies), but the fine print says that condoms only 'help prevent STIs' or "Offers protection against STIs."
What are we to make of this?  It seems to me that both child and adult will come away thinking that there are two good options for them, abstinence and condoms, even though there is still a 16-21% chance of pregnancy and still a possibility of getting STDs.
What shall we call a child–nay, anyone–who has sex a hundred times?  A parent, if these rates are accurate (I've actually heard liberal sites promote a much narrower percentage).  This is great news for organizations like Planned Parenthood, that really need the business.
Anyway, I can't see how kids, and perhaps even adults, won't come away from this presentation thinking that so long as they properly wear condoms (and instructions ARE given, see page 16) they can have as much sex as they want, anally, orally, whatever, and all will be well.
Now, personally, I have trouble believing that this kind of thing is ignorance or ideological blindness.  It seems to me that the 'experts' have got to be aware of this, and not only don't give a damn, but are actually trying to generate unintended pregnancies and STDs.
I felt I needed to give at least some measure of a critique before talking about the sources.
This is interesting, I think.  The presentation is backed up by links from reputable (in our present society, anyway) sources and sites.  There is of course that bastion of women's reproductive rights, Planned Parenthood.  If anyone has incentive to reduce the number of pregnancies, its them!   We have a link to Bedsider.org, which is a project of The National Campaign to Prevent Teen and Unplanned Pregnancy and has a number of competent people who can be expected to be totally unbiased.  They have another project, where they offer 'fun and games' trying to persuade people to wait, but of course pretty much assume nobody will.  The CDC is linked… who can argue with the CDC.  Those people are brilliant.  And let's not forget the National Institute for Health.
Indeed, the first line in the document indicates that the goal is to "comply with CPS policy requirements for comprehensive sexual education at the 5th grade level' as reflected in National Sexuality Education Standards.   These standards, which appear to be part of the Common Core package (I need to verify this) can be found here.   It certainly seems that that this presentation is consistent with those standards.
I go into this because I think that any of us who get bent out of shape about this and direct our ire exclusively towards our local school boards are totally missing the point.  These are not locally driven initiatives.  They are backed by national organizations that are deemed credible and reputable such as the NIH and CDC and Planned Parenthood.   The NIH and CDC, of course, are government organizations.  Take some time to check out the members of the various sources. 'Experts' and PhDs, every one of them!   What we have here is a liberal progressive outlook on human sexuality enshrined at the very top levels of policy making.
This is not an aberration.  This is reality.  If you don't like what is coming down the pike, and you are a liberal, then you need to rethink governmental involvement in these affairs AT ALL and, more than that, you need to rethink your entire ideology.  If you are a conservative and sympathetic to this post, you need to delve deep into the agendas that are driving these things and fight them at their source, and not get distracted by sideshows.
Now, what I had not noticed on other blogs about this was the fact that despite the presentation being backed by innumerable reputable sources, it was created by the Chicago Female Condom Campaign and adapted from The Fenway Guide to LGBT Health.  (panel page 60)  It also draws from an organization called The Pleasure Project where we learn that they intentionally use 'guerrilla tactics' trying to use pleasure to prevent… badness, I guess.  (I'm afraid to know what I'm looking at in the background image on that page.)
You've just got to understand that the liberal ideology is advanced deliberately through lies and deception, and whenever possible, at taxpayer expense and through public institutions.  If you don't understand this, we'll never see the end of such things.
Period.
If you are a liberal, and this troubles you, its time to do a re-think.   These are your peeps, working within avenues that you helped establish and advocate for and wish to fund (using other people's money, typically).  But if you are a conservative, it means that we must be vigilant and active at every level, all the time, and in every way, state, local, and Federal.
Gird up your loins.
The folks at the Chicago Female Condom Campaign probably have a slide to show you how to do it, but its probably in their submitted curriculum for third graders.