The impact that Saul Alinksy's ideology had in the thinking of the man currently occupying the office of the presidency, one Barack Hussein Obama, is well documented.  Thus, I will not document it myself, and submit the reader to Google.
Having only read excerpts of Alinksy's Rules for Radicals, I was pleased to have the opportunity to sit down and read it for myself in its entirety.  Knowing how influential Alinksy was for the young Obama (and many others who now occupy seats of power) I am more worried than I was before now that I've actually read this book.   Go to the library and pick up the book.  You need to read it.
The subtitle of the book is "A Pragmatic Primer for Realistic Radicals."   It is not an inappropriate subtitle.  Alinsky is all about pragmatism and realism.  Alinsky is dismissive of ethical questions related to the question "Does the end justify the means?"  He says:
The practical revolutionary will understand Goethe's "conscience is the virtue of observers and not of agents of action"; in action, one does not always enjoy the luxury of a decision that is consistent both with one's individual conscience and the good of mankind.  The choice must always be for the latter.  Action is for mass salvation and not for the individual's personal salvation.  He who sacrifices mass good for his personal conscience has a peculiar conception of "personal salvation"; he doesn't care enough for people to be "corrupted" for them.  (pg 25, chapter titled: Of Means and Ends)
I believe that pretty much the entire book is distilled into this paragraph.  Alinksy's basic belief is:  Say what has to be said and do what has to be done.
Do you have to believe what you say?  Not at all.  Say what people want to hear.  What matters is achieving your objective.  As for achieving your objective, every tactic is on the table.  As Alinsky says, what matters is "Does this particular end justify this particular means?"
Now, there is some validity to this clarification.  In fact, I believe he is right.  The problem runs much deeper to his notions of 'the good of mankind' which is referenced in the long quote above.  What Alinksy fails to include at any point in his book is any clear framework for deciding what represents 'mass salvation.'
This is intentional on his part.  He says as much.  He says:
This is not an ideological book except insofar as argument for change, rather than for the status quo, can be called an ideology;  different people, in different places, in different situations and different times will construct their own solutions and symbols of salvation for those times. (emphasis mine)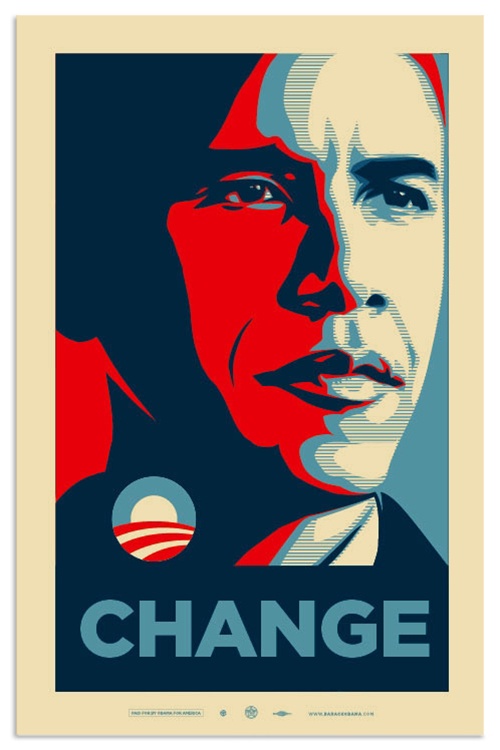 Later in the paragraph (pg 4) he says,
To diminish the danger that ideology will deteriorate into dogma, and to protect the free, open, questing, and creative mind of man, as well as to allow for change, no ideology should be more specific than that of America's founding fathers:  "For the general welfare."  (emphasis mine)
Left utterly unexplored, then, is what principles should help you come up with your notions of  'mass salvation' and 'the general welfare.'  Alinsky's moral relativism is blatant and explicit and he is unembarrassed by it.
But clearly if you want to pursue the 'good of mankind' you should have some clear idea on what that means?  Clearly if you want people to go along with it, you should be up front with the moral and ideological principles that drive your concept?  HA!  For the 'community organizer' the community being organized is on a 'need to know basis.'  As Alinksy later argues, it is rare that you can ever get people to do the 'right' thing for the 'right' reasons.  More often, they do the 'right' thing for the 'wrong' reasons, and for your purposes- achieving your objective- not only is that acceptable, that is all that can realistically be expected.
In fact, one of his later points is that policy comes after power.  In his estimation (and here I don't necessarily disagree) people are not inclined to think about policies or issues until they have the power to do something about them.  As a practical matter, that is quite true.  It is a truth about human nature.  However, the 'community organizer' is instructed to remember that "what we fight for now as matters of life and death will be soon forgotten, and changed situations will change desires and issues.  It is common for policy to be the product of power." (pg 106)
In other words, it is not very important to know what you believe, or why, or what you would do with power when you've got it, compared to the necessity of actually getting hold of power in the first place.  The entirety of the 'community organizer' agenda is thus simply that:  achieving power.
To the extent that Obama had actually communicated his real agenda prior being elected, we can only suppose that if Alinksy was an influence in his thinking (and we know that it was), then in some respects Obama didn't actually know himself what he believed, or why, and what he would do with power once he had it.  And since you only tell people what they want to hear in order to acheive your objective, the only real way to get insight into Obama's real thinking is to watch what he does.
We already have ample evidence of this.  For example, he promised the left that he was going to close Gitmo.  What has he actually done?  He is keeping it open.  He promised the left that he would end torture and hold those who did it accountable.  He ended 'torture' but apparently won't be doing the latter.  He vowed to get us out of Iraq according to a particular time frame.  This is unlikely going to happen, either.
He said these things in order to get the radical left behind him.  The radical left should have known better.  They shouldn't be surprised one bit.
Alinsky urged his organizers to gain power and then determine policy.  This seems to be Obama's play book, but we are left wondering about the critical question:  what does Obama believe the 'good of mankind' consists of?  Clearly, if it is a question of whether or not this particular means justifies this particular end, it is imperative to know precisely what end Obama hopes to achieve.  Obviously.  Yet, we have no idea.  You can't even believe what he's said.  You've got to look at what he's actually done.  What has he actually taken stands on, not just verbally, but in action?
Suddenly Obama's numerous 'present' votes while an Illinois senator, in particular on questions of abortion, are understood in a new light.  It's just part of the plan.  Don't you remember:
"But there surely is some common ground when both those who believe in choice and those who are opposed to abortion can come together and say, "We should try to prevent unintended pregnancies by providing appropriate education to our youth, communicating that sexuality is sacred and that they should not be engaged in cavalier activity, and providing options for adoption, and helping single mothers if they want to choose to keep the baby."
That's what he said.  That's what people wanted to hear.  There was a collective, national, "awwwwwwwwwwwww" when he said this.  And then what did he do?
Immediately upon taking office he did everything he could to make it easier to get abortions.  If the 'common ground' mantra is 'safe, legal, and rare' he did everything within his power to negate 'rare.'  It is absurd to believe that his Sotomayor will not support a pro-abortion agenda, if in fact we can discern what Obama really believes from what he has actually done.
Obama's is clearly utilizing other Alinksy tactics as well.   In Alinksy's chapter on Tactics, two of them seem to be in play regarding the murder of Tiller:
The fourth rule is:  Make the enemy live up to their own book of rules.  You can kill them with this, for they can no more obey their own rules than the Christian church can live up to Christianity.
The pro-life community is the most law abiding 'social' group out there, and when new rules are added to control their 'hate speech' Obama will appeal to the fact that the Bible urges submission to authorities.
The second principle that seems to apply is:
The thirteenth rule:  Pick the target, freeze it, personalize it, and polarize it.
Obama immediately released a firm statement with polarizing language regarding the Tiller murder.  In contrast, the statement released many days later about the killing of the American soldier by a Muslim convert was much more passive- the opposite of polarizing.  Clearly, when you are on the way to Cairo to pander to the Muslim community the last thing you want to do is polarize them.  You only polarize your target.
One can guess that it will soon be open season on the pro-life community and as long as Islamic radicals don't screw it up by doing something too audacious, they'll be able to literally get away with murder.

Reading this portion about polarization made me physically ill.  I've been reading and hearing complaints about the polarization in this country as a bad thing- from liberals and democrats- when all along, one of their founding 'rule books' seeks to achieve just that.
This is demonstrated very well by the quote from the speech above about finding common ground in the abortion debate.  The ones who really were interested in common ground are the Christians, and utilizing such language, Obama got more than half of the Catholic vote.  A lot of people who considered themselves moderates appreciated Obama's 'moderate' view on questions like partial birth abortion.  When push came to shove, though, we see clearly that Obama is perfectly happy to come out and 'freeze' the pro-life community over the death of a person who carried out the very kinds of abortion he deplored 'except for the life of the mother.'  (Tiller performed, by his own estimation, some 9,000 elective later term abortions).
I have gone on about the abortion topic as it very well could be where he turns his gaze, but by utilizing the principle that we can only know Obama by his actions and not his words, there are many other things that look dark on the horizon.  His fascist takeover of GM, his firing of CEO's, his advocacy of 'hate speech' legislation, ie, his actual exercise of power as we've seen it already, are positively frightening in their own right.

But what makes it all the worse is that we don't really know what Obama thinks constitutes 'mass salvation.'   We don't know what Obama means by 'the good of mankind.'  We don't know the ideological basis for what he considers the 'symbol of salvation' for this time.  We just don't know.  We only know that he will say what people want to hear and then do whatever is necessary to achieve his particular end.  And only God and Obama knows what that might be.  I take that back:  it is possible that neither of them know, for what Obama believes (if Alinksy is any clue) is adaptable, formless, and flexible.  And God, though omniscient, can only know that which can actually be known.
In conclusion, I found there were actually many things in Alinksy's book that rang true to me.  I was a little surprised to see that.  For example, he acknowledged the historical fact that that great pacifist, Ghandi, would have used force if he had thought it would work.  Alinksy quotes Ghandi complaining in 1930, "Spiritually, compulsory disarmament has made us unmanly…" (pg 39)
Alinksy correctly sums up Lenin's position on peace while not yet in power as:
"They have the guns and therefore we are for peace and for reformation through the ballot.  When we have the guns then it will be through the bullet."  And it was. (pg 37)

Alinsky actually has a lot of good ideas- pragmatically.  Unfortunately, in light of the amoralism he believes and promotes, this can only be a cause for concern if/when it falls into the hands of people who are amoral, just like he is.
Citizens, behold thy president.