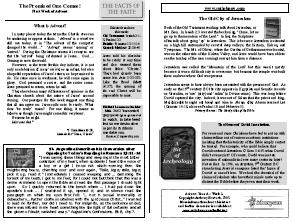 I am making my Advent 2007 Apologetics Bulletin series available for free download and free distribution (no license fee) as of this moment.  Feedback is welcome as I hope to put together a series for Lent in 2008, next.
These bulletin inserts were available even before my Golden Compass parent's guide/bulletin insert, which is still available and has been downloaded almost 2,000 times. Many churches have reported using that insert. This series has a similar philosophy in that it tries to equip Christians with the facts of the faith however it is different in that instead of being topical, it follows the readings of the church year.
Incidentally, my apologetics bulletin series has been uncommended by an atheist because it will be effective!
Little tidbits and facts will tend to solidify Christian beliefs in the bulletins and would NOT tend to start people on dangerous thinking paths. I hate the idea.
Well, if an atheist says he doesn't like the idea it must be good. 🙂
There is no license fee for using the bulletins and that means that you can make as many copies as you like for use in your congregation. You may not make them available for a fee. I reserve all rights to the material and may choose at a later time to change the license. Therefore, you may not host these on your own sites, though you can forward them. I prefer that if you want to spread the word about them that you simply point them back here.
These are free, but I'm not going to stop you from donating, either. "The worker is worth his wages." Just use the shopping cart feature to the right if you wish to make a donation.
Below are all four files as well as a fifth one, which is a zip file that has all four PDFs in one. I am looking for feedback especially for purposes of deciding whether or not to produce a Lenten season, so if you like them I strongly encourage you to let me know!
YearA.Advent.Week1
(606.6 KiB, 1,879 hits)
YearA.Advent.Week2
(359.9 KiB, 1,578 hits)
YearA.Advent.Week3
(568.9 KiB, 882 hits)
YearA.Advent.Week4
(846.8 KiB, 847 hits)
AdventYearABulletinInserts.zip
(2.3 MiB, 768 hits)
Would you like to leave a comment? You may do so below. If you prefer to send a note privately you may email me.