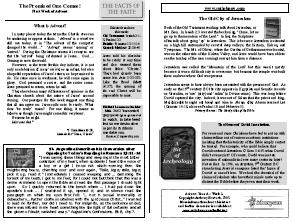 The idea to produce bulletin inserts with apologetic content goes back several years with me.  I had to set the idea aside because of pressing financial concerns.   My beloved wife has always insisted that it is one of my better ideas, so she prompted me to re-consider.  Some friends ratified her view.  Also, increasing the awareness within the Christian church of the facts beneath the faith has become an important part of my vision of late.  The more I interact with atheists and seekers and Christians on the ropes, the more I realize that most objections could have been handled pretty early on.  By the time I present information, it is often too late:  a bad attitude has set in.
In other words, let's keep people from leaving the faith in the first place.  These bulletin inserts make use of the readings in the Church year and are geared towards this coming Advent season (December 2007).  They play upon the texts and give examples of archeological corroboration of the Christian Scriptures, insights from the Greek and Hebrew, and also commentary by the Church fathers, like Augustine and Justin the Martyr.
Fully implemented, the Apologetic bulletin insert idea would be expanded so that each week of the three year church calender (quick math:  156 separate inserts) would have their own insert.  A congregation that implemented such a program would slowly educate their members on all sorts of matters.  Perhaps it doesn't seem apparent how a reading from Justin the Martyr could possibly be relevant to today's challenges.  Here is where a certain trust in my experience as an apologist kicks in.
The passage in question argues against Trypho the Jew's allegations that Christianity is a borrowed pagan myth.  Only a brief time on the Internet will show how that could be relevant.  Seeing how such challenges are not even new in the slightest but addressed not much more than a century after Christianity's conception can go a long way to help people see that even if they themselves are not knowledgeable, there are Christians that are, and modern 'objections' were defeated by our ancients forbears.
The content in the insert is necessarily brief.  It may sometimes be over people's heads.  However, my goal is to slowly build up people's knowledge.  If they don't understand something this time around, three years from now when Year A in the church calendar comes, hopefully they'll see the relevance and understand the significance much better.
Please check out the page describing this more and tell all of your friends.