"The principle that sustains compulsory vaccination is broad enough to cover cutting the Fallopian tubes. Three generations of imbeciles are enough."
Oliver Wendell Holmes, Chief Justice of the Supreme Court in the 1927 decision, Buck vs. Bell
Indeed, it has been concluded that compulsory population-control laws, even including laws requiring compulsory abortion, could be sustained under the existing Constitution if the population crisis became sufficiently severe to endanger the society.
John Holdren, science 'czar' to Barack Obama.
If you are going to respond to this post, actually read it first.  People replying to this post without exhibiting awareness of the actual content of this post will be flamed mercilessly.
I am not against vaccination.  I am against compulsory vaccination.
(By 'compulsory' I mean whatever it is that US courts mean when using the word, such as when the California appeals court upheld legislation mandating vaccination, which it described–feeling no further elaboration was necessary–as compulsory vaccination.  Quoting from Brown vs. Smith (2018): "compulsory immunization has long been recognized as the gold standard for preventing the spread of contagious diseases" and that it is within the 'police powers' of the state, and therefore "nothing further need be said." pg 10.)
From my experience, that opening will go in one ear of pro-compulsory-vaxxers and out the other, but I'm going to say it anyway, and hope against hope that this will 'immunize' myself from the typical conditioned responses that they usually spew.
Imagine, if you will, a car manufacturer was protected by US law so that people who were injured or killed by their car could not be sued directly for damages.   Instead, car manufacturers were literally immunized from such lawsuits.  Injured parties could only submit their petitions to a government agency set up to receive those petitions.  Whenever this agency paid out money to injured parties, they would always be sure to say things like, "Being awarded compensation for a petition does not necessarily mean that the [car] caused the alleged injury." Hell, most of the time, they won't even try to find out if the car cause the injury!
Furthermore, the compensation that people do receive does not even come from the car manufacturer.  Instead, every purchase of a car includes a tax, paid by the consumer, which goes into settlement fund.
The car manufacturer is therefore free and clear to sell as many cars as they want with little to no concern that his product might actually harm people, since it does not have to worry about being held liable nor even be worried it might have to pay damages.  Think about how much money they would make, hand over fist.
Does this seem like a healthy arrangement for the public?
Of course, car makers do not enjoy such a sweetheart deal.  No, they are fully accountable to the public for its products.
But this arrangement is actually the one that vaccine makers have in the United States.  Beginning in the late 1980s, legislation was passed which completely insulated vaccine makers from lawsuits.  The government stepped in as the final arbiters on whether or not someone is harmed and warrants a settlement.  Payouts were made from a program funded by those who take the vaccines themselves.  Talk about a sweet-heart deal!
If this is new to you, stop.  Do not comment.  Do not reply to this post.  Spend some time educating yourself.  Discover for yourself that I am telling the truth.  I do not want to hear ANY of your ignorant drivel in the comments on this post.  Seriously.
I'll even hold your hand a little.  Here is the government webpage for the program: NVICP.   Start googling that for even more information.  Be sure to make yourself aware of the Adverse reaction reporting system, too.  This searchable database will scare the shit out of any reasonable person wondering if vaccines themselves cause harm.   Apparently, they do quite a bit of harm.  Ah!  Except:
"VAERS is not designed to determine if a vaccine caused a health problem…"
Right.  As it says on the NVICP page:
Being awarded compensation for a petition does not necessarily mean that the vaccine caused the alleged injury. In fact:
Almost 80% of all compensation awarded by the VICP comes as result of a negotiated settlement between the parties in which HHS has not concluded, based upon review of the evidence, that the alleged vaccine(s) caused the alleged injury.
This is supposed to make you feel better about vaccines.  If not striving to determine conclusively if vaccines are actually causing harm to people actually comforts you, there is something seriously wrong with you.  Seriously wrong.
You're also supposed to pass over the logical corollary, which is that 20% of the awards come in cases where the HHS has concluded, based upon the evidence, that the vaccines (allegedly!) caused the injuries (allegedly!)
Isn't it great that an organization which bends over backwards to assure people that their payouts do not imply the vaccines are necessarily the cause of the harm is the same organization put in charge of evaluating the petitions?  Gee, they sound impartial, don't they?  Doesn't sound like they have their thumbs on the scales, does it?  Does it sound like they represent the citizens, or the vaccine makers?
We could elaborate on this theme for quite a while, but perhaps we might want to skip to the bottom line.
4.1 billion.
$4,100,000,000.
That is how much money has been paid out to people since the program was established.   That is a lot of cash.
A reasonable person would think that, contrary to all of the assurances that vaccines are perfectly safe, the reality is that, in point of fact, vaccines have demonstrable risks.  In at least 20% of the time, our government itself has concluded that harm has been done.
Many times when people argue for compulsory vaccination, they insist that vaccines pose no risk whatsoever.  Perhaps I have just been unlucky, but in the 20 or so times when I've personally engaged in conversations with 'pro-compulsory-vaxxers' (henceforth, PCVers) only a couple of them even knew that vaccines are known to generate adverse reactions.  They didn't even know that much!  (This did not stop them from thumping their chests, insisting that they were OH so much smarter than anti-vaxxers–which, I will remind you, I am not one of.)
But vaccines themselves do pose a risk.   As with every other sphere of public life, the people being asked to bear a risk ought to be able to decide for themselves if they are going to take that risk and have the right to hold directly accountable those who through negligence cause harm.  Moreover, if we know there is a risk to certain things, the ones at the nexus of delivering that risk–doctors, nurses, public health officials, the vaccine makers themselves–should ensure people are informed of those risks.
When I am asked to get a vaccine at the doctor's office, there is a hand-out provided which has a very muted presentation of risks.  The vaccine insert which comes with the actual vaccine is not provided.  No surprise there, since if people read the insert, it would scare the hell out of people.  My doctor is a little better than this, since I have made it very clear to them that I want all of the available information.  Still, I am confident that if people didn't ask for the information, they wouldn't make people aware that it exists.  They certainly would not bring up the existence of the VICP, or point out it has paid out 4 BILLION in damages!
Given the fact that vaccines do actually carry a risk, it is immoral to make taking them mandatory.
And that brings us to the inspiration for this post:  the measles outbreak in New York, where the mayor is now requiring vaccination, on penalty of a $1,000 fine.
Let's just take this rationally for a moment.   The number of cases of the measles in America since the year 2000 is less than 4,000.   Aren't you curious about how many of those people died?  The number is very, very small.  Here, you find out the number yourself.
Meanwhile, according to the VICP data itself (already linked to via the NVICP page above), 1,197 (162 measles, 1035 MMR) people have reached the vaccine court stage of proceedings since 1988.  80 were claims of death.  Without admitting anything–naturally!–almost half of these people received payments (457).
No surprise again, but the NVICP does not provide a searchable database as with VAERS, so it would take some sleuthing to parse out deaths from injuries. At least in broad strokes, though, you can see that relative to the number of cases of measles versus the number of injuries that the NVICP 'admitted' to, 10,000 or so cases of measles (going all the way back to 1988) compared to 457 paid out injuries, the 'risk vs benefit' equation is not nearly straight forward enough to say that the risk of getting the measles, and being injured by it if you get it, substantially exceeds the risks posed by the vaccine itself, and therefore warrants making the vaccine mandatory and compulsory.
By the by, you'll be happy to know that the MMR vaccine is not the only one acknowledged to be associated with injury and death–acknowledged enough to pay out 4 BILLION dollars, anyway.  Taking all of the vaccines together, 20,000+ injuries and deaths have made it to the court, with 6,465 claimants getting money.  A lot of money:  3.8 billion dollars!
Perhaps suggesting that vaccine makers themselves might be getting a little careless with their product, it is interesting to note that the amount paid out every year is on an upward trend.   In 2010, 179 million dollars was paid out.  IN 2015 it was 204 million.  In 2019, which we aren't even halfway through yet, 119 million has already been paid out.  Yipes!
Golly, it sure seems like there are some 'adverse reactions' out there!  Why would anyone think there might be a problem with the vaccines?  By Jove, I just don't know!!!!!!
Maybe instead of threatening people with $1,000 fines if they don't get vaccinated, De Blasio should be offering to pay them $1,000 if they do get vaccinated.  Better yet, De Blasio should offer to pay for their medical expenses should any of them get an adverse reaction, since the vaccine makers themselves aren't going to be paying anything.  And no more of this business of, "Well, we understand you *think* you suddenly fell gravely ill because of the vaccine, but we're not going to investigate it to find out."  No, vow to get to the bottom of such claims forthwith.  Perhaps if it was his own money, or even the money of the government's (as opposed to money provided by the ones taking the vaccines themselves), there would be more interest in finding out when and if vaccines actually were causing harm.
I know, ridiculous!  Finding out if something actually causes harm before paying out 4 billion dollars!  Absurd!  And so funny how the news never seems to cover these payouts… but I digress.
I have been creating 'reasonable doubt' as to whether or not vaccines are indeed 'safe' enough to justify making them compulsory, now let me take a minute to speak to their presumed effectiveness.  Obviously, any part of an argument for why something should be compulsory should go beyond merely whether or not it is harmless, but whether or not it can be trusted to do what it is claimed to be able to do.
To return to our car manufacturer, it would be like requiring everyone to buy a car on the grounds that it was completely safe and effective, only to discover that not only do cars sometimes have serious malfunctions, but on occasion, they won't even run, either.  Or, like requiring people to buy health insurance, but then having deductibles that are so ungodly high that you can't use it, anyway.  You can see how that would be a problem, and it is for every other sphere of our existence–but not vaccines.
Now we risk really getting into the weeds on things.
Again, I am NOT against vaccination(s).  I am against COMPULSORY vaccination.  I believe it is reasonable to believe that vaccines have been helpful and can still be helpful.  But it would be lying to say that they have been 100% beneficial, with no harm caused to anyone.  It would be lying to insist that they are 100% effective, as though it were really the case that if everyone got a particular vaccine, that would be the end of the story.  It would be lying to credit the reduction in cases and mortalities to vaccines alone.  And I am not a liar.
Limiting myself to the measly measles, since that is the annual cause of agitation by the public health community and is presently blowing up into outright tyranny in New York, there is ample evidence that it is not 100% effective.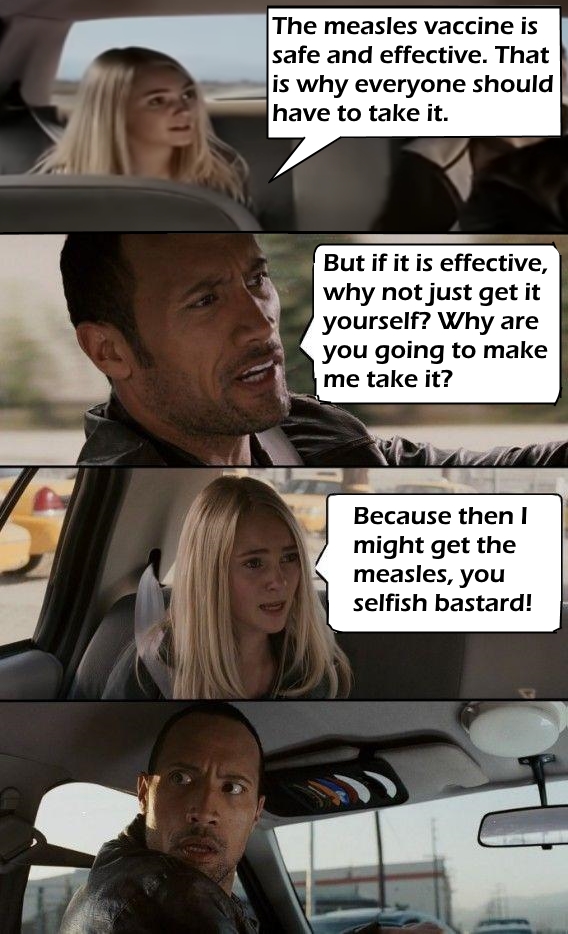 Of course, pro-compulsory-vaxxers who have at least some experience debating these issues will quickly argue that 'no one really thinks it is 100% effective.'  But you have to press them before they'll admit that, which is one of the reasons why they aren't trusted in the first place, because up to that point, the prevailing message is just a blunt "the vaccine is effective" and that becomes what people believe.  This deception undermines the very confidence they are trying to build, because the minute that someone discovers the truth, the credibility of the PCVs is shot.  I could produce a hundred news reports, etc, right now, where there is no hint that the vaccines might not be effective. Take this New York Times article as a case in point.  I will refer to this article again later in the post.
(It is always a thrill to debate a newly minted PVC debater who is so ignorant, he still believes–and regurgitates–what he has only read in news reports to that point.  You have to drown him in sources–from his own side, mind you–before he relents.  Not that he changes his viewpoint, because frankly his viewpoint was never about facts and evidence in the first place.  Which is ANOTHER reason why PCVs aren't trusted.)
If the idea is that the measles vaccine is 'safe and effective' then obviously, if you don't want to get the vaccine, your route is clear:  get the vaccine.  And if someone else does not get the vaccine, and they have the measles, then you should be safe, right?  Right?
This is where things get entertaining.  After conceding that, in point of fact, the measles vaccine (in the US, that means the MMR) cannot be counted on to confer immunity, they then say, "And that's why we all need to get vaccinated!"  lol.  But… even if we all took the vaccine, there would still be measles outbreaks, because… the vaccine cannot be counted on to confer immunity!  Are they even listening to themselves talk?
People who have been paying attention to this topic know what kind of lunacy surrounds the PCVer's arguments.  (Everyone except the PCVs, themselves, that is.)  For example, back a few years ago, a measles outbreak was started by someone… who had taken the measles vaccine!
What is really funny about this incident… and, I mean this is really funny… of the 4 people that this woman infected… all 4 of them were supposed to be immune to the measles!  This is comedy gold:
Ultimately, she transmitted the measles to four other people, […] Surprisingly, two of the secondary patients had been fully vaccinated. And although the other two had no record of receiving the vaccine, they both showed signs of previous measles exposure that should have conferred immunity.
So, here you have an outbreak of the measles where the first 5 individuals all should have had immunity to the measles, 3 of which were documented to be fully vaccinated!
So, contrary to the claims, even 100% 'herd immunity' will not end measles, as the measles vaccine itself can give people the measles, and people who got the vaccine can subsequently get the disease.  Here you had a herd of 5 (a small herd, admittedly) all supposedly immune, all of whom were infected.
And given such realities, De Blasio and his ilk have the audacity of saying things like, "The measles vaccine works. It is safe, it is effective, it is time-tested."  Or (from the same NYT article), "[Dr. Offit said]: "I don't think it's your unalienable right as a United States citizen to allow your child to catch and transmit a potentially fatal infection."
Well, dumb ass, the measles hasn't killed anyone for years, and very few have died in the US even going back 20 years, and taking the vaccine does not actually mean you won't "catch and transmit a potentially fatal infection."  In the "Measles Mary" incident, 100% of the people in the first and second wave ought to have been immune, and yet they still caught the infection.
[Update 4/17/2019: now a woman is in a coma from the measles; yep, you guessed it:  she had been vaccinated. The idea that if everyone else had been vaccinated she wouldn't have gotten the measles illustrates how these people are committed to something other than logic and evidence.  SHE was vaccinated and got it. If EVERYONE was vaccinated, people would still get it, and people with the vaccine would GIVE it, as illustrated by the "Measles Mary" incident.  What then are they committed to, if not reason and science?  My guess: Statism.]
Meanwhile, since 1988, according to VAERS, it was believed by adverse reaction reporters that at least 86 people have died from measles related vaccines.
And they have the audacity to make taking the vaccine compulsory?
Literal insanity.  Insanity if you take their arguments on their face, that is.
A couple of things more on this before I move along.
First, it so happens that the article I posted on the "Measles Mary" thing has a statement which might interest folks:
Although public health officials have assumed that measles immunity lasts forever, the case of Measles Mary highlights the reality that "the actual duration [of immunity] following infection or vaccination is unclear,"
Emphasis added.
I know what you are thinking.  Assumed?  What?  You mean this wasn't actually empirically tested?  I thought this was established scientifically!  lol  As if.
When people find out just how many of the supposedly 'scientific' claims made by PVCers turn out to just be assumptions, that is yet one more thing that creates the very skepticism that the PVCers are trying to counteract.  Suggestion:  try telling the truth.  Course, the truth does not comport very well with arguments for compulsory vaccination, so I guess you have to choose:  compulsory vaccination, or credibility.
Secondly, the case of "Measles Mary" is not by any means a 'one off.'   If you dig deeper into this issue, you find out that its really pretty well known that the measles vaccine is not nearly as effective as presented in the MSM.  If you read stuff that the public health community assumes that only fellow public health officials will read, they are quite candid about it.  Although, sometimes you need to apply a little logic.
For example, in this article discussing the number of measles cases from 2000 to 2008 (approximately 572), it says:
Among those measles cases reported during the first 7 months of 2008, 76% were in persons aged <20 years, and 91% were in persons who were unvaccinated or of unknown vaccination status.
Uh, so what about that other 9%?
Oh, right.  Those were people who were vaccinated.  5% of them were fully vaccinated, and 4% received only the first dose.
This is actually a very common thing to read in the literature.  I haven't surveyed it enough to be confident enough to put a number out and defend it vigorously, but there seems to be no question that a large number of people getting the measles are people who were already vaccinated.  In the case of "Measles Mary," recall that she did not have measles until she got the shot, and then she gave it to 4 people, all of whom should have been immune!
Here is another, just for kicks: "Of the 118, 105 (89%) patients were unvaccinated."  So… the other 11%?  Vaccinated.
FYI, there is nothing in either of these CDC articles to suggest that any of these people died.
Do I have any problem with the assertion that even the measly measles can kill someone?  None at all.  Just be honest enough to admit that dozens of people have died from the vaccine itself, and then treat people like adults and allow them to decide for themselves which set of risks they wish to bear.
It is probably not the case, per the PCVers, that a largely unvaccinated population will be overwhelmed by the measles, resulting in many, many deaths.  If the measles were such a problem, and the unvaccinated population supposedly especially susceptible, then we would see that in the stats.
Alternate theory:  significant advances in nutrition and medicine since the 1960s have radically mitigated the negative outcomes observed prior to, say, 1935.   That this has roughly coincided with the introduction of the measles vaccine (1963) has confused our brightest minds, who fell for the ol' correlation does not equal causation fallacy.  The improved nutrition and advances in medicine are the actual reasons why the incidents of measles and measles mortality fell, with the vaccine providing a relatively modest contribution.  Since medicine has advanced even beyond what we had in the 1960s, and nutrition in America is still quite good, there is little chance that measles could pose a threat even to a largely unvaccinated population, who, by virtue of their healthy immune systems, not only wouldn't get the measles if exposed in the first place, but would brush it off.  Numerous charts show just such trends.
Mind blown.
This brings us to thirdly.
It is often said that this is all well and good (although this so far already takes the air out of the PVCer's main arguments, and is enough to end all arguments for compulsory vaccination altogether), but what about those with suppressed immune systems?
Of course, when they say it, they shriek it.  You are practically Hitler now, in your heartless regard for those on chemotherapy, etc, etc, etc.
Nonetheless, what I have described above is decisive and demonstrable.  You can hurl your emotional platitudes at me all day long, and it will not change the fact that A., the measles vaccine itself can give people the measles and B., people who have the vaccine can still get the disease.  And, the vaccinated person can be infectious!
So, let's say that you have a child who has been going through chemotherapy and has a suppressed immune system because of that fact.  Let's say you wish to go to a public place where you have been assured, through a very careful vetting process, that every person in the gathering is completely, 100% up to date, in their vaccinations.
In that scenario, do you think your child is safe?  Do you take your child to this gathering, taking no other precautions?
If so, you are an idiot.  You may have just killed your child.  Way to go!
Fortunately, although there are people who make this kind of argument, in the real world, people enduring this situation don't believe something so stupid as that a fully up to date population is therefore 'safe.'  They continue to take precautions because they know truly basic facts like… wait for it… wait for it…
There are many diseases that are out there for which no vaccine exists.
Let that sink in.
Hell, even in the case of the flu, where there theoretically is a vaccine, its basically hit or miss.  If you knew anything, you would know that the flu (influenza) has many different strains.  So many, in fact, that it is impossible to create a vaccine that will cover them all.  What they do is pick a handful of the strains that they believe will be most prevalent in the upcoming flu season, and build their vaccine around that assumption.
Theoretically, at least, those who encounter those strains will be protected by their vaccine.  Alas, in numbers far higher than with the measles, those who take a correctly matched flu vaccine still get the flu.  But what if they completely botch their assessment on which flu strains will be prevalent?
Then you get a year like 2014/2015.  Ouch.  And, if I understand that chart correctly, even the 'good years' aren't so good.  Only 4 of the 15 seasons had an 'adjusted' effectiveness higher than 50%.
A 50/50 shot of not getting the flu!  What's the harm?  Unless the flu vaccine itself can cause harm…
But I was talking about diseases for which there are no vaccines.  Dude.  There are a lot of them.  A 100% vaccinated population will not protect the immunosuppressed.  Your invoking such scenarios is nothing more than manipulative emotion-driven rhetoric, just the same kind of thing fueling our outrage industry.  Do you know what will protect the immunosuppressed?  The diligent and vigilant care and protection of loving parents who do what is necessary to protect themselves or their children.
It is immoral to demand that others incur a risk when even if they incurred that risk, pretending that if they did, you would not need to take precautions, and yet you would still need to take every precaution!  That's right.  YOU think I am immoral.  NO.  YOU are the one who is immoral.  YOU appear to be perfectly happy forcing others to expose themselves to injury and death when their exposure would not even provide you the protection you have offered as your rationale for requiring people to expose themselves to risk!  Callous!  Heartless!  Cruel!
Sadly, there will be people who are so uninformed that it has never occurred to them that there are diseases for which there is no vaccine (which does not prevent them from flapping their gums), so let me just give you a couple.  God willing, curiosity will be stoked, and research will occur, and you'll think of some others.
One that comes to mind is Streptococcus pneumoniae.  There is a vaccine that covers some strains of strep.   There isn't one for Strep A, which happens to be pretty deadly, potentially, all on its own.  What does Dr. Offit propose to do about that?   From the CDC:
CDC estimates approximately 11,000 to 13,000 cases of invasive group A strep disease occur each year in the United States. Each year between 1,100 and 1,600 people die due to invasive group A strep disease. [Emphasis added]
Read that again.
Inhale.  Exhale.  Remember what you learned earlier (from your own research?!?!? Hint.) about the number of cases of measles and the number of deaths.  Compare and contrast with the figures for Strep A.
How about some math?  I do a lot of math on this blog, most of it addressing proportions.  Let's do some more.
Which is bigger?  372, or 11,000?
372 is the number of measles cases in 2018.  11,000 is the low end of the estimate per year for Strep A.
Does 11,000 seem bigger than 372 to you?  Take all the time you need.
Which is bigger?  0, or 1,100?
0 is the number of people who died from the measles last year.  1,100 is the low end of the CDC estimate for how many die each year from 'invasive group A strep.'
And we have regular national spasms about 'outbreaks' of the measles?   Are you joking?
That was Strep A.  Of more recent vintage is the fungal outbreak which is making the news.  Again, no vaccine.  This has a mortality rate of 20% – 50%.  Oh, and it is largely a problem of hospitals–where it is more likely that people with compromised immune systems will be around.
This article on the fungus, Candida auris, has this chilling statistic:
In the United States, 2 million people contract resistant infections annually, and 23,000 die from them, according to the official CDC estimate. That number was based on 2010 figures; more recent estimates from researchers at Washington University School of Medicine put the death toll at 162,000.
Sure!  Invest all that time and energy and shaming on THE MEASLES!  Methinks the immunosuppressed, in reality, have much bigger fish to fry than the measles.  You can spare me the whole "but the child with cancer!" argument.
Meanwhile, the compulsory vaccination wagon moves forward, trampling human rights as it goes.
After the 'outbreak' of measles in California, they pushed compulsory vaccination to the hilt, despite no one dying from the measles in that outbreak.  The outbreak itself consisted of only 131 cases.  On that basis, they stripped away the freedom and liberty of 40,000,000 people.  What did those people get in return?  21 cases already this year.   Even with their literally draconian measures in place, they are still on track to get almost half as many cases as they did in their 'outbreak.'
Do you think the people that pushed this through were intelligent, rational, logical individuals?  I disagree.  I think they are tyrannical idiots who obviously cannot tell genuine threats from very minor ones.  Far from being entrusted with the care of millions of individuals (if by the decimation of the right to control what goes into your own body counts as 'care') they can be barely trusted to operate a lawn mower.  They pose an existential threat to the safety and welfare of millions of people, and should be removed from their positions ASAP.  Almost anyone else would be able to better evaluate real threats to public health than those people.
Even a smidgen of intellectual honesty combined with curiosity would not only completely end this nonsense about compulsory vaccination, but it would awaken us to more serious and significant threats.  As a side effect, it would alert people to the fact that there are far, far, far more serious threats to the United States than the measly measles.
If it sounds like I am passionate about this topic, you would be right.
First of all, I happen to think that freedom and liberty are extremely important things and should be transgressed only in the most gravest circumstances, and only if a robust system of due process has been honored throughout.  The removal of liberty for something as pathetically stupid as the measles is an outrage.
Second of all, since I have taken the time to inform myself about serious threats to the United States, I know very well that there are some doozies.  I mentioned Step A, but one that has just made me livid over the last couple of years is the opioid epidemic.
Contrary to the sense I may have given so far, I actually do believe that public health officials have an important role to play, and have sometimes done some very good things for us.  I think that that the linking of iodine deficiency with goiter is an excellent example of a service well-rendered; incidentally, while salt is iodized, in the US, its not compulsory.  People CAN get non-iodized salt, if they really want it.
But public health officials should know their place.  They should stay in their lane.  As people with unique access to coercive powers by virtue of their connection to the state, they must appreciate that like any one exercising power, if they are not held in check, that power can be abused.  I know a couple of public health officials.  One, I consider a friend.  I don't think he would quibble with what I'm saying here.  But, in my other experiences, public health officials resent deeply being questioned at all.  At least with a politician, you know who he is and what he is about, and you can vote him out if you don't like him.  A public health official will be unknown to the populace and is not elected.
Well, while they are getting their feathers all ruffled and putting all their resources towards cajoling people into getting vaccinations which don't even live up to their claims and offer no robust recourse for any harm they might do, there is a genuine threat that has been unfolding for the better part of a decade where a sane public health official, possessing the ability to recognize real threats and distinguish them from minor threats, would be pushing hard.  Real hard.
Communities have been complaining about the opioid epidemic for almost a decade now.  The numbers of people who have died are off the charts, relative to those who have contracted the measles–let alone died from it.  I have been complaining about it on this blog for a couple of  years, drawing specific attention to how little attention the epidemic has received by the people who have the actual f-ing job of dealing with such things.
It was recently bandied about that we lost in two years more than died in the entire Vietnam War.  [One example.]
Combined, the number of opioid overdose deaths in 2016 and 2017 was 91,317 — well beyond the number of U.S. deaths in the Vietnam War [58,220].
Calling it the 'opioid epidemic' doesn't really do it justice.  I have not limited my own remarks to opioids, including cocaine and other drugs.  That article says:
Ojeda's reference to 60,000 deaths two years ago appears to involve a broader statistic — the number of overdose deaths for all drugs, not just opioids. The number of deaths in this category for 2016 and 2017 was 63,632 and 72,306, respectively.
Using this broader statistic, Ojeda would still be correct: The number of overdoses from all drugs totaled 135,938 over those two years, far higher than the number of service member deaths in Vietnam.
That's just over 2 years, Jim.
Ok, lets go back to our math problem.
0 vs 135,938.
Which is bigger? 0?  Or 135,938?
0 is the number of death due to the measles in that time period.  135,938 are all drug overdose deaths.
And our public health community thinks its the MEASLES that is the problem?
Here you have something where our public health officials could be providing a real service connected to a genuine threat.  Instead, they fly into a tizzy at the tiniest 'outbreak' of a disease which pales in comparison to the drug problem in America.
The utter failure of the public health community and our government, both of which have perfectly appropriate roles to play on this–if not central roles–pisses me off beyond words.  I have no words to express how angry I am about this.
All of this begs a very important question:  the size and the scope of threats actually killing Americans by the hundreds every year is so dramatically obvious, why is it that they focus on the measly measles?
I alluded to some likely possibilities above; for example, they don't like their judgement questioned.  They are the experts, you know.  It would be hard to get one answer to explain it all, and it might vary by person.  There is a rank paternalism that is out there.  There might be some ego involved; they've put a lot of their credibility on the line with this issue and they want to save face.  Or, there might be political components: any honest assessment makes it clear that most of the drugs causing the most harm is coming from overseas, nay, right from across the southern border.   They'd rather get more money for their treatment programs (which relies on THEM to administer) than see the money go somewhere it would prevent the need for treatment altogether (and be administered by someone else).
I have encountered many different possibilities in my readings on these issues.  It is an important topic in its own right, because the arguments for compulsory vaccination are so bad it is hard to believe that they mask their real rationales, which they are reluctant to share with us.  For my purposes, here, though, it is enough to demonstrate that the existential threats the US faces are so obvious and so much larger than the measles that to hyperventilate about the measles only serves to highlight the existence of massive cognitive dissonance  that is reckless to the extreme, if not criminal, in its stripping away of human rights.
Compelling people, at the point of a gun (which is ultimately what state-based coercion reduces to) is a bad habit to get into.  Sad to say, our public health community is addicted.  Maybe that's why they make the measles into a big deal: they need their annual 'fix' and power-tripping.
Well, we need to get our heads out of our collective asses, because while people are running around making stupid arguments for compulsory vaccination, we are literally dying from genuine threats:  Strep A, drug overdose, suicide; heck, you could even say gun violence and while I would quibble with you I'd still find it a far more respectable thing to get worked up over than the MEASLES.
Unless we put a stop to this, decisively, the logic of compulsory vaccination will follow its course.  And then we may very well have problems even worse than 140,000 drug deaths in the span of just two years.
"The principle that sustains compulsory vaccination is broad enough to cover cutting the Fallopian tubes. Three generations of imbeciles are enough."
Oliver Wendell Holmes, Chief Justice of the Supreme Court in the 1927 decision, Buck vs. Bell
Indeed, it has been concluded that compulsory population-control laws, even including laws requiring compulsory abortion, could be sustained under the existing Constitution if the population crisis became sufficiently severe to endanger the society.
John Holdren, science 'czar' to Barack Obama.
If you are going to respond to this post, actually read it first.  People replying to this post without exhibiting awareness of the actual content of this post will be flamed mercilessly.