Let's say that Town A has a case of ebola and Town B has a case of chicken pox.  You put them both under lock down.  When it is all said and done, neither ebola or the chicken pox escape their respective towns.  The measures were successful–but then, that's a rather trivial observation if the whole question is whether or not the town should have been locked down in the first place.  The success of the lock down tells you nothing about the danger of the particular disease.  This seems to me to be self-evident, but apparently we need to point it out.
Consider another scenario.
Salesman Bob comes into town selling "anti-comet juice."  He produces expert testimony to the fact that a comet is heading straight for the town, and unless everyone in the town hunkers down in their basements–first purchasing the anti-comet juice, of course–EVERYONE IS GOING TO DIE.  Let us imagine that people (a word I use in the context of this post here) generally believe him.  They impose a tax to pay for the juice, close down businesses, schools, post guards outside of the houses of skeptics to prevent them from leaving, and so on.  When someone objects, proponents argue:
"Months from now, if we're lucky, the extreme measures being taken now to prevent the arrival of the comet may seem like they were an overreaction, because relatively few people died.  That's the point.  That's why we're doing it."
But people wouldn't buy such reasoning, would they?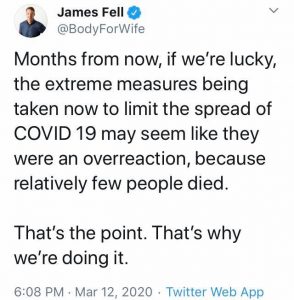 It should be apparent from my two analogies that, in point of fact, there are two options for why "relatively few people died."  Option 1:  the 'apparent overreaction.'  Or, Option 2:  'the threat wasn't as acute as presented and/or feared.'
My question for this post is…. just how would one tell the difference?
When you have a novel disease, it is one that, by definition, doesn't have an exact precedent.  That means that, by definition, we have to make estimates and guesses on its impact.  How many times have you heard draconian measures defended on the basis of "Well, we have to prepare for the possibility…" ?  If you've heard it once you've heard it a thousand times.  This, as the much bandied about term, the CFR, has dropped from 3.4 (breathlessly stated as:  "34 times more deadly than the flu!") to 1 (breathlessly stated as "10 times more deadly than the flu!"), to the number I've only heard whispered (shhhhhhh.  No one tell the people!)…
In the weeks that followed, the CFR declined. The WHO reports that "the standard of care has evolved over the course of the outbreak". The CFR fell to 0.7% for patients with the onset of symptoms after February 1st.
The reliable site, run by John Hopkins, I believe, adds:
The CFR is not only reflective of the disease itself, but specific to where and when people are diagnosed with the disease. It's therefore incorrect to report it as a single point value for the disease, and instead requires us to also report the time and place.
So, people are frantically pointing at Italy (CFR of 7.3) while in the meantime they could also be looking at Germany (CFR of .2).   Yes, that's right, .2 (as of 3/16/2020).
Is there some reason I've not been told as to why we should be expecting the US to resemble Italy and not Germany?  Or is it just not sexy enough to say "COVID-19 is only 2x more deadly than the flu!"
With these numbers all over the place, it begs the question:  had it been our understanding that the CFR of the Wuhan Virus was .2, would there now be a national panic?  They are literally–not figuratively, not metaphorically, not symbolically–literally winding down the entire nation, closing schools, businesses, transportation, etc, etc.  All for a disease which may be only twice as deadly as the flu, a disease which to be blunt, kills tens of thousands of Americans every year with nary a word about shutting down the World.  Be honest.  Would there be?
Of course, it is possible that the CFR in the US could have rivaled Italy's.  Could have.  But now, unless there is mass incompetence on a scale unknown outside the Federal government, we're not going to see a CFR like Italy's.  We're just not.
And to that, proponents of all the shut downs will say, "That's the point."
But remember Town A and Town B, above.  A national shut down comes with a price.  The longer it goes on, the more bitter it will become.  Most people would agree that if its Ebola, you shut it down.  If it is Chicken Pox, you target your measures, but society generally goes on as normal.  We already know that when its the flu (CFR .1) society goes on as normal.  Is it our collective opinion that the price we will be paying is justified on a CFR of .2?
This is a hypothetical question today with serious import for the future, because you just know how this is all going to go down.  In a few more years, another disease will escape China because, in the interim, there will not be the political will to give China its comeuppance.  People will look back and say, "REMEMBER COVID-19!"  One group will point out that the CFR was massively over-estimated.  The other group will point out that the CFR was only lower precisely because we enacted massive lockdowns, which is why, naturally, they will want to do the same thing again.  (Also in the interim:  50,000 deaths/yr to the flu)
Neither of these groups have any ground to stand on unless somehow we had an idea of what the CFR was independently of the measures taken.
I have to believe that the experts have some way of ascertaining that, or at least estimating that, but I can assure you, they aren't going to tell us what that figure is!  The last thing in the world they want the general public to think is that the government's response was wildly out of line with the actual threat, even if they know full well it was.  Their line is already getting traction:
"If you just leave the virus to its own devices, it will go way up like we've seen in Italy. That's not going to happen if we do what we're attempting to do and are doing," Fauci told CBS's Margaret Brennan on "Face the Nation."
"The way you get ahead of it is that, as I try to explain to people, that I want people to assume that … we are overreacting because if it looks like you're overreacting, you're probably doing the right thing," he added.
The first paragraph is obviously not true.  The virus has not been left to its own devices in Italy, and yet it has still killed many, many, many more people, compared to other countries.  The virus would not have been left to its own devices in the US, just as I'm sure it was not left to its own devices in Germany, or South Korea.
In fact, statements like that actually make one wonder if the testing fiasco was really a blunder.  The higher number of confirmed cases would radically diminish the CFR, making the CDC's 'overreaction' even more glaring.   It would be in their best interest, from an institutional point of view, to keep the number of confirmed cases low.  That would be a neat trick, right?  ("If you don't look, you won't find cases.")
Notwithstanding that unlikely scenario, we expect such people to make such statements and can disregard them completely.  Only pay attention to the things they say to each other in the months and years after this, when they acknowledge things like the 2009 H1N1 flu being over-estimated (originally at 7-10, but finally at .1.  Ooops).  Let us therefore consider the question on our own.  I believe we can do better than you might think, and I believe it is imperative that we talk about this NOW, if only for future, practical considerations.  Oh, and accountability.
Now, we are greatly hamstrung when evaluating this question because the CDC's massive foul-up regarding testing has not given us a clear idea of how many cases there are in the United States.  That means that there are potentially hundreds of thousands of people out there, already, with the disease.  As I write, the US's CFR is 1.8, but that's with only 3,770 confirmed–with only about 15,000 tested to date.  Obviously, if there are 100,000 cases and the deaths are at… um… what is that massive number again… let's see, where is it again… ah, here it is 69… the CFR would drop significantly… to .07.  That's less than .1, Jim.
Since we don't have actual tests to look at, we are forced to look at estimates.   I'm not talking about estimates of how many people are expected to eventually be infected, I'm talking about how many are infected already.  (Be sure to read this) I've read estimates between 14,000 to 100,000 or more.  Here is one:
A medical professor at Johns Hopkins University urged Americans not to believe low numbers of confirmed coronavirus cases in the United States, warning the actual number of people walking around with the virus could be "between 50,000 and half a million."
Please don't misunderstand me.  I think these higher numbers are actually pretty likely.  But, being likely, it actually undermines the argument for "over reaction."  If there are already 500,000 cases but only about 70 deaths, the CFR drops like a rock.
Literally as I write, some chick on the telly is saying "there is no permanent damage to overreaction."  I assure you, many, many, many more than 70 people will be permanently harmed by the measures we've taken.  I've probably already seen 70 people on my FB alone express grave concern about their future well-being.  But its nice to not have to take responsibility for your positions, right?
Let me give you some of my reasons to believe the higher numbers of infected people.
First of all, it is almost certain that COVID-19 has been circulating in the US for months already.  They may have found Patient 0 in China, and he was not infected in December of 2019, but rather November 17.  All signs are that this has been moving far earlier than we were told.  China didn't give us much of a heads up at all until the first week of January.  The travel ban did not kick in until Jan. 30th.  That means that likely infected people have been coming to the US, in the hundreds, if not the thousands, for weeks before things really 'hit the fan.'
If this were the case, it would explain, for example, the curious case of Patient Zero in Washington State, and, as I understand it, the United States.  He is a man, we are told, who did everything right in protecting himself from others.   And yet, they conclude, they must have 'missed' one of his contacts.  Or, perhaps there were other people in the area already infected besides him, but since they were only then becoming alert to the presence of a new disease–which may have been among us all for some time–these people went undetected.  It is worth remembering, in this context, that Patient Zero is not known in Italy at all.
But more to the point, the man believed to be Patient Zero in Washington arrived on Jan 17th, 2020.
Let us now consider and compare ourselves with Italy.  When did they detect their first cases?
People keep saying, "Look at Italy!  That is where we are going!"
Apparently, they are unaware of the FACT that the coronavirus was confirmed in the US two weeks earlier than in Italy.  It is we who had the head start.  It is we who are ahead in the process.  Isn't that interesting?
Let's look a little deeper into the Washington state case.  Note the date:
By Feb. 25, Chu and her colleagues could not bear to wait any longer. They began performing coronavirus tests, without government approval.
What came back confirmed their worst fear. They quickly had a positive test from a local teenager with no recent travel history. The coronavirus had already established itself on U.S. soil without anybody realizing it.
"It must have been here this entire time," Chu recalled thinking with dread. "It's just everywhere already."
Again, note the date.  For further perspective, consider the fact that it was March 9th that it was announced that Italy would lock down their country, effective for the 11th.
Ok, people.   When did Chu determine the coronavirus had already established itself on US soil?  Right about Feb 25.  That's about 2 full weeks before Italy shut down their country.
So, not only did the US have it two weeks earlier than Italy, but it appears very likely it was "already established" two weeks earlier.  So we ask the obvious question:  why is it that Italy is off the charts, whereas in the state of Washington, there are only about 40 dead, the bulk of which were from a single nursing home?
These 40 deaths are 4/7 the national total to date, and they are all in one place.  Why isn't it 1,500 deaths in Washington alone?
Remember, we're talking about a disease which infects people for up to 14-20 days without anyone knowing they are even sick, and we're told that it has an exceptional ability to transmit itself from one person to another, comparable to SARS and the 2009 H1N1, higher than MERS .  If this is true–and I don't doubt it is–please note WE ARE NOW EXACTLY TWO MONTHS FROM WHEN THE FIRST CASE WAS CONFIRMED IN THE UNITED STATES.  8 full weeks!  (ok, minus 1 day, for you super pedantic types).
WHERE ARE ALL THE DEAD AMERICANS?
Listen.
You can have hundreds of thousands of undetected infected people out there, test or no test, and continue on that way for almost forever.  These can hide in plain sight.  What you can't hide are thousands of hospitalizations and thousands of deaths.
If COVID-19 is such a vicious disease, with characteristics as described above, and an Italian-like experience was inevitable for failing to LOCK DOWN EVERYTHING, then that is something we WOULD ALREADY KNOW.  Indeed, it is more reasonable to think it would have happened to us FIRST, before Italy, rather than later.   All the things we are being warned 'could' happen would have already happened.
But where are all the dead Americans?
Where is the overwhelmed health care system?
Is the state of Washington overwhelmed?  Nope.
No one appears to be overwhelmed.  And why would it?  We have a health care system which had little trouble coping with the flu season of 2017-2018, when some 60,000 people died from it and almost a million were hospitalized–800,000 to be exactish.
We have obviously been given the clear impression that the coronavirus poses a unique threat and because of that unique threat, we should prepare for the very real possibility that it will overwhelm our health care system, thus the need, at minimum 'to flatten the curve.'
Listen.
I'm not disputing the possibilities of such things "if we left the virus to its own devices."  But in actuality, the virus has indeed been largely' left to its own devices' up to this point.  Today, this very day, is the first day that many of the school closing are in effect.  Businesses are just now being forced to shut their doors.   Social distancing has only recently, within the last week at the latest for sure, been implemented, even if only via public shaming on social media and elsewhere.
You can hide hundreds of thousands of undetected cases.  You can't hide a million hospitalizations and you certainly can't hide half a million dead (one of many projections I've seen).  And these things we would have already seen, if it were going to happen.
It is called logic.  IF all the other things they say are true, then it necessarily follows that with all the time the disease has had to propagate, with a CFR of even 1.0, let alone 3.4 or 7.0, these things would have already manifested themselves, weeks ago.  IT IS CALLED LOGIC.  It may be time, perhaps, to revisit some of those conditionals, eh?
Now, with all these shut downs, extending for 3-4 weeks, well into April, and even more draconian measures to come (if you can believe it!), there is nothing but the tiniest chance that we're going to see anything near what Italy has experienced.   That tiny chance is connected only to the possibility that it may mutate in a way which is especially pernicious.   Because, if you shut down the entire country right now–and it is darn near shut down right now–you ain't going to have Italy.  You won't even have South Korea.   And if, with all these things in effect, you DO have South Korea or Italy, there are almost certainly other problems, having nothing to do with the coronavirus.  But you ain't.
I will put one caveat on all of this.
Supposedly, things are far worse than we have been led to believe.  I can only go by what is put out into public, and if there is information they are holding back which leads them to believe otherwise, that's on them.  By the same token, it appears that this week will be the first week they really start testing.
This week is also the first week after the last week in which there were no precautions implemented on a mass scale.  I've heard that while there is a range, people tend to manifest within about 5 days.  Thus, anyone who was infected last week will only now just reveal themselves.  (God only knows why the other people 5 days before that, and the people 5 days before that, and the people 5 days before that, and the people 5 days before that, [do this about 4 more times to get back to Jan. 17] haven't already manifested in force).
So, if I'm wrong in this analysis, then we will know that by the end of the week, two weeks, tops.
In the meantime, ask yourself two questions:
 WHERE ARE THE DEAD AMERICANS?
Do I want ol'Sntjohnny to be wrong?