I'm not really in the mood to discuss evolution right now but I feel it is my job to keep my devoted readers informed about such things.
One of arguments I've made in my ministry is really an observation:  in the hard core atheistic naturalistic community, if you don't come to the same conclusions as they do on the science you are one of those dastardly, anti-intellectual, irrational creationists.  (For full effect, say that aloud, scratch yourself, and then at 'creationists' spit on the ground.  That will give you the attitude).
If you don't seem dastardly, are very intellectual, and obviously rational, the atheist is quick to prove that no good theory need fair actual facts.  In this scenario, you simply label the person a 'closet creationist.'  This is essentially the attack on the Intelligent Design community.
Today I present you another example that illustrates the phenomena in large letters.
Evolutionist Simon Conway Morris wrote an article in the Guardian over the weekend commemorating Darwin's birthday.  Mr. Morris is a Christian.  The article calls attention to 'unfinished business' of Darwinism (and reductionism) and spends a fair time talking about the problem of Mind which I personally find fundamentally insurmountable on naturalistic terms, and was famously raised by C.S. Lewis, and carried further by scholars such as Angus Menuge (book:  Agents Under Fire, Materialism and the Rationality of Science
).
Mr. Morris is a Christian, but he is also an evolutionist.  Like another famous Christian and evolutionist, Francis Collins, Mr. Morris is fiercely set against Intelligent Design.   And why?  There is nothing inherent to Intelligent Design to overthrow evolution (Many if not most IDers embrace evolution, just not unguided evolution).   And everyone, with the exception of a few hard boiled atheists like Dawkins, concede that evolution doesn't preclude the existence of God.  So what's your problem with Intelligent Design?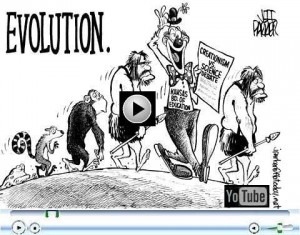 My gut says that the problem is that the Intelligent Designers have been labeled- and dismissed- as closet creationists and as there is no insult worse than to be called a creationist, one must run far away from anything that smacks of the term if one wants to be considered credible, both inside and outside of the scientific community.
So, Mr. Morris is a Christian, but an evolutionist, who argues against Intelligent Design.   Surely then he will be immune from the accusation that he is a creationist?  Ha!  Not so!  Consider this article reacting to Morris's article in the Guardian, titled… you guessed it: "Simon Conway Morris becomes a creationist."
In Mr. Coyne's long reaction, the only portion of the post that comes close to discussing 'creationism' comes near the end where he says:
3. This brings us to my conclusion that Conway Morris advocates a form of intelligent design. He seems to believe that things might have evolved as Darwin proposes–except for one thing. That, of course, is the human mind. Here a Creator must have intervened!
Here you see the full extent of the defense of the notion that Morris has 'become a creationist.'  The defense is, to put it plainly, the invocation of code words.  In the atheistic community 'intelligent design' is code for 'creationist' and they treat them as interchangeable.   So what has Morris gained by distinguishing himself from those pesky IDers?  Not a d*mn thing.
In this little paragraph you also see the working principle that one cannot arrive at any other view from the evidence than the one that the reductionists have arrived at and escape the label 'creationist.'
A commentator to the thread connects the dots for us, pointing out that of course if one believes God is involved in any sense then of course by some definitions Morris (and Collins) is a creationist.  But this is duplicitous, back stabbing nonsense.  It is an abuse of the English language (ironic given Coyne's last paragraph).  It is, in fact, black propaganda, for everyone when they hear 'creationist' thinks of those pathetic anti-intellectual young earth creationists who stupidly believe in a recent creation and a time when humans and dinosaurs roamed together (*scoff* *cough* *spit* *scratch* *scoff*).
So let us be clear about the state of affairs.  Indeed, let me address Mr. Collins and Mr. Morris directly:  in the atheistic mind you are nothing more than a creationist.  You can cite your unwavering allegiance to evolution and an ancient universe, you can reject in no uncertain terms Intelligent Design, you can, in a word, accept every other aspect of the Darwinian program, but you will always, always, always, be mere 'creationist' to them.  They believe it and they say it.  So what do you gain by continuing to heap contempt on the Intelligent Design community or even on young earth creationists?  Precious little.
Oh, and by the way, you do realize that the evolutionary theory rests on the presumption of philosophical naturalism?  I'm just saying, the evolutionary theory you pay homage to is built from the bottom up on the assumption that there is no God, and since you believe there is a God, haven't you ever wondered what you might come up with if you were willing to follow the evidence wherever it leads?  What's the harm?   We already know you're a creationist… you can't please them, so why try?