A couple of weeks ago I gave an example of fake news, and today I came across a particularly shameful one.
Here is the article.
Here is a screen grab: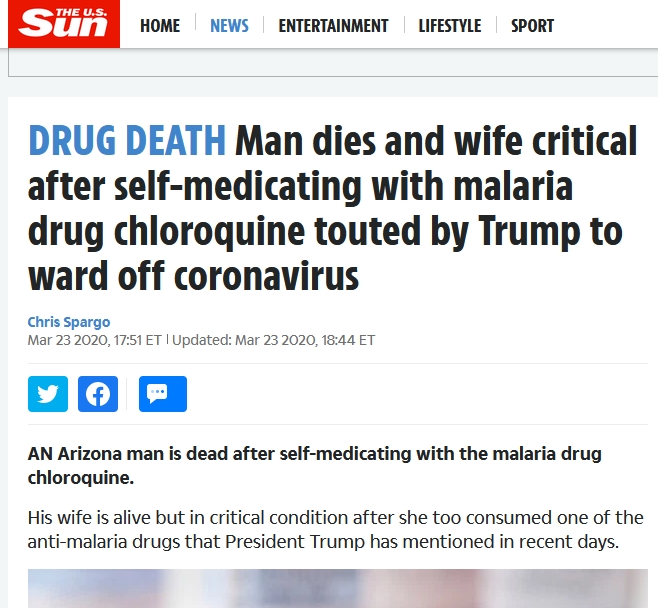 Trump trumpeted a drug that a man self-medicated with and then died?
Did a man and a wife really take the anti-malaria drug chloroquine!?!?!?!?
Read on.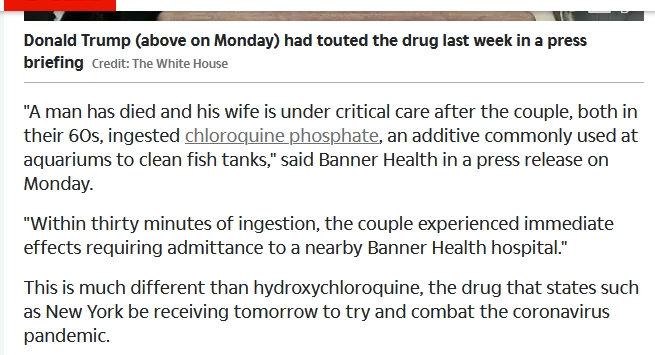 Is chloroquine phosphate the same as the anti-malarial drug that Trump was talking about??!?!?!?
You see it right…. let me help….

Let's look at that headline again:
Man dies and wife critical after self-medicating with malaria drug chloroquine touted by Trump to ward off coronavirus
So, did the man die after self-medicating on the malaria drug chloroquine touted by Trump?!?!?!?!?!?!?!
Uh, no.
NO HE DID NOT.
And that, my friends, is fake news.
I should mention that Trump said nothing about 'self-medicating', too.   So, the attempt to implicate Trump in this person's death–which is transparently what it is about–fails on that count, too.
I assume that even the most hyper-partisan person can see how dishonest this is, but then, it was published in the first place, so…
Now for the real question:  how much of the OTHER stuff you believe… yes, even about Trump… is flat out false?
Trump Jr put it mildly in the article:
"You people truly suck!"