California is a big state, population-wise.  It adds 55 electors to the electoral college, which under the Constitution (if anyone cares about that) determines the next President.   This is most amount of any state, with the next runner-up Texas, with 38.
California has been voting Democrat/liberal for many years and there is no sign of this changing any time soon.  Thus, California is going to be sticking its fat liberal thumb on the scales of American politics long into the future.  I would like to propose, however, that conservatives in California have the ability to Save America.  "How?" you ask.  Answer:  MOVE.
Just using the 2012 election results as a guide, we see that Obama got more votes, but Romney received 4,202,127.*  A decisive loss for the Republican cause in California, no doubt.  But what if those four million votes had been cast in other states?  Let's take a look only at states that went for Obama:
In the state of Washington, with 12 electoral votes, Obama won, 1,620,432 to 1,201,369.   Deduct 419,064 from our California 'bank' to swing it to Romney, and we still have 3,783,064 to go.
In Oregon (7 votes), the swing was 203,579.  Left in our bank:  3,579,485.
In Nevada, 6 electoral votes, the swing was 66,380.  Now we have 3,513,105 left and we have delivered the entire west coast, minus California, to 'our' side.
In Colorado, 9 votes, the swing was  113, 100, leaving us with 3,400,005 still to spend.
In New Mexico, 5 votes, the swing was 76,398, leaving 3,323,607 still to play with.
In Florida, with a whopping 29 electoral votes (and about as many voting as in California… explain THAT!) Obama had 4.2 million votes, while Romney had 4.1, for a swing of just 73,190!  And we still have in our pocket 3,250,417!
In Virginia, with 13 votes, the votes needed to topple Obama was only 115,911, which still leaves us with more than 3 million to spread around, at 3,134,506.
In Minnesota, with 10 electoral votes, the votes needed was 226,094.  In our bank:  2,908,412.
In Iowa, with 6 votes, a scant 88,502 was necessary.  Left:  2,819,910.
In Wisconsin, 10 votes, needful was 205,205.  Leaving:  2,614,705.
In Ohio, 18 votes, the difference, plus 1, was 103,482, leaving 2,511,223.
To this point, we have moved away from Obama 125 electoral votes and given them to Romney.  New Total:  Romney 331 to Obama 207.  And we still have 2.5 million votes left in our bank.  There is still enough to take Michigan, Hawaii, Pennsylvania, and EVEN ILLINOIS with more left over!  But I wouldn't wish Illinois on my worst enemy, and I count those considering my proposal here as friends.
Basically, if we can get every conservative and Republican to leave California to go, well, just about anywhere else, they have the potential in doing this to save the entire country.
Now, the above states went 'blue' and as a conservative you may not want to leave one 'blue' state for another, but if we put 500,000 of your votes in each of these states:  Minnesota, Wisconsin, Ohio, Florida, Virginia, Iowa, and Michigan, that would be a shift of 3.5 million that would make all but Michigan a solidly conservative state long into the future, and constitute a swing of 102 votes–still enough to have changed the last election, and certainly enough to change future ones.
I understand that there are reasons people like to live in California, and you would find it hard to leave your home.  But look at your home:  it is perpetually on the verge of collapse, and like the dog that returns to its vomit, constantly pursuing agendas and policies that have effectively sealed its fate.  It's only a matter of time before California falls into the fiscal and social ocean, and if you had bought property at least in Nevada, you'd have new 'beach front' property.  When?  No one knows.  But I think you understand that the writing is on the wall.  Do you also understand that, as far as California goes, your presence there, at best, only delays the inevitable?
And yet, you have the ability, by moving OUT of California to change the whole tide of the country.  California, like Illinois (and maybe New York) are lost causes.  Their corruption and policies leave them so hopeless, that only their complete collapse can ever restore them.  Better to leave them be to reap their own fruit.  Move anywhere but those places, and you will weaken California's influence and strengthen conservative influences elsewhere.   If you stay, you will continue to be powerless to stop what is coming in California, but you will deprive yourself of having meaningful power somewhere else.
So, I say, if you live in California and you are at all inclined to be opposed to liberalism and progressivism, GET OUT ASAP.
I think the GOP should start a fund to help facilitate this sort of thing.  All of our campaign dollars would be better spent paying for the moving expenses of all these California conservatives, helping them find new homes and jobs, and so on.  I'm serious.  Forget the campaigning.  Get 'our' people where they need to be to make a difference, and the rest will take care of itself.
 Doesn't this look better?*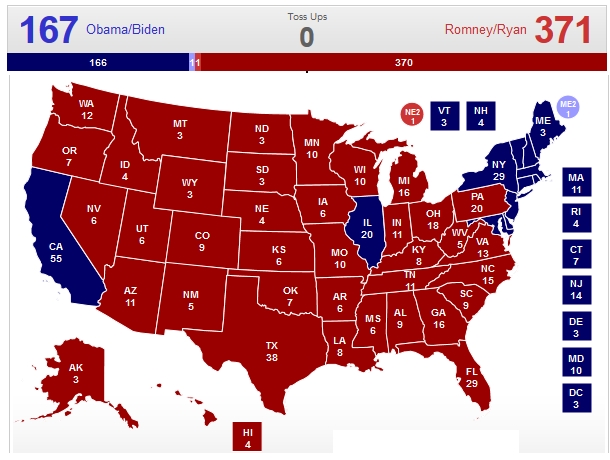 * I am aware that many of us weren't all that thrilled with Romney.  Or McCain.  But at least for sheer thrill-up-the-leg value, doesn't this map just look better?  Almost any name in red, with a higher number than Obama's, is heartwarming.