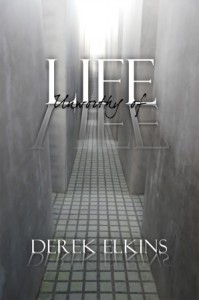 Derek Elkins' Life Unworthy of Life came before my eyes, from his perspective, at the most opportune time. I was immersed in studying the philosophies and ideologies that had led to the Holocaust, and the T4 Project (which the book is about) was explicit foreshadowing of that later horror. I was instantly drawn into the manuscript. From my perspective, however, I could have chosen a better time to read it. Evidently, my plane had been moved to a different gate and they had been calling my name for the better part of twenty minutes… "Argher Heervreth blah blah blah…" … "Theeny Hurgle, [indecipherable]…"
 If it hadn't been for the fact that I suddenly thought it very odd that they had not begun boarding at my gate with just 3 minutes before takeoff and coming to the conclusion that it was unlikely they would fly a plane with just a single passenger, I would not have hurriedly checked the board, and I would not have, in a panic, flung myself in the direction of the gate where my plane actually was waiting for me.
 "[indecipherable] Aneeny Gursheth?" the attendant said as I flew by her.
 It was the spring of 2012. I was in St. Louis for some pro-life stuff. It was my task to select the winners for my ministry's annual Christian Novel Contest, and Derek's book was one of the finalists. Now, does making the judge nearly miss his plane count for a book, or against it?
 The question remains unanswered; nevertheless, it ended up being the grand prize winner. Not long after that, I would extend an offer to publish the book. Derek would accept.
 And now we are just two weeks away from its official release, on April 23, 2013.
 My how time flies.
 Fly, indeed. Today, calling someone a 'Nazi' or a 'fascist' is about the worst thing that you can say about someone, but few people actually have any idea what the terms mean or meant. And that is to be expected, I suppose. Another term similarly deployed is 'zealot,' but who can possibly recall the actual attitudes of such people who lived 2,000 years ago? And that, of course, is when Hitler lived and fascism thrived. People today are only vaguely aware of what happened seventy years ago. They're not going to know the true sentiments of people like the Nazis, who existed only in ancient history, millennia ago.