Despite my criticisms, I have generally felt that our public health officials have done a reasonable job.   I'd give them something in the C+ to B range.  This grade does not include the colossal testing failure, which I suspect was thanks to bureaucrats who we may discover are not public health people at all.  But there is another major test that has been failed, and this one is squarely in the laps of our 'expert' health officials.
This failure concerns masks.
We have known for a very, very, very long time that masks have great potential to curb the spread of the virus.
If anyone is so inclined, they can look at South Korea's numbers.  They have held steady at or below only 3 deaths per million people for a month.  They did not shut down their country.   They did not close their schools.  People keep going on and on about the US becoming the next Italy, but why we look to Italy as our model instead of SK is beyond me.  Italy has been in full lock down for 3+ weeks and they are STILL putting up thousands of new cases and deaths a day.  Italy is a failure on every level.   They failed.  SK succeeded.  Maybe we should ask ourselves what the difference is.  Well, one of those differences is that everyone wore (and I presume is still wearing) masks there!
Here is a nice article which talks about all of these issues (Apr. 1, 2020).  I generally try to stay away from CNN but since they were one of the early adopters of the "MASKS DON'T WORK!" myth, to see a full reversal being discussed is appropriate.  Headline:
Asia may have been right about coronavirus and face masks, and the rest of the world is coming around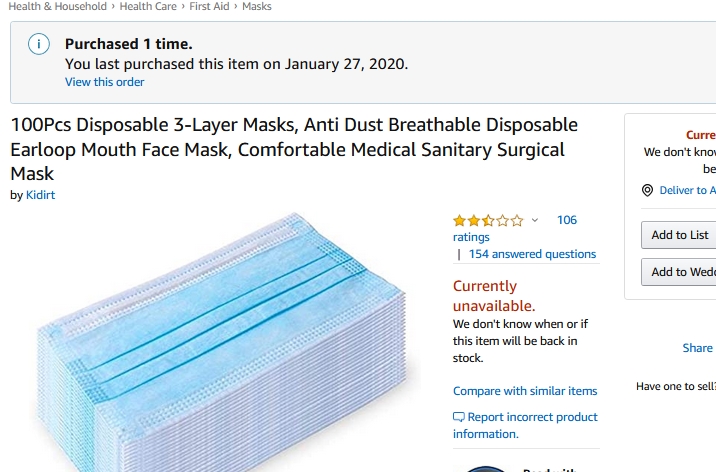 Many Americans saw through this nonsense that "they don't work" from the beginning.  If you aren't able to do so, I can't help you.  Seriously, all the clues are there for you.  All you have to do is exercise some independent, critical thinking–just a smidgen will do–and you'll see why.   So, I'm not going to belabor it here, except to point you to the image here… this is my purchase of masks all the way back on Jan. 27th, 2020.
This is one of the many things I've been right about long before others came around to my conclusions, although I confess that in late Jan, it never occurred to me that our leading public health officials would say something as absurd as "MASKS DON'T WORK!"
However, I will give you one bit of insight that fueled my analysis… and this, again, is something we've known for months now…. we are told that the coronavirus is uniquely dangerous because people can be asymptomatic and yet still transmit it, over a period that varies up to 14 days (or longer, perhaps).    Supposedly 'masks don't work!' because they don't keep the infection from getting TO you, they only prevent the virus, if you do have it, from getting to EVERYONE ELSE.  Again, if you can't see the obvious value of THAT, nothing can help you.
But more fundamentally, in view of this fact pattern, is the fact that there must have already been countless people with the virus in the United States ALREADY in January, and early February for sure.  Remember Trump's quick action to shut off travel from China at the end of January?  Remember how thousands of people a day were coming from China throughout the entire month of January?   Surely by now you recognize that China's deception likely went well into December, if not earlier, and even as late as Jan. 14th, the WHO was declaring
Preliminary investigations conducted by the Chinese authorities have found no clear evidence of human-to-human transmission of the novel #coronavirus (2019-nCoV) identified in #Wuhan, #China??. pic.twitter.com/Fnl5P877VG
— World Health Organization (WHO) (@WHO) January 14, 2020
Between Jan 14 and Feb 1st, much more information came to light to show that this was a stupid thing to say, which is why I bought (more) masks on Jan. 27 and Trump shut down travel Jan. 31.   But more to the point, taking all these things together, it was obvious that the coronavirus was already well into circulation in the US, probably numbering in the thousands, most without showing any symptoms at all, by the first or second week of February.  If THOSE people had been wearing masks, we would not be where we are today.
Combine that fact with the utter failure of our testing program at the time, and I can only conclude, that in ultimate terms, the reason why the US currently is having problems is because the Federal government failed us terribly, and many governors right along with them.   I will concede, however, that while we were flying 'blind' without our tests, our other draconian measures were warranted, but there never should have been a time when we were saying "MASKS DON'T WORK."
Do you really believe that they ever thought that masks don't work?  This is where I'm going with this.  Of course they knew that masks 'work.'  Fauci knows.  He knew it all along.  All of them knew it.  What is the real truth?  Well, the CNN article puts their finger on it:
The agency recommends that people who are sick wear a face mask or otherwise attempt "to cover your coughs and sneezes," while those caring for them should also wear a face mask whenever they are in the same room.
Yet, in the same advice, the CDC said that non-symptomatic "do not need" to wear face masks, adding that they "may be in short supply and they should be saved for caregivers."
And this is what has been so frustrating and confusing for many people, particularly those who advocate for wearing face masks as a precaution. The CDC, along with the WHO and several other public health bodies and experts, has been simultaneously claiming that masks do not offer protection in ordinary circumstances, while stating they are necessary for health workers and caregivers.
This conflicting advice helped create confusion and no small amount of hostility towards officials who people felt were lying to them and putting them at risk.
Note the part I bolded.  (And if any of what I've said so far confuses you, be sure to read the entire CNN piece).
Here is what happened.  The 'powers that be' knew that there wasn't enough masks to supply the nation, and knew that if they recommended them, people would rush to acquire them.  They weren't wrong–just look at the whole toilet paper thing.   Here is where they went wrong:  to discourage people from buying the masks, they chose to lie.
They lied.
Now, I'm sorry if you fell for it, but let this be a lesson to you.  Pay attention, because I'm going to give you another important lesson.
People at the level of Fauci (who I generally approve of so far) don't think in terms of actual individuals.  They think in terms of percentages, populations, systems, models, and so on.    You could say that their job requires them to think in those terms.    They recognize, of course, that the difference between a .1 CFR and a .09 CFR and a 2.5 CFR represents thousands of lives.  But there are no names and faces to these people.  Your neighbor, Steve, who just got COVID?  Does he know about Steve?  Of course not.  What about YOU?  Does he know about YOU?  Your kids?  Your spouse?
No.  No.  No.  No.
So, people like Fauci are going to say whatever he feels he needs to say to get whatever percentage he wants to move to move in the direction he wants it to move, and if this means contradicting himself, or changing his tune in the middle of the song, well, of course he's going to do that.  You might say, "Well, that's just what politicians do, so what's the big deal?"  That's true.  That's exactly what politicians do.  But the public health corps are supposed to be a-political.  They are supposed to be the 'experts.'  And they are:  in public health matters.
As far as personal and individual health goes, specifically YOURS and YOUR FAMILY'S, that is quite a different story.
Whether it is politicians or public health officials, you should NEVER put your faith in them to save you, protect you, preserve you, etc.  It is up to YOU to ALWAYS do your own thinking, and take the necessary steps to protect your family.  ALWAYS.
This does not at all mean we can't or shouldn't listen to their advice.  Similarly, politicians are completely useless, either.  At no point, however, should you turn off your brain.  At every point, you should be attempting to gather as much information about as much as you can so you can sift through it all.  And I don't just mean during this coronavirus period.  I mean ALWAYS.  Yes, I know how much work that involves.  However, the coronavirus thing shows you how YOU, and I mean YOU, not some %, but YOU, might DIE, because YOU, I mean YOU, YOU specifically, MIGHT DIE, because you mindlessly accepted the advice or counsel or even directives that were handed to you.
This is the main point of this whole post.  Take responsibility for your own health, people.
Forgive me a slight digression.
Just as we must have checks and balances on politicians, we must have checks and balances on the public health people, and yes, even doctors, nurses, the medical establishment, etc.   In the case of the public health folks, you have to understand that they are oriented towards looking at things in a particular way.  (And never forget the personal/ambitious aspect, too;  the coronavirus is a lot like the "Super Bowl" of public health scenarios, and they all want to make sure they get to suit up and get a few shots at the end zone.)
Does this 'particular way' include processing the economic damage of their proposed measures?  Sure, we'll grant that they are experts in condoms and R naughts.  Are they also experts in hyper-inflation?  I've heard them, and many of their acolytes, post memes like this one: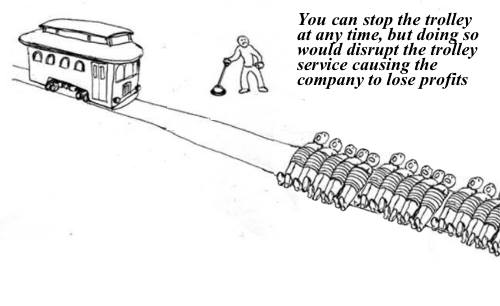 This is a person who is thinking in terms of systems.   They complain that people are putting lives ahead of the 'economy.'  They fail to appreciate that the 'economy' is a term which encompasses a mass of individuals.  Thus, our meme shows about fifteen people about to die if the trolley is not stopped.  What the meme does not show are the people who die if the trolley is stopped.  It doesn't even occur to people who think like this that people COULD actually die (malnutrition, starvation, depression, suicide, etc) if you inflict severe and permanent harm on the 'economy.'  They are quick, of course, to tell you that people COULD die, unless we do [insert draconian measure here.]
Another example of the same thing are models such as the ones on this page: http://covid19.healthdata.org/projections
Hey, that's great!  Peak beds used, ICU use, etc.  Changed daily, right?  Because of course the best model is the one that gives you the best predictions, and boy, it sure is easy to make good predictions if you have changed your model daily!  But I digress.  Sure, its helpful.  Why not?  But I can't help but notice that there is no other models super-imposed on THESE models, which show how many deaths there would be from impoverishing a nation for 6-18 months (an actual spread being talked about).   You could say that this is beyond the scope of their interest and expertise…
And that would be my POINT.
Whether it is presidents, or politicians, or public health officials, or even economists, NEVER, EVER, EVER, turn off your brain.  YOU are the primary person in charge of your care and 'economic' well being.  No one cares about YOU at that level.  So, it is up to YOU to care about YOU.
The life of YOU and the lives of YOUR FAMILY require you to engage that brain ASAP, before the next absurd 'recommendation' comes down the line, like we are observing with the masks.  You can predict a lot of things, but you can't predict every silly thing that will come out of their mouths.  That's why you need to be johnny on the spot no matter what they say.
Good luck, God speed, and God bless.