I am happy to have had the honor to have corresponded with the recently deceased Antony Flew.  This correspondence occurred after he had abandoned atheism and before it had become publicly known that he was going to write a book documenting his conversion.
This book has come under fierce attack, though not on its merits.  Rather, it has been attacked through an assault on the author.   On account of my correspondence, however, I had some tangible evidence in support of the contention that the book represented Flew's real positions.  I produced this material in this blog post here which has gotten a lot of attention.  While I wait for a reply from Mr. Carrier, I thought it high time to produce the actual letters which I quote and display (from a distance) in that blog entry.
UPDATE:  These Letters are now only available in an ebook.  Kindle and Nook links Here.
I didn't produce this earlier out of deference to Mr. Flew, thinking that private correspondence ought generally be kept, well, private.  I don't think he would mind now.  If anyone should like to transcribe the letters below I should very much appreciate it.  I will post their transcription if they do.
I received 3 letters, only 2 of which are produced here.  The third from him was merely a courtesy and contained no new information.  The first image is the letter I sent to him.
I deleted just a few places as it seemed proper- ie, contact info.  Otherwise, I left the letters 'as is' for posterity's sake.
My first letter to Flew: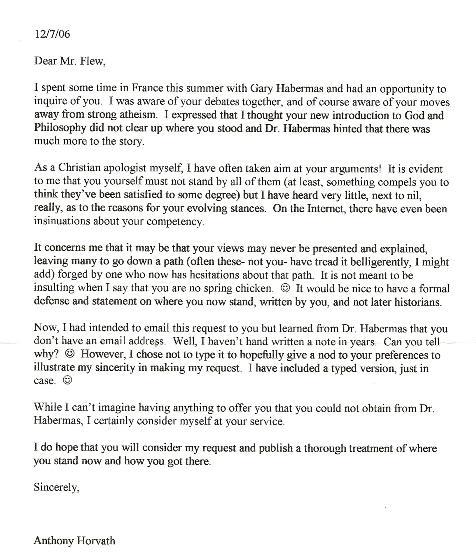 Dr. Flew's First Response: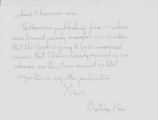 I don't have my second letter to Flew handy and do not recall precisely what I wrote.  However, one can guess a bit from his reply, which is below.
Dr. Flew's second response