Actually, I'm not sure I have much time to share my multitude of reflections.  Instead, I shall show some pics and videos.
There were a LOT of people.  I wanted to catch the beginning of the march and had trouble finding it.  Interestingly, it almost felt like the march started on its own.  People were still speaking on the stage but I was so cold I felt I just had to MOVE or my feet would fall off.  Then I noticed that lots of others were doing the same.  I assume they were given the go ahead, but all I saw was a march spontaneously begin.

It was hard to get a spot where I could take a picture that would convey the sheer number of people who were there.  I found a bit of high ground. There were people as far as the eye could see in each direction, but bushes and shrubs and buildings concealed it.  Anyway, here was one attempt.

One of my favorite moments was when I stumbled across a small, lonely band of pro-abortionists courageously trying to make their point heard.  One presumes that the low turn out does not suggest waning support for their position.  Anyway, I had the sense that they had been trying to drown out the speakers (women who had abortions and now regretted it) because suddenly the pro-life multitudes around them would suddenly start yelling, drowning out the pro-abortionists.  It seems to me that this nonetheless had the effect of drowning out the speakers, but was still a morale booster to witness.  Here's a bit of video of that:

  Some pics: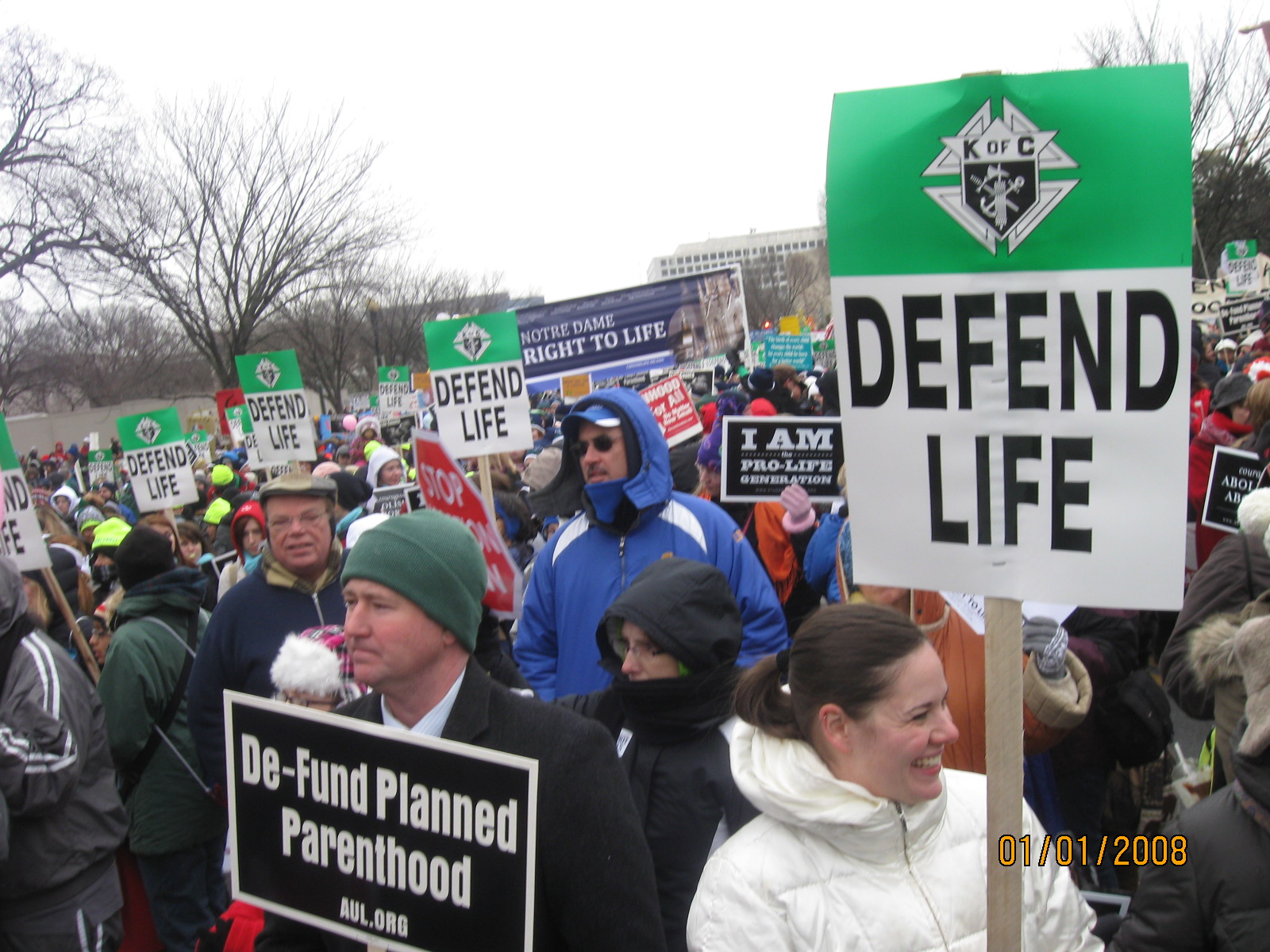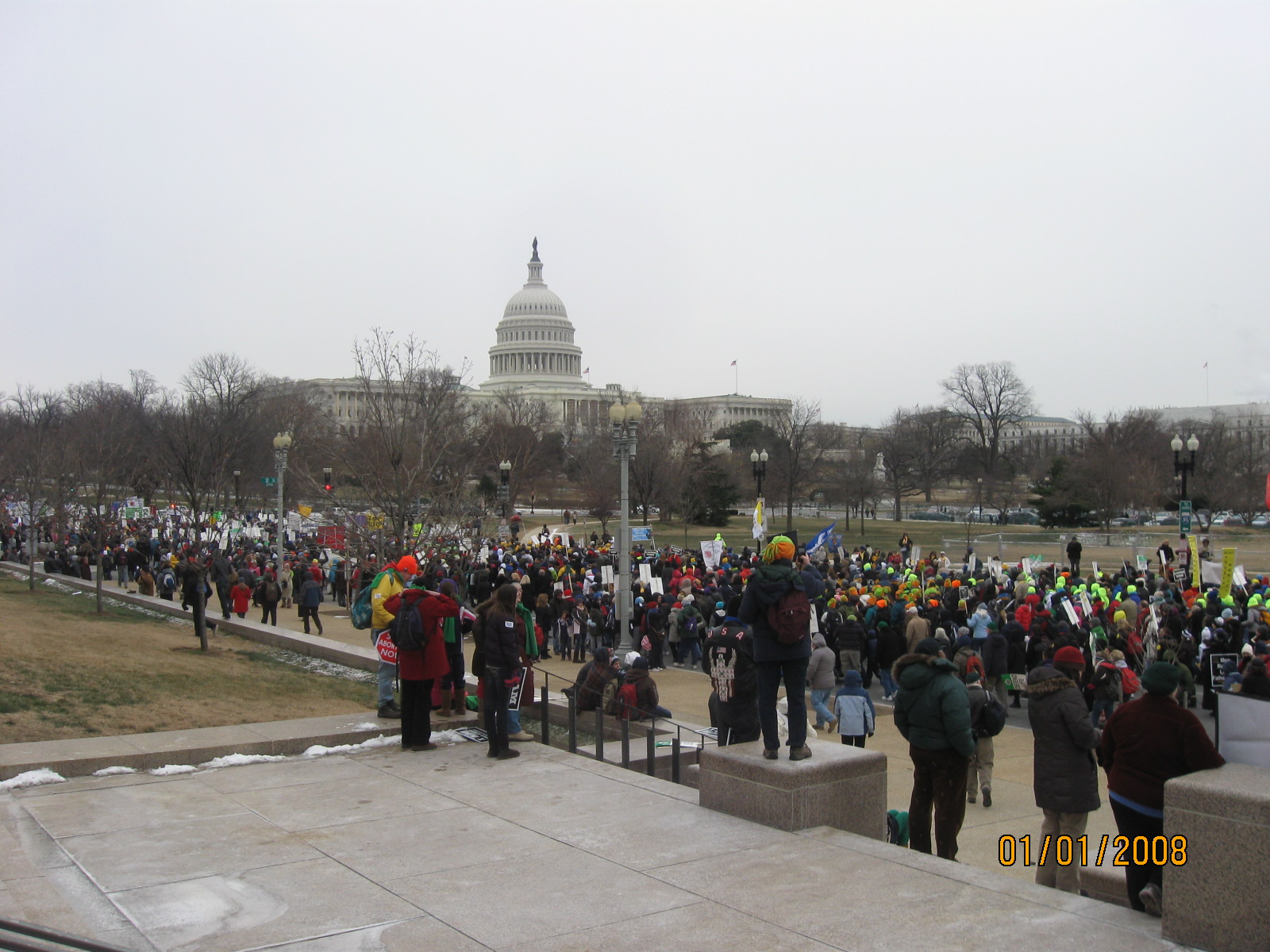 I thought this picture was appropriate.  As every phrase in the first amendment is dismantled–as is presently underway–I expect that this will remain visible in an attempt to convince people that we still have these rights, even though we don't.  Anyway, today at least we marched.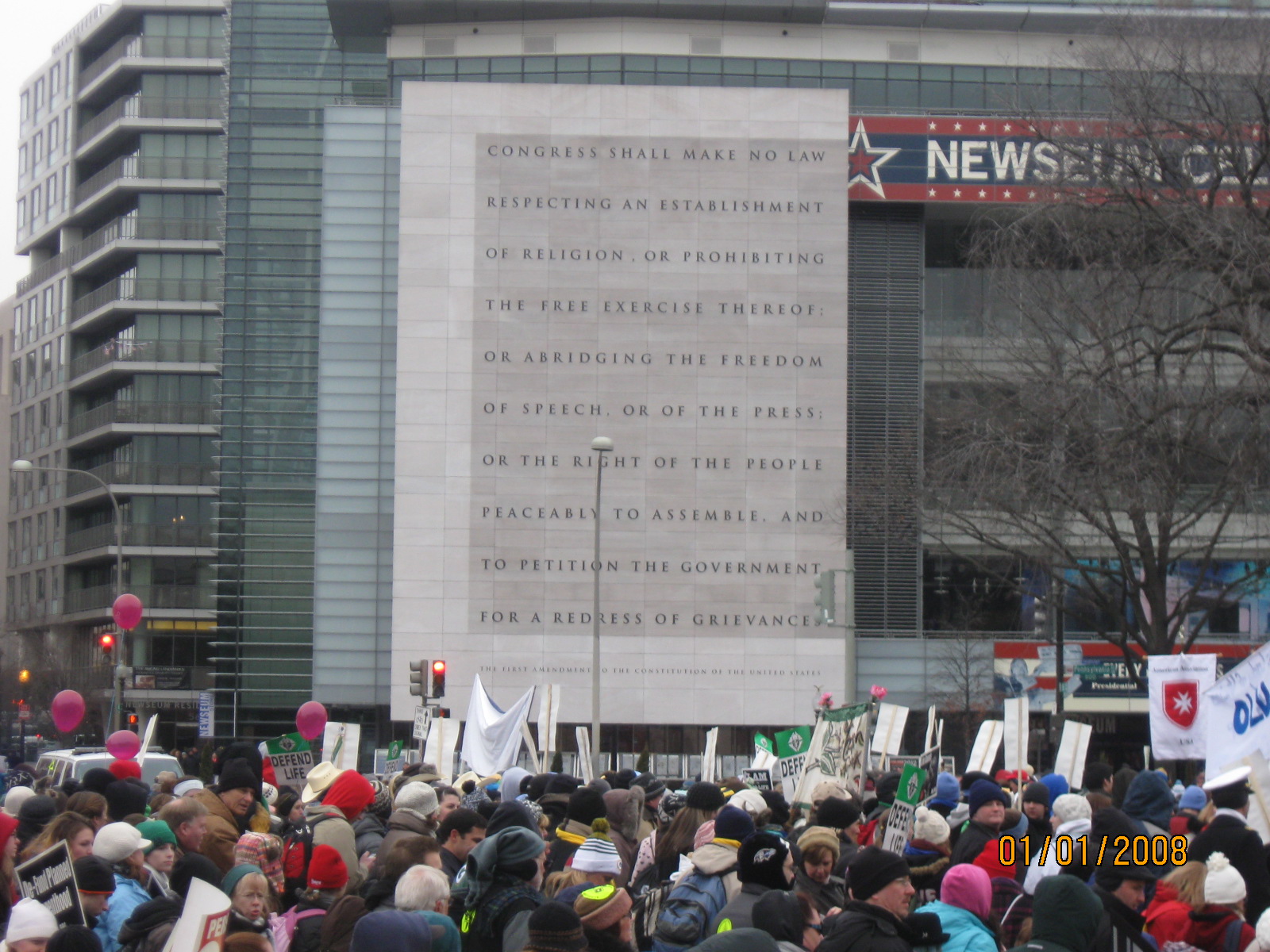 I think there is some truth to this.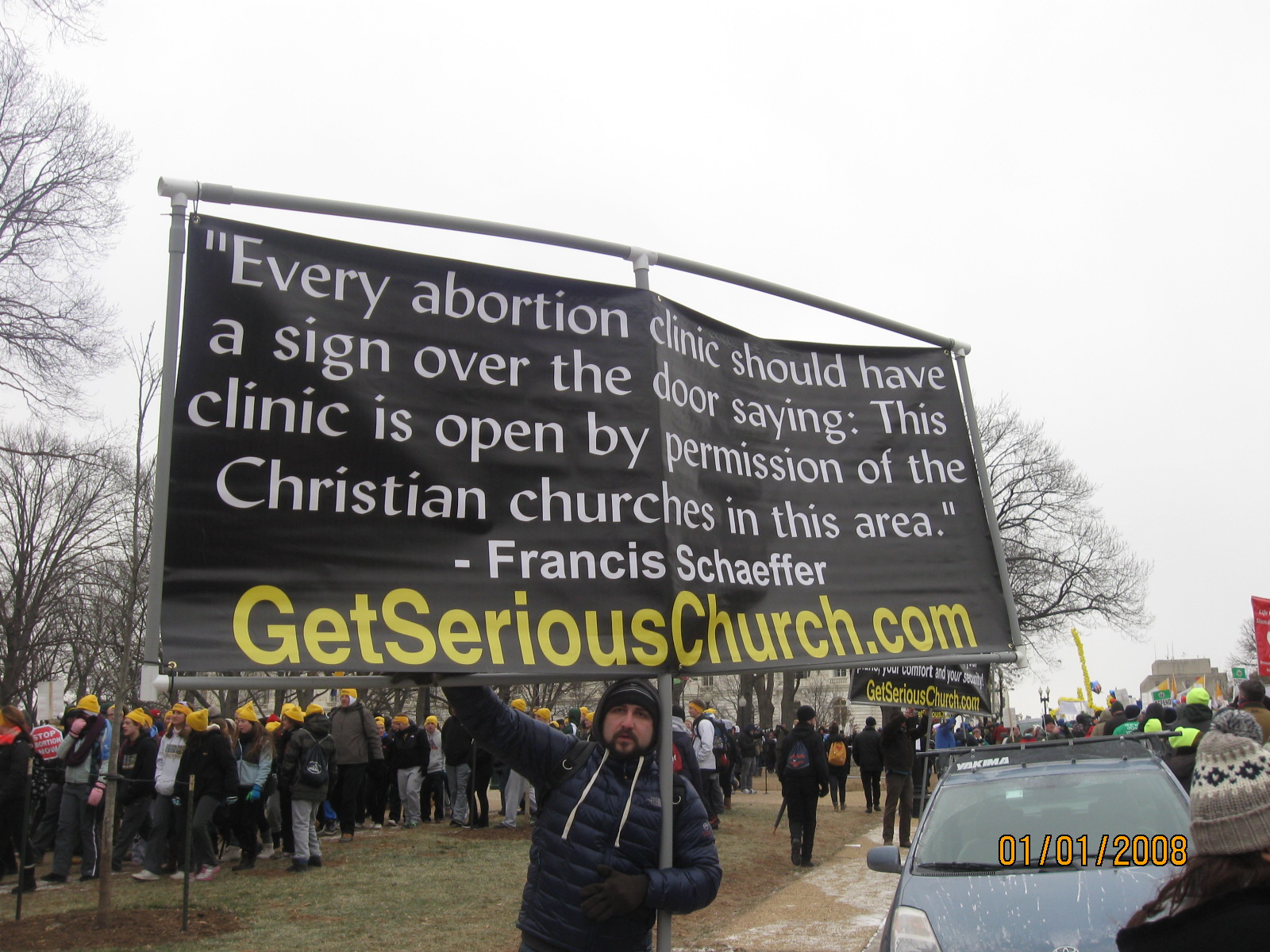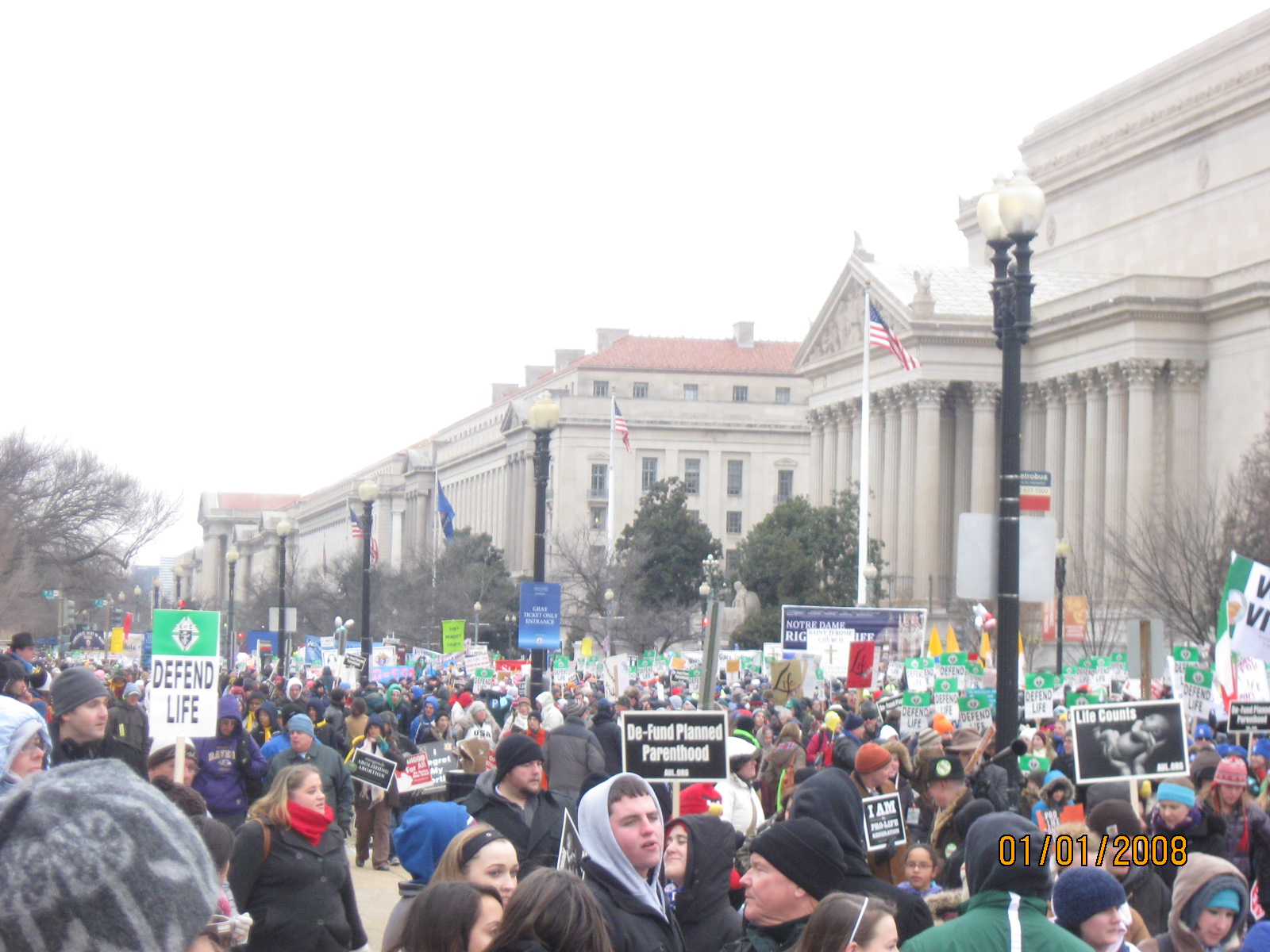 Fortunately or unfortunately, while there may be symbolism in this, it doesn't represent anything that is really the case.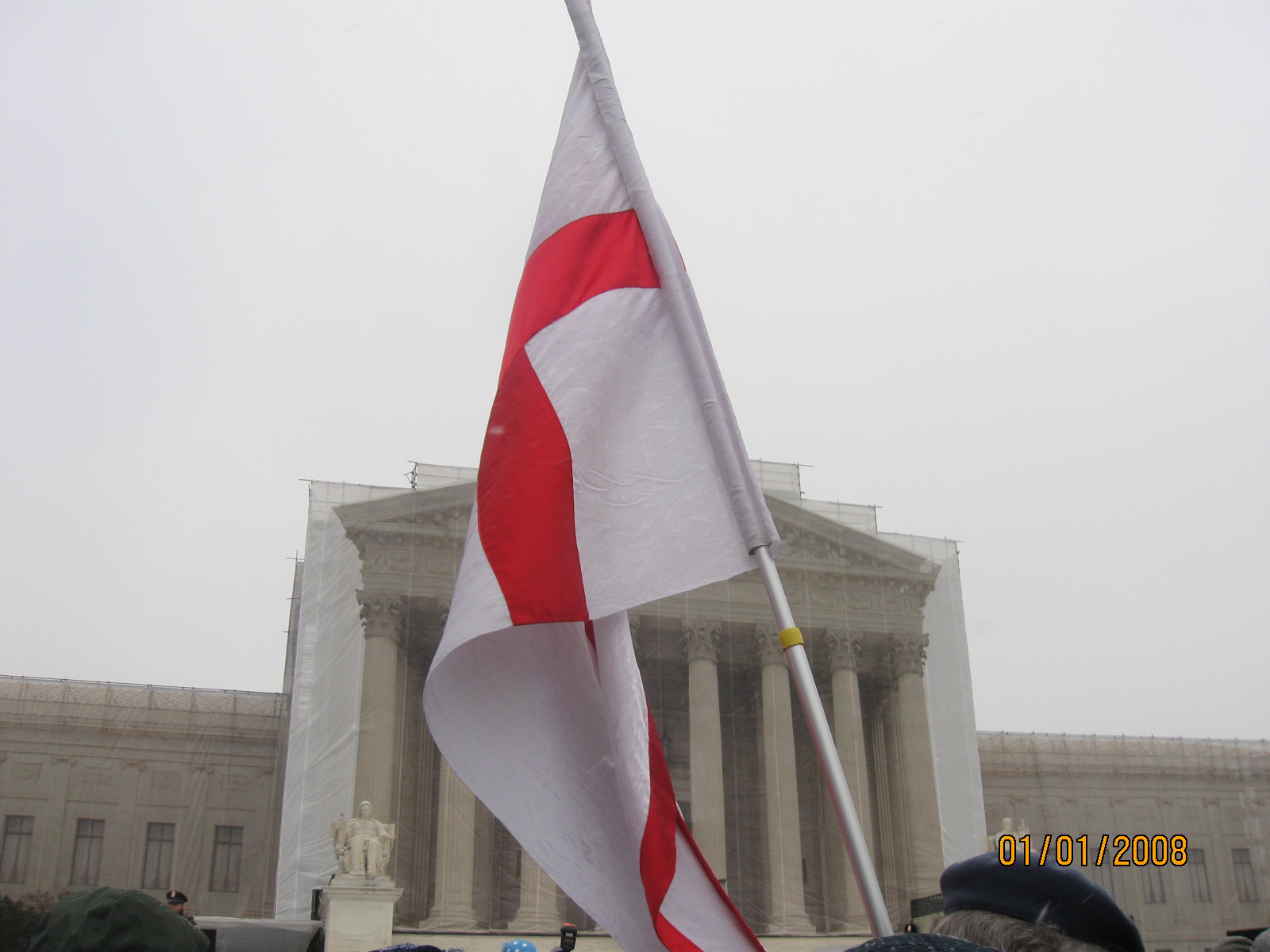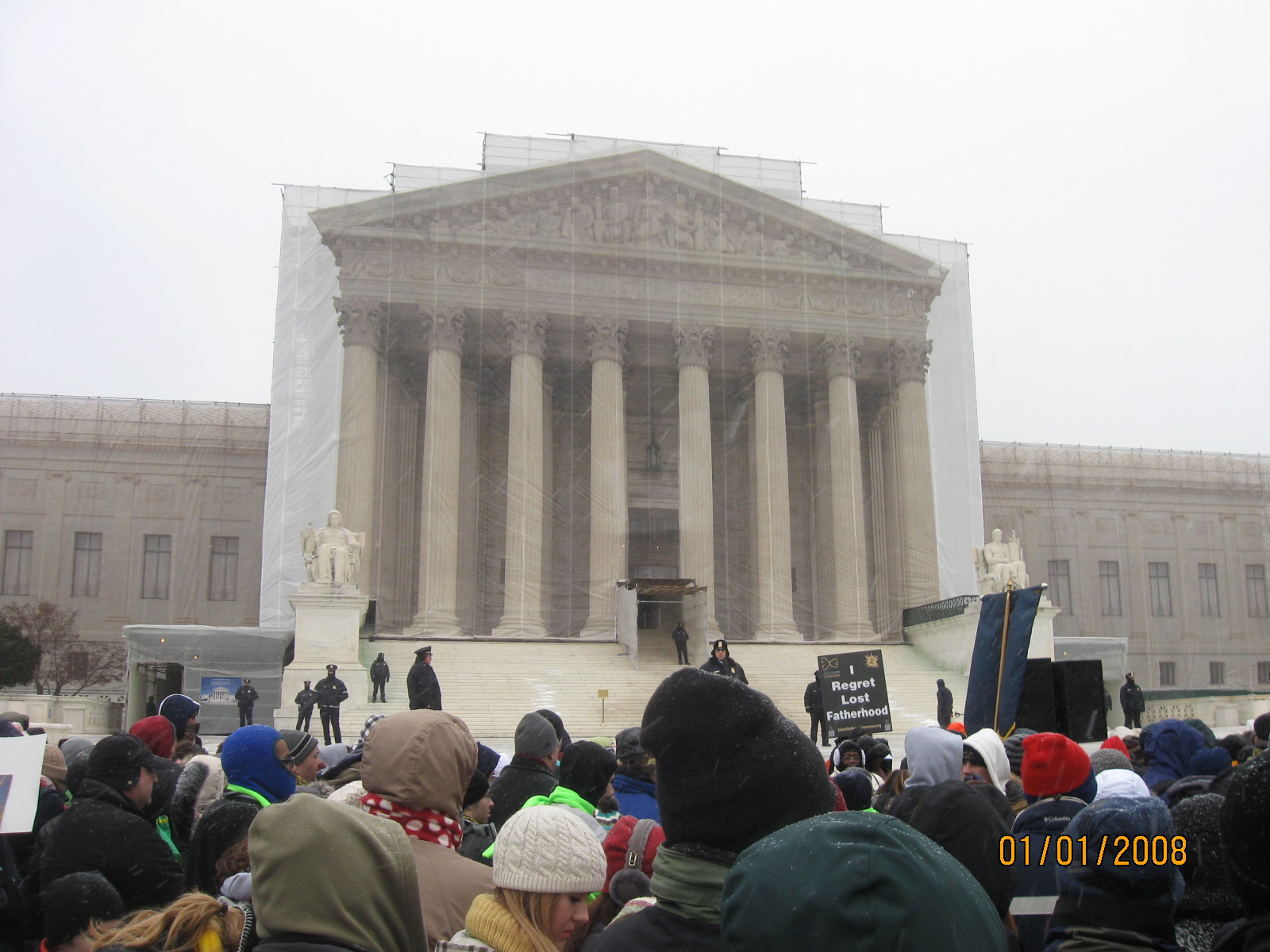 I looked very hard to find any counter-protestors.  Finally, at the end, I found some.  I thought about engaging them, but they were already trying to argue with a hundred people or so, each, so decided that they were well in hand.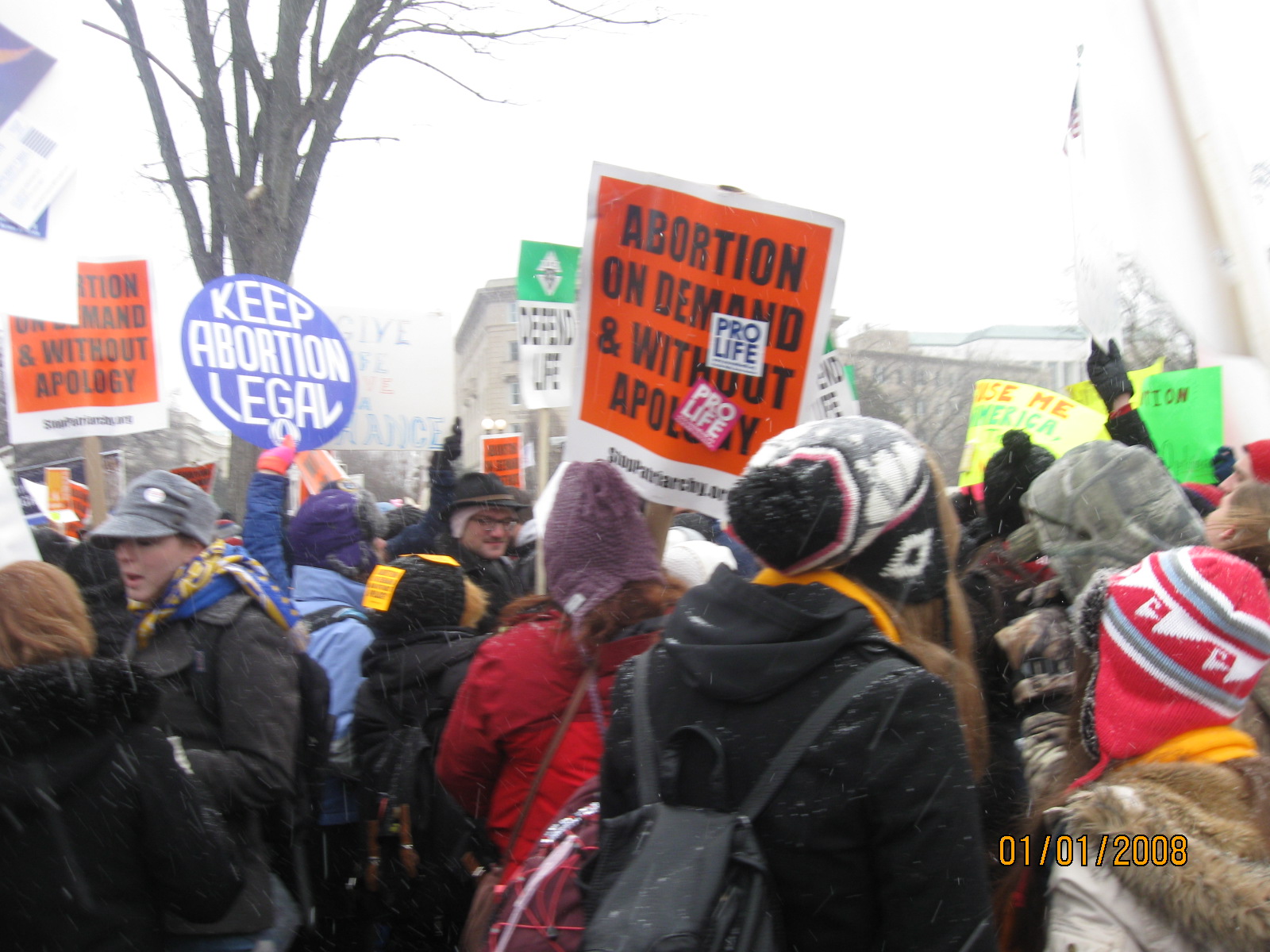 This is a brave, pro-choice lady.  Some guy came over and complimented her on her 'pair of kahonas.' Either she did not like that, or did not understand the compliment, or thought that this was one area where 'equality' wasn't desirable, because all she did was frown slightly.  I never did discover the media outfit interviewing her.  I wanted to find out if they gave 'equal time' to both issues, which I thought in this case would be inappropriate.  They should get a proportional amount of attention, so about 20/500,000.  Perhaps 1 second of airtime?  Anyway, without knowing the outlet, I have no idea how they handled the coverage.
This lady was brave, but her arguments were incoherent.  Of particular note was her statement that her pro-choice perspective came from the fact that she didn't believe in God, and that our pro-life perspective came from our belief in God;  naturally, that disqualifies us from having a public opinion.  She can say and do whatever she wants.  We should shut up and stay home:  'if you don't want an abortion, don't have one' kind of an attitude.  I thought the fact that she drew such a tight connection between her atheism and her pro-abortion views was interesting, since so many Christian pro-choicers insist that there is no connection.  Who to believe, who to believe?  But see the last picture below…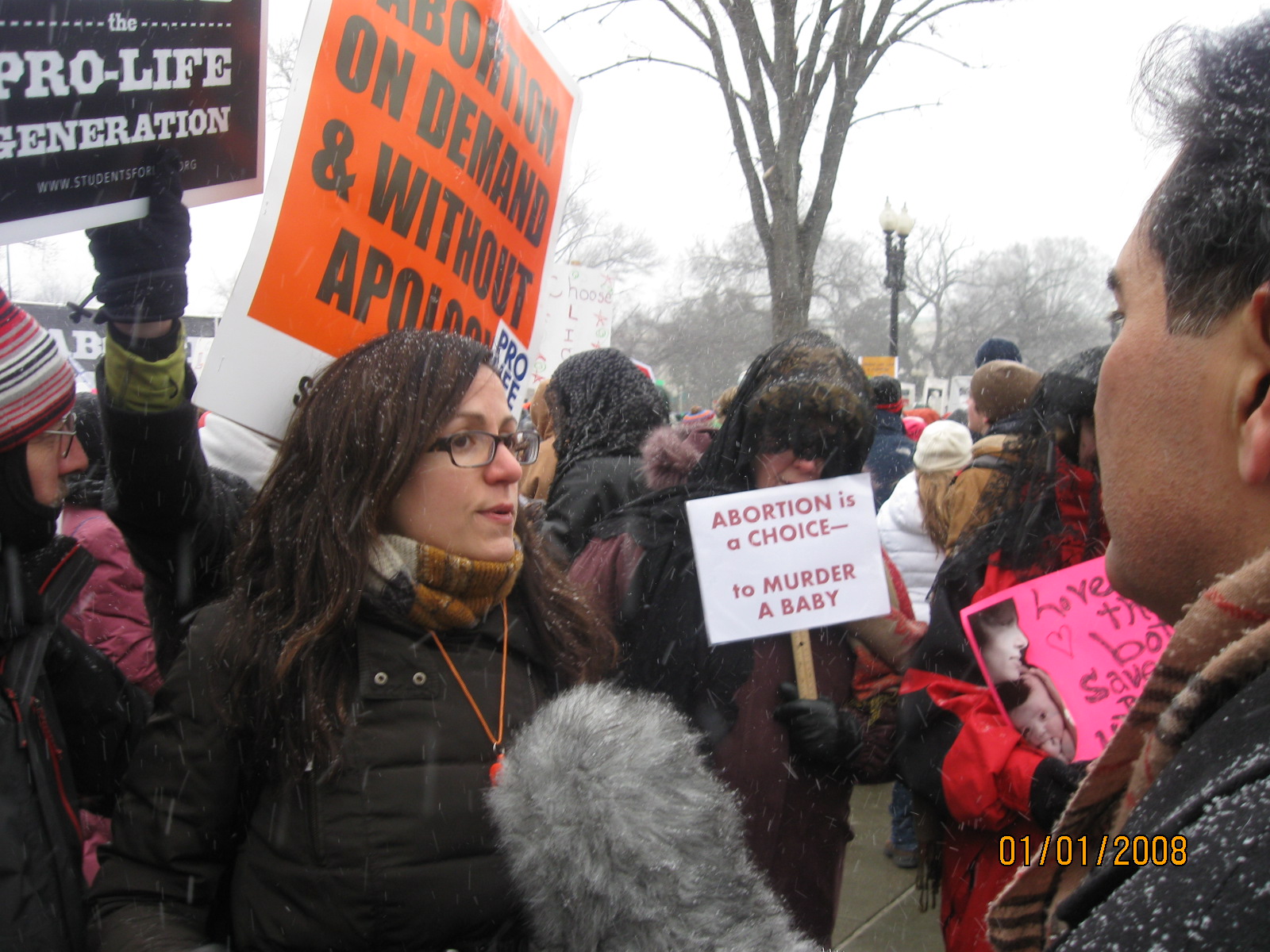 So I guess it isn't entirely a religious perspective… just that it is only permitted in the public sphere if it isn't religious.  So, if the March for Life had been put on by secularists, I guess when the marchers met the pro-choice group, it would have been 20 pro-choicers merging and mingling with the 5 atheist pro-lifers.  I think I would have liked to see these tiny groups meet.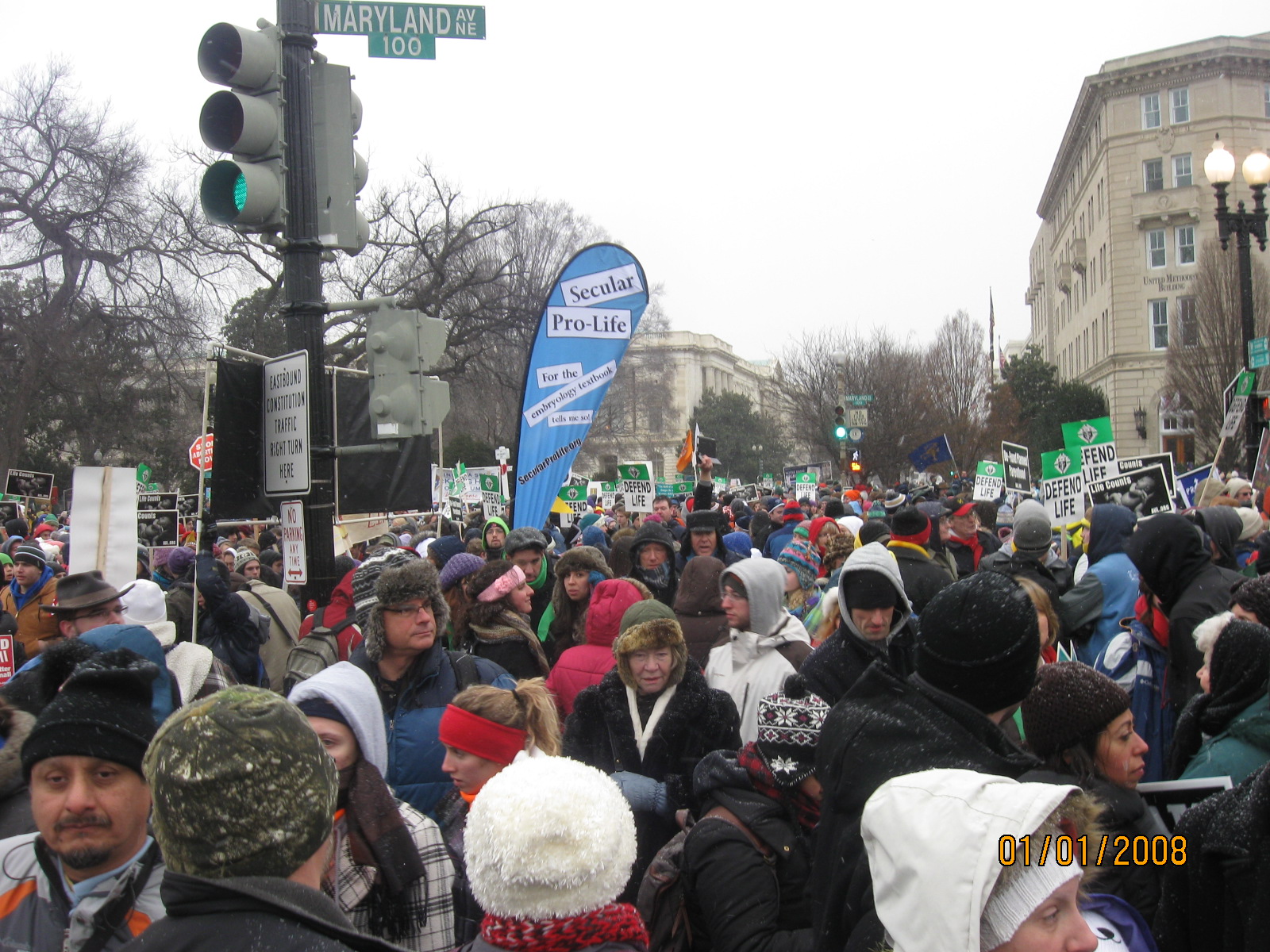 I'll be addressing some of these issues at the 2013 online apologetics conference.