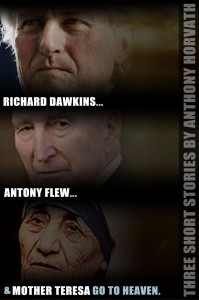 What?  The uncompromising atheist Richard Dawkins goes to heaven?  While remaining an atheist?  How is this possible?  And yet, in this short story written by yours truly, something very much like that happens…  Read this short story, along with two others, on Kindle. You can also buy for Barnes and Noble's Nook.

What sounds like the beginning of a very bad joke is actually the title of a collection of three poignant short stories by author Anthony Horvath. Each story draws from what is publicly known about these three notable persons and places them in the presence of God. Antony Flew famously disputed the existence of such a being, Richard Dawkins- the only one of the three still living- infamously derides the notion, and Mother Teresa wondered at God's absence- in these three stories they each get a chance to ask their questions and speak their minds.
Collection contents:
Mother Teresa Goes to Heaven
Antony Flew Goes to Heaven
Richard Dawkins Goes to Heaven
Excerpt from Mother Teresa Goes to Heaven:
—
"It is not enough to save you."
Teresa heard the words with horror. She had heard the entire conversation and she trembled throughout it. Each utterance was burned into her mind so that she could recount it accurately in her mind. She remembered the man's demeanor before he entered the room. Cool, calm, confident. In the quiet conversation between those that remained in the waiting area it was shared by all that this man of all would go on through the great wooden doors.
The great wooden doors. These doors were visible to all. There was a pleasant incline shaded by tall oak trees leading to the doors. A narrow path, bounded on both sides by soft grasses, led to the door. A sparkling pool of water was about two thirds of the way to the door. But barring the path at its entrance was a man like lightning and in the man's hand was a sword of lightning. He was too marvelous and fearsome to look at, so Teresa couldn't help but glance frequently at him.
The chamber doors opened and the man that had received the bellowing decree emerged. He was no longer the self-assured man they had all spoken with earlier. He was visibly shaken. On his left and his right were two more awesome to behold men, but these did not have swords. They led him towards another chamber. Teresa overheard someone ask them, "Where is he going?"
One of the men replied, "He is going to reflect, re-think, recall. Then he shall be examined again."
————
Excerpt from Antony Flew Goes to Heaven
—
When the man opened his eyes the first thing he beheld was a garden. It was the assault on his being that alerted him to this fact. His sensory scouts went out and scoured his surroundings and came back with the report- first from the nostrils: here were delicate scents of flowers and dirt; and then the eyes: there were well ordered paths with ivy crawling up rocky walls; now touch: he realized he was lying on his back with blades of grass tickling his ear and when he flexed his fingers into the earth there was that soft moistness you always associated with good soil; the ears came announcing: birds here, birds there, birds everywhere, and somewhere yet unspotted a fountain, detected by alternating gurgles and tinkling; taste came back disappointed, as it had nothing yet to disclose.
The man sat up and saw at once the hanging branches of a fruit-laden tree. While feeling no pangs of hunger he knew he was famished. He stood up and strode with purpose to the tree and helped himself liberally. In his subconscious a fear flickered that he may be plucking his lunch from Augustine's orchard. He set the fear aside and ate his fill.
He returned to the patch of soft grass that he had been lying when he had first awoken. There seemed nothing else to do. So he sat. … It was the cool of the day, and suddenly the man knew that he was not alone.
—
Excerpt from Richard Dawkins Goes to Heaven
—
"You know what sounds like 'hell' to me?" Richard asked the accompanying angel, a current of sarcasm carrying the question along.
"I know you'll tell me," the angel replied serenely.
"Heaven. Heaven sounds like hell."