Maybe its because I'm currently reading Aleksandr Solzhenitsyn's The Gulag Archipelago, but this growing spate of accusations on sexual misconduct is making me queasy.  If you know anything about the various purges of the Soviet regime, you know that people were shuffled off to oblivion over nothing more than accusations, if not executed outright.  On top of that, people were making false confessions left and right.  They perceived that they had little chance of being found innocent anyway, so they sought to limit their punishment, or the punishment of those they loved.
Reading Solzhenitsyn's book, I was faced again with the uncomfortable question of how it is that seemingly normal, educated people, could commit such vile acts, and acquiesce to them.  Has anyone ever pondered how it is that an otherwise sensible people manage to fall into such a nightmarish century, where in the end, tens and tens of millions died?  If you wondered how it was possible, take a good look at what is going on with all the accusations of sexual misconduct.
Evidently, we have a society which is happy to inflict consequences on people based on nothing more than 'trial by media' and a perceived 'public opinion.'  It is hard to see how this will end well.  Anyway, I reflected on the downsides of 'trial by media' almost a month ago, which I'll just re-submit here:  Accusations of Sexual Misconduct IN THE MEDIA are Themselves Inappropriate.
I've taken several stabs at what I wanted to communicate in this post, but I'm tired of even thinking about the 'media by trial' angle, even as the number of these grows exponentially.  I've decided instead to talk about what this phenomena tells us about sexuality.
Here we have a big problem.  How best to put it?  How about we start with Mike Pence?  Surely the reader remembers the derision heaped upon Pence for his application of the 'Billy Graham' rule.  It seems poetic that the people who pounced on Pence for the rule are now finding their own lions in public life falling fast and and often for not taking such 'rules' seriously.  Have they changed their minds?  Surely there must be one or two out there, but in the main, it seems these people are still sneering at Pence–that is, sneering at conservative Christian values.  How can we possible have a conversation with such people?
And its worse than that!  These very same people are apparently thoroughly befuddled by human genitalia.  If you say to them, "That man is bald!" and they look and see the man has hair on his head, they will turn to you and counter, correctly, "Ah, no.  The man has hair on his head.  By definition of the word 'bald,' if a man has hair on his head, he cannot be bald."  But ask them if a girl can have a penis, and a look comes on their face–the face of someone thinking very hard–as if they are in desperate need of a laxative.
These people are positively flummoxed on basic biology; if you point out easily verifiable fact that penises and vaginas clearly were made for each other, you're trounced as a bigot.  The extent of the mental deformity that must be present in these minds is illustrated by the simple fact that nearly every person actually walks around with a penis or a vagina and is able to directly inspect his or her own genitals at his or her own leisure, and furthermore, a great many of these people have actually participated in an activity where a penis and vagina have interacted, and–surprise, surprise–about 40 weeks later, they say hello, face to face, with a new person.
I am not saying all this as an insult.  This is simply observation.  If you cannot understand that if you have a penis, you are a boy (by definition), and if you have a vagina, you are a girl (by definition), you really can't be expected to understand anything.  If you miff this, why should we take you seriously when you wax eloquently on politics?  If you find the presence of a penis hanging on your body mystifying ("What is this dangling appendage?  Its presence is so ambiguous, I am as justified in inferring from it that I am an automobile, as anything else!"), why do you think you can weigh arguments for and against Christianity–or ANYTHING?  How can I possibly use LOGIC and LANGUAGE to talk about SEXUALITY when vast portions of the population are stupefied by all three?
A friend of mine says, "Seems like men in positions of power have a tendency to be dicks to women, regardless of their politics. I would think that this would be trumpeted as yet another proof of our fallen & sinful nature, except that would put you in a tricky position re: your defence of Roy Moore."
There is a measure of insight in this statement, as it indicates at least some accurate knowledge of Christian doctrine.  These incidents are indeed indicative "of our fallen & sinful nature."  But I can't help but think his sudden appeal to non-partisanship by hiding behind my own views on Sin (which are absolutely non-partisan!), after his scathing denunciations of Roy Moore (at the time), is really just a ploy to distract from the fact that, at present, we're running about 50 – 5 in terms of liberal/atheist/progressives vs Christian conservatives caught in misbehavior.  When the Moore thing first ballooned it was only like 20 – 5, and its been an unhappy string for liberals since.  If I had said in response to Moore, "Ah, well, this just proves that we are fallen and sinful!" he would have denounced it as a cop-out.  But now that the ratio is roughly 10 to 1, he wants me to embrace the doctrine.  A bit convenient, no?  (And has he changed his tune on the wisdom of the Pence Rule?)
Indeed, these things are proof of our 'fallen and sinful nature' but that is not even the half of it (at present).  To say that we are fallen and sinful is to say something about human nature itself, which is obviously very controversial.  But to be wrong on sexuality, where misconceptions can be remedied merely by taking off one's own pants, suggests that the situation has metastasized well beyond a point where we can explain it merely as it being more evidence of our sinful nature–although it certainly is that.
I saw the same kind of right track but incomplete answer in a recent article titled, "Conservatives Were Right About Sex."  It makes some good points, like this one:
Again, it's worth noting that it wasn't "society" writ large that boarded the sex train—it was the culturally influential liberal elites who control the universities, the media, and the entertainment industrial complex. Further, there's a giant subculture who never boarded the train. They're called religious believers.
But to call something 'religious' is to call it 'mere opinion.'  My purpose in this post (and many other posts on this site) is talk about reality.  To your average American reader, there is no relation to reality in religion.   The author of the piece does not explain WHY it was religious believers had the views they did.  Your average American reader will think, "Oh, its because they read it in the Bible."  The average American reader is fundamentally incapable of understanding that instead, the religious believers dropped their pants, inspected what they saw there, and called it as they saw it.  No great Revelation needed.
The author ends with:
It's way past due for liberals to meet conservatives halfway on some some important social issues. A good first step is acknowledging that conservatives were right about sex all along: That there is a connection between sex and virtue, and that our politics and our culture should do everything possible to strengthen this connection.
Another good point, and one with merit.  But it isn't just that there is a connection between 'sex and virtue' that conservatives were right about. They were right about what sex is, and what humans are.  And as for a 'meeting halfway', I wouldn't count on it.  I was amazed to see the Politico–the Politico!–publish research that exposes the liberal talking point that red states are more dysfunctional than blue states as the sham that it is, No, Republicans Aren't Hypocrites on Family Values.  Although the conclusions can be verified and tested by anyone who wants to look, you can tell by the comments (telling us who likes to read the Politico!) that there will be no meeting halfway, anytime soon.
No.  Any distinctly religious argument is going to fail.  I think any and all arguments will fail.  We're talking about a population which has completely jettisoned one of the basic laws of logic.  "If any X has a Y, then it is a Z; X has a Y, therefore it is a Z" has been completely submerged by the pulses of hormones.  No, no argument is going to work.  What will?  Imagine someone disputing with you that running into a wall head first and at full steam is going to hurt.  You work it all out with pen, paper, and calculator, but they still insist running into a wall will be painless.  There is nothing else for it except to let the dude run into the wall to see what happens.
This is where we are at on sexuality.   Until and unless society runs as fast as it can, head down, into the brick reality wall of 'sex', and feels the pain, there will be no conversation possible.
The collapse of the nuclear family and the (purely coincidental!) rise of poverty within the black community did not convince liberals that there was a relationship between the two.  The widespread damage wrought by the intentional dismantling of the institution of marriage via 'no fault divorce' hasn't phased them.  Men and women in ALL WALKS of life (not just in places of power) were told, over and over and over and over and over and over again that we're just animals ("Let's do it like they do it on Discovery Channel") and now we find that we are dismayed when people act like animals?
Ah, but that's not how animals act, is it?  No, let's not make it about religion.  For the moment, lets just look at the animal kingdom, which, presumably, most liberals believe is fully the result of unguided naturalistic processes (Darwinian evolution).  Nothing else has convinced you, so lets compare the conduct of the animal kingdom with the conduct of humans.
Throughout human history, past and present, humans–mostly men–have been raping people, women, yes, but also girls, and, yes, young boys.  Even babies.  Remember, humans are the result of the same evolutionary processes that gave us dogs, chickens, and flowers.  We've all seen a dog hump a tree, I reckon, and watched dandelion seeds fly through the air.  But in these and every case I can think of (I'm leaving room for someone with more biological knowledge to provide examples of exceptions) you do not see these organisms behave as malevolently as humans.
We may suppose that a dog does what he does because it gives him some pleasure, but dogs seem to keep it pretty well in proportion.  They don't mix their humping with food fetishes.  They don't find a special attraction to dogs that are on a leash.  And they certainly do not engage in analagous behavior to pedophilia.
The birds of the air do not fly into a tree and capture young birds just after they have learned to fly, and then sell these young birds into sex slavery.
To my knowledge, horses do not sneak to the barn to see if any of the other horses are getting undressed.
Based on my limited knowledge as an ignorant Christian conservative (thus, I may be corrected), rose bushes do not film themselves copulating with each other, with special attention to the 'barely 18' roses.
The honeybee queen allows herself to be 'impregnated' by the drone, but then both get on with their lives.  The drone does not slap the queen bee's rear as she comes by, depositing her eggs, and the queen never thinks to herself, "If I give this drone bee a good time, maybe he'll give me a part in his next movie!"
It is my understanding–and here, our friendly public health official can advise, if I'm wrong–that there is no need among the apes to launch massive campaigns to prevent unnecessary pregnancies and counter national waves of STDs.  It's almost like… can it really be?… that the apes are not so infatuated with their genitalia and the (presumed) pleasure from using them, that they do not behave in such a way as to threaten their own community?
Do the eagles maintain a series of abortion clinics, where unwanted eagle eggs are brought to be dashed into pieces (and the parts sold to the pigeons) out of fear that the eagle population might get out of control?  Do the vultures lend assistance by handing out condoms?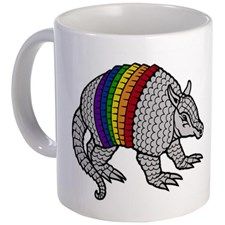 Sexuality has so consumed us that humans are actually orienting their IDENTITY around their GENITALIA.  Can you imagine an armadillo waving a rainbow flag, as if the most important thing to the armadillo is that the armadillo understands itself to be is attracted to sage brush?
Need I go on?
Within the rest of the biosphere, sex is occurring all over the place, mostly, if not always geared towards reproduction.  And apart from the reproductive side of it, the rest of the biosphere easily keeps its sexual inclinations in healthy perspective.  It is only the human population that is so utterly inflamed by its sexuality that at every turn we see humans running from danger to danger, abuse to abuse.  What does this suggest about humans?  (And our putative evolution?)
When I was a teacher, I explained that sexuality was like a campfire–something that provided an an appropriate amount of comfort, but which must be carefully tended to make sure the fire does not leap out of the fire pit and become a raging forest fire which consumes everyone, and the forest with it.  We're well past that!   The better analogy today might be that sexuality is like nuclear power–something that will lay waste to an entire region, making it inhospitable to all life for centuries, unless it is kept in careful bounds (eg, the Pence Rule?).  Worse, it has been weaponized, so that people are enslaving and being enslaved or advancing themselves or tearing down others.
No, there is something definitely very different about human sexuality.  I'll leave it to the reader to ponder how well evolution can account for these differences (emerging strangely only very recently, it appears, within the last 10,000 years or so, despite humans being around for hundreds of thousands of years), but for our purposes it ought to be enough to point out that there is something very, very, very, very very, very, very, very, very, very very, very,  very, very, very, very very, very,  very, very, very, very very, very,  very, very, very, very very, very,  very, very, very, very very, very,  very, very, very, very very, very,  very, very, very, very very, very,  very, very, very, very very, very,  very, very, very, very very, very,  very, very, very, very very, very,  very, very, very, very very, very,  very, very, very, very very, very,  very, very, very, very very, very,  very, very, very, very very, very,  very, very, very, very very, very,  very, very, very, very very, very,  very, very, very, very very, very,  very, very, very, very very, very,  very, very, very, very very, very,  very, very, very, very very, very,  very, very, very, very very, very,  wrong with the human species when it comes to sex.
Now, what is the best explanation for this?
Well, it goes back to exactly what 'conservatives' are right about.  Is it the sinfulness of humans?  That's a start, I suppose.  But most of the conservatives I know (more of the Christian sort) understand that we are right about other things, too, which our liberal secular atheist friends wave off as nonsense.  First of all, we are right when we say that there are biological differences between men and women.
For example, there are REASONS why men are the main perpetrators of sexual violence, and it is not only because men are demonstrably more physically powerful than women.  Human males–as opposed to males throughout the rest of the biosphere–are disproportionately aroused by the sight of sexual acts and naked ladies.  If you think I'm wrong, do the test.  Take pictures of dogs having sex and show them to other male dogs and tell me if their reaction is even slightly sexual.
In a society that is saturated by visual acts of sex, whether in magazines or movies, or their fraternity in college, any attempt to mention that this rank immodesty is not helping is met with bloodshot catcalls about 'blaming the victim.'
Yea, sorry, but welcome to the real world, where whether you like it or not, men are far more turned on by the sight of flesh than women.
Now add to that the fact that men are more physically powerful than women, you can easily see why (if this was a sane universe, and we were attempting to 'meet halfway'), the cultural acceptance of sexually provocative content throughout the media could give men the idea that the behavior they are engaging in is actually condoned by society.
Aren't you the ones who believe humans are just mammals?  Ever hear of Pavlov's dog?  Ring the bell, the dog slobbers.  Show a man a naked lady… what do you expect?  — Except even dogs are not aroused by the mere sight of other dogs.
Now you might think that instituting training, or creating a sexual Sexual Gulag Archipelago to try to recreate moral boundaries after systematically undermining morality for a hundred years, and mocking those who point out the existence of that morality, will finally resolve (ie, 'perfect') our society.  No.  Its like C.S. Lewis said, albeit in a different context:
"In a sort of ghastly simplicity we remove the organ and demand the function. We make men without chests and expect of them virtue and enterprise. We laugh at honour and are shocked to find traitors in our midst. We castrate and bid the geldings be fruitful."
No, just no.  If you gut the basis for morality, but then expect people to be moral, you're going to be disappointed every. single.  time.
Keep flaunting basic biology and basic observations about the truth about humans for another 40 years.  Go for it.  But don't expect me to take your shock and outrage seriously when situations flare up over and over again.
On the other hand, if Christian conservatives are RIGHT, then people are made in the image of God, and yes, quite fallen from that image.  That is, they are not just animals.   They were made 'male and female' and given the gift of sexuality, which, as it happens, is extremely volatile when expressed by sinful creatures.  Nobody, and certainly no man, is able to avoid lusting in their life, and if you have a man walk about a society filled with naked people, it would take someone with a special dispensation of the Spirit to avoid acting on their lusts.  Remember, Joseph knew better when Potiphar's wife made herself available to him:  he didn't have a debate, he got the hey out of there, ASAP!  Why?  Not because Joseph was better than the rest of us, but because he knew he was just as bad!
Atheists walk around thinking that Christians, in espousing a moral code, are somehow immune from transgressing that moral code, and from the position of 100% holiness, are able to judge others who transgress it.  This is based on an understanding of the Scriptures and Christianity that is as unreal as their understanding of genitalia.  It is nearly the opposite:  Christians understand that NONE of us are immune from transgressing that moral code, and NONE of us will be able to present themselves as 100% pure before God.  The whole idea of the 'Gospel' is based on this–and yet atheists fail to understand it every. single. time.
When Christians issue their warnings about sexuality, the goal is not (or had better not be, if they know their Scriptures!) the purification of our society, but a frank and honest statement about the real nature of humans and sexuality, which, if people disregard, will lead them to experience consequences which entail a great amount of suffering.  Not for the Christian, and not because the law might be involved, but because mishandling sex is like playing with fire–or uranium, if you wish–and eventually YOU WILL GET BURNED.
So, here we are.  A spate of allegations of sexual abuse has arisen, directed ironically (largely) at people most prone to make fun of Christians and their prudish viewpoints.  Who is surprised?
Not Christians.
Maybe this spate will be a 'wake up call' to re-appraise one's views on human nature, and sexuality in general.  Maybe there will be some who will not run headlong into a wall, but, seeing others do it just ahead of them with bloody results, will draw the right lesson.
Hint:  the right lesson is not simply to put on a helmet before you sprint towards the wall.