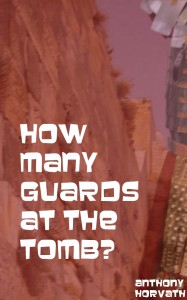 The following material supplements the original essay on the guards at Jesus' tomb and provides more corroboration for various statements that were made within it.    It can be purchased as an ebook, cover to the right.   (Next section: The Discipline of the Roman Soldier )
Were they Roman Guards or Temple Guards?
 In some regards, it doesn't matter whether the guards were Roman or Temple guards.  The mere fact that there were guards represents a real problem for those who wish to dismiss the resurrection.  If the tomb had been left unattended throughout the entire time between Jesus' … continue reading...