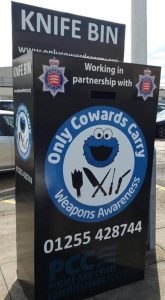 Most of my American readers are going to know about the London mayor's recent 'ban' on knives, inaugurated in this hilarious–but evidently sincerely put–tweet:
No excuses: there is never a reason to carry a knife. Anyone who does will be caught, and they will feel the full force of the law. https://t.co/XILUvIFLOW

— Mayor of London (@MayorofLondon) April 8, 2018
It just doesn't get funnier than that. Or sadder.
This whole affair reveals the absurdity of the whole mode of thought that undergirds the 'gun control' viewpoint.  To tell you the truth, Sadiq Khan has probably single-handedly unraveled the entire … continue reading...